Having been born in Paris and modelled for ELITE from an early age, you could say that Anne Sisteron was destined for a life in fashion. Anne's jewellery line was established after much demand from family, friends and people on the street. Her background as a Graduate Gemologist and GIA Diamond Grader enables her to ensure that every piece she hand-picks offers the finest quality craftsmanship for the best value. We caught up with Anne to learn more about her journey through jewellery.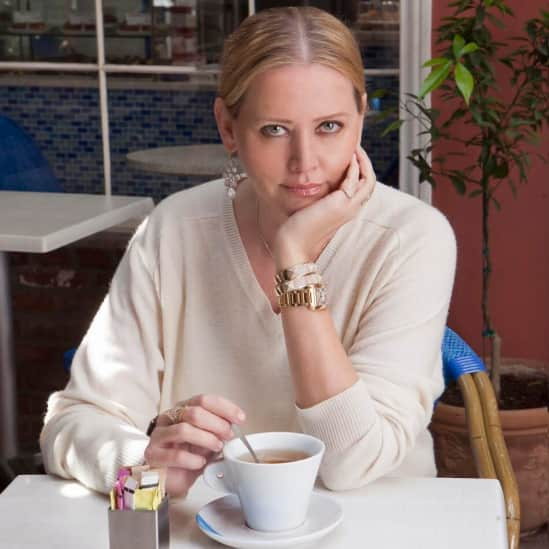 How did Anne Sisteron begin?
I started out very small. I started selling out of my own house and due to popular demand, I then opened my boutique in Beverly Hills. Soon thereafter, I started selling to Four Seasons Resorts around the world which put my name on the map and prompted me to launch my website annesisteron.com. As a GIA Graduate Gemologist, I decided to design some pieces for my personal use. One of the pieces caught the eye of an A-List celebrity who then ordered all of their holiday gifts that year from me. That gave me the confidence to go ahead and start my brand.
Have you always been interested in fashion?
I have been interested in fashion since I can remember. Making jewellery for my Barbie dolls was a favourite thing to do as a child. As a teenager, I was discovered by Elite Models which opened me up to the entire world of fashion.
What have been the highest and lowest points on your journey so far?
I don't necessarily like the term high and low. When we meet obstacles, we learn and grow, hence, it becomes a positive thing every time. There have been so many highs. The latest high would be Gwyneth Paltrow wearing our new Sabre earrings on Jimmy Kimmel Live, purchasing them for herself as well as including us on her iconic website Goop.
What was the inspiration behind your latest collection?
As I successfully sell to a lot of Four Season Resorts all over the world, their head buyer asked me to make a collection exclusively for them. I wanted it to be really special and have a beach chic meets modern Viking vibe. I am very proud to say it was very well received by all the top fashion editors.
Do you ever struggle to stay inspired?
Thanks to all of the travels I do, I am constantly inspired by different cultures, cities and landscapes. I always carry a notebook and sketch on the spot so I won't forget.
Where is your go-to meeting spot?
Our offices are tucked away in a charming courtyard in the heart of Beverly Hills. There is a lovely Italian café called Euro Cafe with outside tables where we conduct most of our meetings. It adds an ambience to the meetings that you really cannot find anywhere else, and it just so happens to be the best coffee in town.
How would you describe your customer base?
I have the best customer base as they seem to be nearly as obsessed with jewellery as I am. When they come to the store to buy jewellery for special occasions they show me photos of their gowns and let me help them be a vision of perfection for their events. It is an important purchase for them as the jewellery they choose will forever remind them of their special day. As our jewellery is timeless, our client base ranges from teens shopping for their Bar Mitzvah to brides choosing pieces for their weddings, to couples coming in to choose their anniversary gift.
Is there anyone you would love to see wearing your designs?
I'm humbled and honoured to say that my jewellery is being worn by so many amazing celebrities like Ariana Grande, Gwyneth Paltrow, Jennifer Lawrence, J. Lo, Gwen Stefani, Jessica Biel… and the list goes on. Oprah to me was probably the icing on the cake.
(https://annesisteron.com/blogs/press)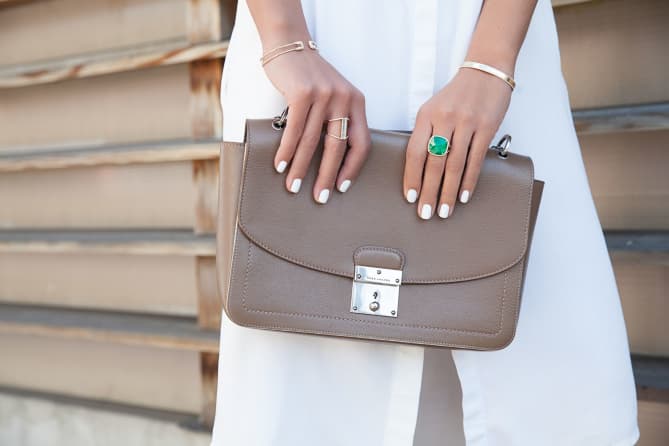 What are the morals you run your brand by?
Authenticity, honour and truth are the moral truths in our office. I have an exceptional team who all carry the same values.
Do you have a mentor?
As I went straight from the modelling world to being a jewellery entrepreneur, I never went to a traditional college. I am a GIA Graduate gemologist but totally self-taught in the business world. My husband guides me and helps me with decisions, I definitely consider him my mentor.
What apps keep you sane?
My favourite go-to app is the weather app as I am always going from place to place, climate to climate, and it helps keep my packing game tight.
If you could only wear one piece from your collection, what would it be and why?
First of all, that is a nightmare question for me only because I wear at least 10 pieces every single day and they are all my favourites. But ok, if I have to choose – it would be the 14KT Yellow Gold White Mother of Pearl Diamond Chandelier Earrings. The reason is because I wear these earrings 90% of the time and there is something about them that go with jeans and a t-shirt all the way to black tie. The chandelier shape is super flattering and the mother of pearl literally glows and lights up the face.
What's the biggest style mistake you've ever made?
To me, there are no style mistakes. I don't follow fashion "rules". I believe that one should dress to feel comfortable and wear styles that are flattering and not care what the fashion world is calling a trend. Personally, I have worn skinny jeans and cigarette pants since the 80s and will continue to do so even if they go out of style.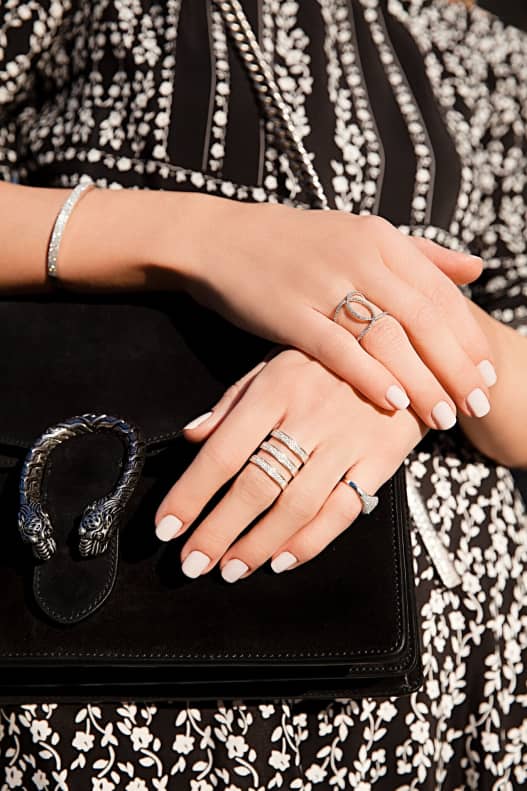 Is there another designer whose work you particularly admire?
I very much admire Danish jewellery designer Marlene Juhl-Jorgensen who has her amazing studio and store in the heart of Copenhagen. She is a true artist and a very skilled goldsmith. She is a great friend who inspired me to go into the business. Our styles are very different, but I would totally wear every piece in her collection.
What's the best piece of advice you've ever been given?
It may sound cliché, but my mantra is that anything is possible. I was told this by my grandmother at an early age and it has guided me well through life and made me think outside of the box, it is something I have passed onto both my sons.
What drew you to Wolf & Badger?
They reached out to us, and we then did some research and were really impressed with their luxury brands and their location in New York City.
Where do you see the brand in 5 years?
Great question – as every year we grow and expand more than we ever dreamt possible, I can only imagine where we will be in five years and I can't wait.