The creation of Abel Munoz began when Abel studied at the world-renowned ARS Arpel Institute of Shoe and Accessory Design in Milan. This experience gave him invaluable knowledge for creating his brand and started opening doors into the industry. Whilst studying he attended fashion shows, exhibitions and trade events and was also given the opportunity to meet some of the most predominant designers and fashion industry icons in person which helped to guide and inspire him.
Prior to venturing into footwear design Abel spent a number of years working as an Art Director at several Advertising agencies and publishing houses. His most recent post was as Deputy Art Director and Beauty Editor at FQ, Fashion Quarterly Magazine, a couture fashion and luxury lifestyle quarterly publication.
How did Abel Munoz become a brand?
I began the search for a production partner in Italy to execute my designs and after a lengthy exploration I found the perfect factory and production group to work with. I continue to expand, develop and produce my handmade collections in Italy. My work is influenced by spending time and working with my Italian teams season after season. The collections are entirely made in Italy and focus on the highest standard of quality materials. The Abel Muñoz collections are sold at some of the most fashion forward retailers in Canada, the United States, the Middle East (Harvey Nichols Kuwait) and Asia, earning it a high level of recognition in the international marketplace.  I was selected as a finalist in the Vogue Italia Muuse Young Talents competition, and my hope is that with our introduction into Europe, we will gain even more international recognition and awareness.
What have been the highest and lowest points on your journey so far?
When I sign on with a new exceptional client\stockist I feel a high that is indescribable. My lowest point is when a client\stockist drops the line from their roster out of the blue. That's a low blow that really hurts.
What is your greatest fear?
Having someone breaking into my house while I am at home.
How would you describe your customer base?
The type of woman that I design for is a woman who wants to be different, is strong and independent. She is not afraid of investing money in something new, unusual, and fashion-forward.
What are the morals you run your brand by? 
We will always stand behind ethical treatment for all involved with our brand. Whether it be with the people who produce the line or the usage of materials. We strive for beauty and elegance for the brand but never at the expense of the team we work with. When the product is made with love the end result is always exceptional.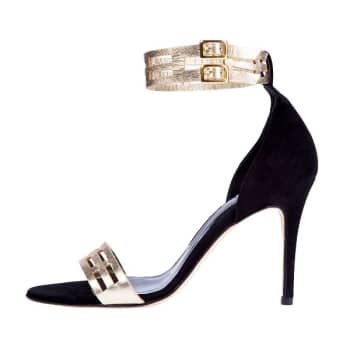 Who is your mentor?
I would have to say I do not have one mentor but am encouraged by the work of classic designers like Valentino, Georgio Armani, Yves Saint Laurent, and Gianfranco Ferre.
What inspires you?
I find a lot of it in the world that I live in. Travel, cities, rain forest, beaches —the colors. I am inspried by  the differences between cultures in fashion and lifestyle. 
What building holds the most sentiment for you?
Although I cannot narrow it down, I do love Santiago Calatrava's buildings.
What is your most treasured possession?
My Chorotega vase is my most treasured possession. It's hundreds of years old and from the Pre-Columbian Chorotega tribe in Costa Rica. 
What motto do you live your life by?
My guiding principle is "finish what you start".  When my brain triggers a great idea I must get it down on paper and take it through to completion. 
Where do you see the brand in five years?
I see the brand growing with the addition of new lines like bags.  I have also experimented with trench coats and would like to see them exist in the future, but due to the current state of the economy I am being cautious. 
What drew you to Wolf & Badger?
I was drawn to Wolf & Badger for a number of reasons but one of the main reasons would be the support and incubation of new talent. The concept of new work being offered in a retail environment where actual consumers get to touch and feel and learn about my line is fantastic. 
What one thing would make your life better?
The establishment of my brand internationally.