This week we meet Italian born, London based Arianna Cerrito, the self taught designer and creative who launched her eponymous label in 2012.  
How would you describe the first step on the journey to the formation of your brand? 
It all started with memories of my childhood, with the many glamourous rooms of my family owned ladies-wear boutique.  I would look forward to flicking my hands through the rails of sumptuous fabrics and beautifully cut dresses, feeling the excitement of the women in town who came in to accomplish their daydream: finding that dress, that jumper or shirt which - just by the cut, the fit, the colour, would give them the confidence to conquer the world. 
Along the years, before embarking on my own project, I realised that there is a common trait to the memories we cherish the most. Like a scent that takes you back to a special moment in life, or a flavour that has the power to unleash your very primitive memories, or to revive a childhood moment. The trigger for me was to 'recreate' that feeling, making women feel special just by wearing a piece of my designs.
The label has seen an amazing development in the last year, and has been approached by remarkable figures in the fashion industry. We are getting so much constructive feedback from 'real women', the ones who are wearing or would like to wear our collections and have recently teamed up with some of the best people on the market to push the brand forward. There are many projects unfolding as we speak from our own e-boutique platform to strengthen our brand awareness.
What have been the highest and lowest points on your journey so far?
The highest point is always when I get out there and have 'real-life' moments with the women I get in contact with. It feels fantastic to get to know what they like, why they like it and what can be done to make them like it even more!
The lowest point is that talented designers and creatives are numerous, and sometimes it can take an awful lot of time to get noticed and be appreciated by top fashion buyers.
What is your greatest fear?
To lose my family, they are my greatest and most valuable drive.
How would you describe your customer base?
The Arianna Cerrito customer is an attractive woman, she is positive and with a genuine well-being attitude and has fresh ideas. She is cultivated and wants to create her unique feminine style with pieces that express an edgy flair.
What are the morals you run your brand by?
We manufacture in Italy to embed the precious knowldege inherited by generations of women in the industry. Additionally we use natural fibres and recycled fabrics whenever possible and rely on the craftsmanship of artisans who have been passing on their know-how generation after generation.
Who is your mentor?
People in my family. My father (who unfortunately passed away when I was young) has been a prominent figure in my life. He taught me integrity, loyalty, passion and enthusiasm. I still feel this energy today and try to live up to these values.
What inspires you?
I am very attracted to fluid movements, organic forms, sculptural and 3-dimensional shapes that I translate onto the woman's body, as if she were the sculpture herself.  This is the expression of a memory of my ballet dancing experience when I was young and you can see it in all of my work.
What building holds the most sentiment for you?
The Arena di Verona, a Roman amphitheatre built in 1st century which is still in use today and is internationally famous for the large-scale opera performances given there. It is one of the best preserved ancient structures of its kind. I was part of the Arena di Verona ballet company when I was younger and cherish the most amazing memories of that experience!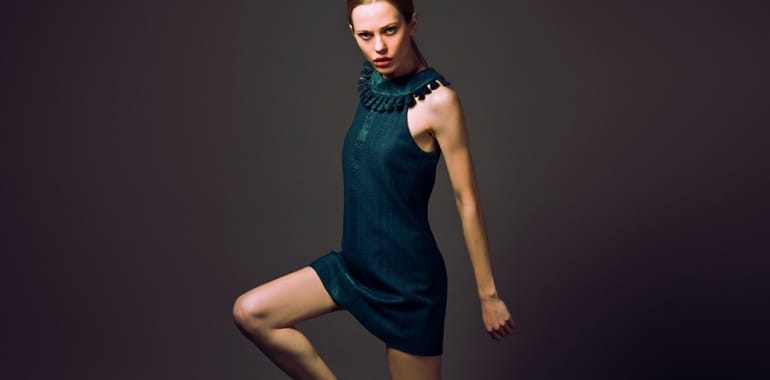 What book changed your life?
It's difficult to pin-point just one single book as there are so many that have inspired my life and taught me something.
What is your most treasured possession?
Nothing tangible and physical that money can buy! Love is my greatest possession.
What motto do you live your life by?
It's a Sicilian saying: Vedendo, Facendo. The literal translation of it would be 'seeing, doing' meaning to take action when the event is unfolding, not before or after.
How do you keep your body and mind healthy?
I am intolerant to gluten and yeast so I have a gluten and yeast free diet. I love cooking and treat my family with Sicilian dishes and Italian cuisine so my diet is the typical healthy Mediterranean one. However, London is such an amazing place where to try and taste the most fantastic flavours from everywhere in the world and I love Thai and Sushi.
Where do you see the brand in five years?
We are working very hard for the label to be 'recognised' by our target market as 'the one to wear'. This needs to translate in wider distribution from well-known stores in cosmopolitan cities to those smaller realities where attention to detail and style is core to the store's philosophy. We also aim to have a direct relationship with our women, by opening our own boutiques and online platform. The latter is on its way as we speak!
What drew you to Wolf & Badger?
The 'help and support' approach to emerging designers who deserve a 'chance' to be seen and promoted. The perfect location in London, where international women and Londoners gravitate, which is vital when you need to develop a brand and take it one, two, three steps further along the way!
What one thing would make your life better?
Waking up in the morning ALWAYS with a smile on my face!
Arianna Ceritto can be found in our Mayfair store.