Morella Sassoon is a luxury womenswear label founded by self taught designer Daniella and her partner Monty Sassoon. The designs are feminine and elegant, with beautiful embellishments to add a delicate finish.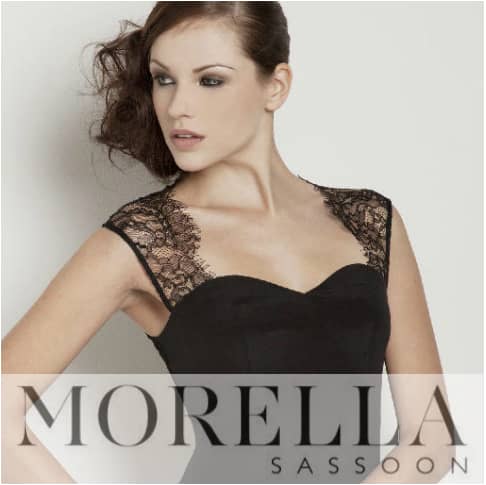 -What inspires you and your work?
My inspiration generally comes from everything I see and hear. But I think most of my creativity stems from passion and natural enthusiasm.
- Which part of the creative process do you enjoy the most, and which part do you dread?
As a new designer it can be really tough at times juggling all aspects of your business without a full team behind you, though the good part is that I am gaining skills and control in all areas of the business.
My favourite part is designing at the start of each season with a fresh piece of paper. I love researching new fabrics at Premier Vision, updating the trends and looking at new applied embellishment and fabric manipulation. The best part of what we do is seeing the final pieces which have been worked on intensely through late nights and it comes together better then you imagined. Hearing people love the designs is hugely gratifying and the satisfaction makes it all worth it.
- Do you have any tricks that you use to get over a 'designers block'?
Music, books and museums have usually helped when getting a block. I love the Victoria & Albert Museum always helps!
- Where is your favourite city/place?
I love London during Christmas and in the Spring, during the day you can get such a great atmosphere, everyone is always in good spirits. I have always wanted to travel to Rome in Italy, but one of my favourite places at the moment is India. The real villages can be both relaxing and inspiring so I get a good balance of both holiday and work.
- If you weren't doing this, what job could you see yourself having?
I can't imagine myself doing something else. I have always had a love for designing from as far back as I can remember. When I was 14 I got my first sewing machine and from that day on I was always making my own clothes and dresses for my family & friends.
My drive came from when I was young when I made a promise that I would strive to make something of myself and work hard to achieve my dream no matter how hard. Doing anything else hasn't given me the same sense of satisfaction.
-If you had a chance to do it all again what advice would you give to a younger you?
Starting your own label is not for everyone. Some people think having your own business means you have no one to answer to and you can work your own hours. In reality you know answer to everyone and you do work your own hours, but those hours never end. It is very hard work, and you must be very dedicated and willing to give up a lot of time, money and effort to make it work. Though I have always believed that nothing good comes easy a dream is work fighting hard for.
-Wolf or badger? Which are you and why?
I would definitely be the wolf, with a nice thick layer of fur, roaming the night under a full moon. Sounds epic!