ctrl+c began with Conall McAteer and Jack Sharples bouncing early ideas back and forth over the internet.  Once they felt like they had a concise vision, it quickly developed from initial meetings in Conall's studio to the formation of their own label. They've been great friends since University and actually met on a football field, so it's kind of apt that the first collection, 'pre-season', would be so heavily influenced by something aside of their creative work that they have a shared passion for.
To start spreading the word about their brand they approached it organically, contacting blogs that had a merge of the football and design interests that drew them to the project in the first place. The blogs loved the concept and from there it snowballed. The first collection was featured on Hypebeast and Highsnobiety as well as blogs and sites internationally - and they were suddenly taking pre-orders from everywhere from Holland to the United States.
Why is the label called ctrl+c?
The name, ctrl+c, is a part-reference to the way we increasingly disseminate images. In the networked world we live in where there's this constant flow of visual media that we're hit with on a daily basis. To the point where there's now a cultural flood of creation and re-appropriation. So much so that the lines between the two have become kind of blurred. Now when an image you stumble upon online engages you, you just drag it to your desktop, or ctrl+c. It's these aesthetic fragments which we're really interested in tapping into and in turn creating something new.
What inspired your collection?
'Pre-season' was heavily influenced by 80s and 90s football shirt designs. We loved the combination of graphics and gradients and how, looking back now, they hold such a strong sense of nostalgia and yet an undeniable timelessness. We were interested in merging football, design and the associating culture together. For instance, we were inspired by the way Jorge Campos (goalkeeper for Mexico in the 1994 and 1998 World Cup finals) used to design his own kits to wear on match-day. The idea that someone who expressed themselves so successfully on the pitch could have an additional creative output that he would become synonymous for. GK is our pure celebration of all things Campos.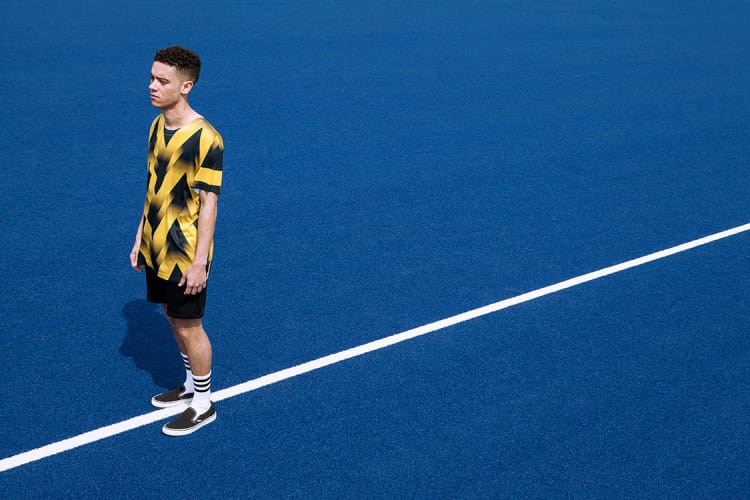 Where do you source your materials?
When looking for a supplier for our first collection, we were set on a firm ethical stance of producing our garments in the UK and making sure the whole process remained sweatshop free. Whilst inevitably increasing costs, we were driven by an ethos of keeping production within the UK. We are currently exploring a few different options further afield which will be key to us growing with our collections, rather than feeling constrained by production limitations.
Describe a typical day in the world of ctrl+c.
The biggest part of our day consists of researching and sharing ideas back and forth. When we are working through new concepts for a collection we are constantly critically analysing the new designs until we are happy that the range is tight and consistent.
How do you stay motivated?
We both share a love for making work and are both naturally driven by a fervent passion to create. As it's still so early on in the journey every step along the way is fresh and exciting. Of course, there are inevitably times when creatively you need a push and fortunately there are two of us to motivate each other. We're both competitive but there's also the team ethic of not wanting to let the other down.
When you work on a collection, how do you go about beginning?
I think we've continued to work much in the same way as the idea for the first collection evolved. We're constantly messaging and emailing various ideas that come into our head: some good, some less so. The key is to not to overthink inspiration in its early stages, or disregard impulsive ideas. In terms of how we view our approach to work, being a collaboration between art and design, we tend to build from a concept for a collection rather than purely visual interest. We aren't too concerned with designing for what will be deemed commercial and accepted. For us it's key that the concept and execution of our output is succinct. We just sit down and endeavour to make something we both love without worrying too much about what's coming next.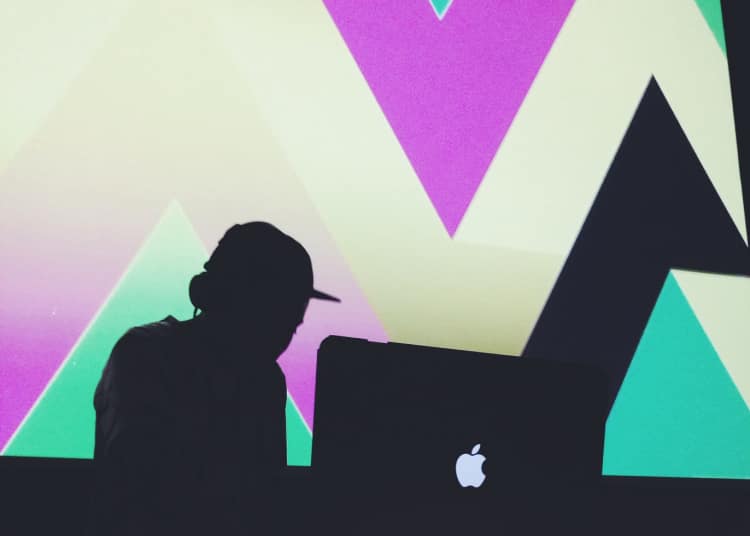 What have been the highest and lowest points on your journey so far?
Seeing our first collection 'pre-season' spread on websites like Hypebeast and Highsnobiety and the launch party we held in July for the collection was a great high point. One that we would never have dreamt of in the early stages when we were working through ideas. Any situation where you rely on others always has the potential for problems. There's always a divide between getting your ideas down and ironing out the practicalities of its production.
Both of us have had experience producing work for large projects and dealing with suppliers, so the same principles apply.
Who do you look up to?
We've got a diverse range of people who we look up to in the industry. From the creative direction of fashion houses like Kenzo, to designers like Agi and Sam with their bold use of colour and print, to the unabashed street-wear brands like Palace.
What morals do you run your brand by?
We were intent on building a brand founded on maintaining principles of design led by artistic integrity over commercialism. Alongside, we're keen to support and encourage creativity within the field of art, design, and music.
An example of which being our 'pre-season' launch event in July: bringing together a headline set from DJ Lukey of Stööki Sound alongside a large-scale projection of a brand new work from the internationally-exhibited animation artist Natalia Stuyk, which we developed in collaboration.
What drew you to Wolf & Badger?
We're big fans of the platform and support they provide emerging brands/designers.
Where do you see the brand in five years time?
Looking to the future we're hoping to grow and develop our aesthetic into more of a lifestyle, rather than purely clothing. For us as creatives, being open to any medium to express your ideas and vision, is the most liberating way to be. Fundamentally we just love sharing our ideas. Which is kind of how we perceive the ethos of the brand as a whole.