James Ward is single-handedly saving the world from breakfast boredom one charming anthropomorphic character at a time.
From his roots studying illustration at Westminster University James Ward, the designer behind Jimbob Art has stolen the show with his hand drawn ceramics. Animals and food are his chosen subject matter, or rather animals and their food. With an emphasis on fun, James's designs bring human emotion and expression to life through animal characters, focusing on their food, our food and perhaps even their subtle hints at wanting our food too.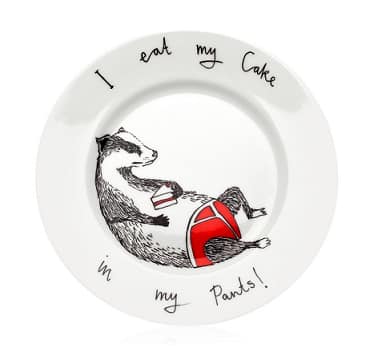 The 'Eat My Cake in My Pants' side plate is all about the badger, pictured reclining against the rim of the plate in his bright red Y-fronts whilst cradling his sponge cake on a rather well-rounded belly. He appears again on the 'Biscuits and Beats' side plate, this time rocking his coolest threads and an 80's boom box that Will Smith's character in Fresh Prince of Bel Air would have been seriously proud to tote.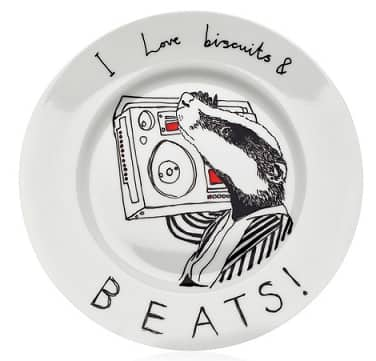 Eating cake in the comfort of our undies is a pleasure embraced by many of us and is just one of many stereotypical and rather humorous eating habits conveyed perfectly by James, albeit in a more characterful animal form. His depiction of a bear, surrounded by crumbs and displaying a look of confusion, is one we will all relate to. 'Cake, what cake?' is a line we've all muttered at some point, wincing in denial at the fact we've eaten the whole thing and didn't quite remember to brush away the evidence.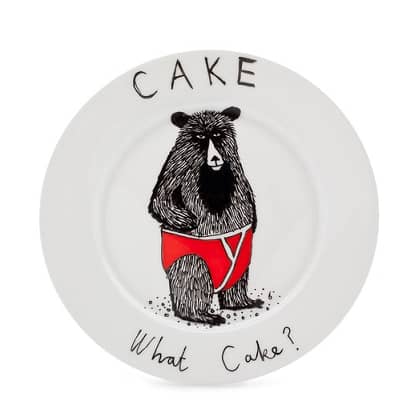 Hand drawn side plates and stackable espresso cups feature designs that convey a narrative with no more than a few words and an expertly drawn illustration. The masked 'Sandwich Defender' design for example instantly triggers a knowing smile from anyone who ever saw the episode of Friends when Ross has his sandwich stolen at work.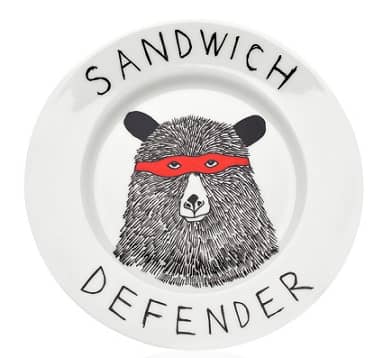 One thing's for sure, with illustrations that never get old and the ability to make you smile with only the rim of a plate's worth of words, Jimbob Art makes getting up in the mornings and forcing down a slice of toast a whole lot more appealing.
Jimbob Art is available online at Wolf & Badger.