Key Leaf was created in 2009 by Colombian-Italian sisters Adriana and Claudia Chaparro Pignalosa. Using their combined backgrounds in business and fashion they set out to start a brand that celebrated their artistic creativity and love for nature. Specialising in bold prints, they create bright and fun collections for women, men and children.
 
- Can you give us a bit of background on your brand, when you started it and why?
Key Leaf started when we were 4 to 5 years old, in our mom's studio in South America. She was an entrepreneur in Fashion, and we were immersed in this creative world with all this feeling, looking at all the colours, the fabrics, the models, the drawings, and the styles; We were observers but it made us become creative. In London, 30 years later, we wanted to bring the warmth and colour of our birth place (South America), into our daily lives. To represent this warmth and colour we zoomed into nature as our source of inspiration and created our very first prints in 2008 ( a mix between ocean waves, fish, twigs and strawberries) . Favouring silk as our main fabric, it allowed us to design a collection with the level of femininity we needed to express the breeze and beauty of nature. By continuously extracting the different elements of nature into our prints, we have created some wonderful collections. .. from Ornithology to Exotic Fruits, and Reptiles.....
- What inspires your work?
Adriana : I get inspiration by being by the sea,being calm and observing different elements in
nature, with these I can experiment with color combinations and compositions for each print.
Claudia : My inspiration comes from analyzing the different attributes, behaviors and attitudes  associated with women and their femininity.. this allows me to create unique casual styles that make women look and feel more feminine, effortlessly..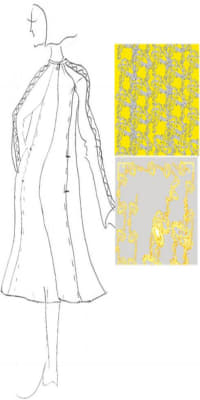 - What is the most difficult aspect of running your own label?
Adriana : The planning and timing  for each collection;you finish one & you immediate start with the other.
Claudia : having to have a business  mind when you are a creator and a dreamer....
- Which part of the creative process do you enjoy most, and least?
Adriana: I enjoy designing the prints and then selecting , with Claudia the styles & looks for each collection.
Claudia: the most would have to be the meditative process of when you are actually sitting down and drawing your designs and projecting how they will look like physically...the least would have to be dealing with production....
- Is music important in your working day, what is on repeat at the moment? 
Adriana:Yes, its very important … l am into brazilian music, Herb Albert... and then switch to the XX, Daft Punk….

http://youtu.be/ennMD1fPtXA

Claudia: A day does not go by that I don't listen to music... I love french music, Serge Gainsbourg in particular but I also listen to classical music, specially when I design...

http://youtu.be/SEB21-KLafw
- If you had a chance to do it all again, what advice would you give to a younger you?
Adriana: That you need to persevere if you really want to achieve something, no matter what
comes along.
Claudia: Focus... dont distract yourself...
- What is your guilty pleasure?
Adriana: Almond croissants & double espresso!
Claudia: Chocolate
- Where is your favourite city/place?
Adriana: Cartagena; Baru in Colombia… love the people, the food, the color, the
music...everything... its paradise!
Claudia: Cartagena / Colombia.. its Magical Realism
- Who inspires you?
Adriana: My parents and Individuals who are courageous and do not fit a mold, create their
own destiny and are resilient; In different arenas there are quite a few I admire.
Claudia: Successful people
- Wolf or Badger?
Adriana: The Wolf!
Claudia: Wolf, I Love the wilderness!