The idea for London Sock Company came from five stylish, elegant and rather well-to-do Victorian gentlemen. Each from a different corner of the British Empire, but we found them in a unique photograph dated 1883.
After being passed down along with a collection of Victorian artifacts, it sparked an intriguing journey back to a time of true elegance, style and the British gentleman. This was the key inspiration and in May 2013, we (Ryan Palmer & Dave Pickard) met for coffee in Leadenhall Market, London, and came up with an exciting idea; to make it easy for modern gentlemen to express themselves through stylish, colourful accessories, as Victorian gentlemen did.
And so, sat drinking coffee in the heart of one of London's oldest markets - famous for its Victorian design, London Sock Co. was born. The aim is simply to recreate the style and elegance of that famous era, with a modern twist.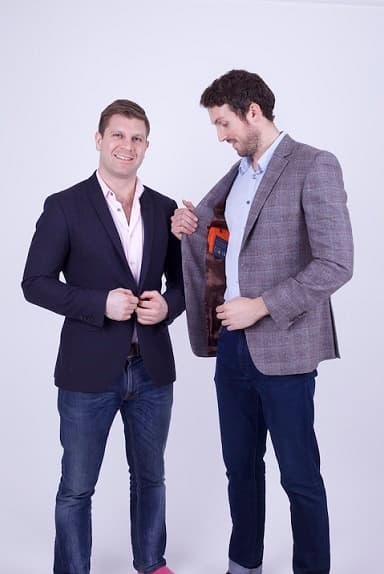 Ryan and Dave also agreed that given the Victorians were so incredibly forward thinking; famous for their inventions and advances, London Sock Co. needed to have one stylish foot firmly in the 21st Century. So in 2013 London Sock Co. launched with a staple gentlemanly product of simplistic and elegant design; a luxury range of stylish, colourful socks, available to buy online and via a monthly Sock Club subscription.
Once we knew what we wanted to achieve, we found some successful brands out there that in some way all helped shape who we are today; Hamilton & Hare (underwear), Duchamps, Pantharella and a Swedish brand called Happy Socks, to name just a few.
We both met working for a large technology company in central London, where we've lived for 6 & 7 years respectively. We were both fortunate to learn from some incredibly talented people and help develop our own skills (execution, attention to detail, business development, negotiation, to name just a few - all within big business). It was a great base for us. Prior to that, we had run our own start-ups, one in property and the other consumer goods & distribution. Dave has a Masters in Engineering and Ryan in Marketing… and now we are having the time of our lives building an exciting gentleman's fashion brand. Sometimes you just need to take a giant leap and follow your heart & instinct!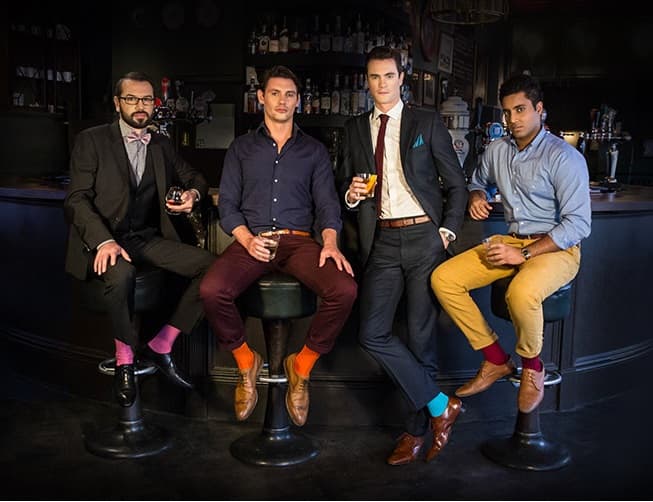 What have been the highest and lowest points on your journey so far?
Highest: We genuinely have many highs and lows each day... Having our products stocked in Wolf & Badger of course! That and I think just after we launched, the first time a customer came back to us and said these were the best socks they had ever worn, then bought another 6 pairs. After so many months of testing and validating our core product, that was a really amazing feeling. Having said that, David Gandy wearing our socks at London Collections: Men, and then connecting with us directly afterwards – that was pretty special too. Sorry I know that's more than one but it's really hard to choose.
Lowest: You can't afford to dwell on the low points – you just need to take it as another challenge. No doubt though, when we realized that we couldn't make our socks quickly enough to be ready for Christmas 2013. That was pretty gutting, but we just found a way to launch with a Christmas Gift Card to our Sock Club subscription service, sold over £1000 in 3 weeks, and have never looked back!
What is your greatest fear?
I think we've both had a similar dream at some point that we're back in our old jobs; a big client complaining about a technology failure costing them millions and it's your responsibility to fix it… then thankfully you realize you're the owner of a gents accessories brand with no-one to answer to but yourself / each other. That and I think fear of failure was big at the start, particularly getting used to start-up mentality. However we both quickly realized you just need to work hard, hang on tight, and enjoy the ride!
How would you describe your customer base?
An aspiring professional gentleman with a busy lifestyle, looking for sophisticated style for any occasion. We also have a lot of gentle-women who buy our products as gifts, or have even started to wear themselves. This is actually an avenue we're interested to explore further.
What are the morals you run your brand by?
Honesty, social responsibility, high quality and striving to always be better.
Who is your mentor?
We are really lucky to have asked for and received, advice and mentorship from so many people – both in and out of the fashion world. Picking just one would be impossible.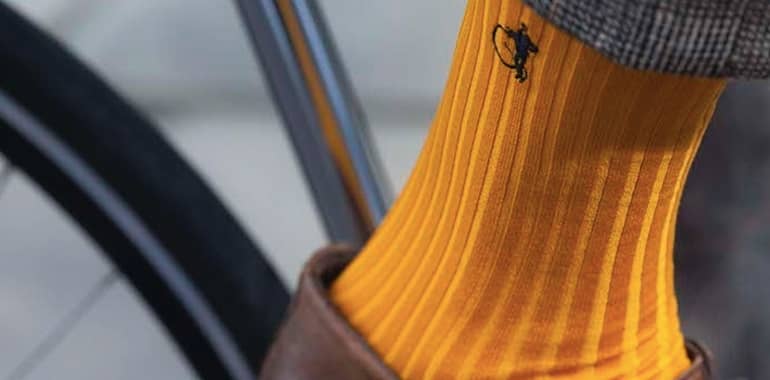 What inspires you?
We both share a desire to look back at life in 5/10/20/40 years, with absolutely no regrets and a strong sense of personal fulfillment (with a nice Aston Martin parked in the driveway).
What building holds the most sentiment for you?
Ryan: Leadenhall Market, where our idea for London Sock Co began.
Dave: A small family house in North East Scotland. It was a home from home every school holiday and where I first uncovered the history of my ancestors in the Glens of Scotland. One in particular was the Gamekeeper, who took the Victorian gentry and on rare occasion Royal family members shooting / fishing etc.
What book changed your life?
Ryan: Illusions by Richard Bach, which I read while travelling round India when I was 18
Dave: I read a lot of books, but the most impactful was 'The 4-Hour Work Week', by Timothy Ferris. It's a great inspiration to get you out of the corporate world.
What is your most treasured possession?
Ryan: My passport.
Dave: My guitar. I love to play and sing to relax.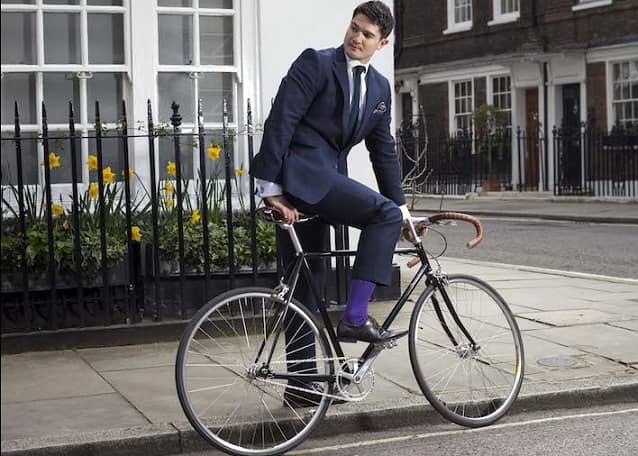 What motto do you live your life by?
Ryan: "It is what it is"; focus on moving forward positively not looking back negatively.
Dave: "Luck is simply where hard work meets opportunity". We seem to get lucky a lot, so this just inspires me to work harder.
How do you keep your body and mind healthy?
Ryan: Regular exercise and a good diet.
Dave: As above, but definitely also family and friends. Enjoying time away from thinking about your business is important to stay fresh and energized. It's also amazing how many ideas you get when you're not really thinking about it.
Where do you see the brand in five years?
A globally established British brand with an extensive range of stylish accessories.
What drew you to Wolf & Badger?
The opportunity to get our products in a great located, luxury boutique alongside many other exciting designer brands. Our good friends at Finlay & Co made the introductions and we're delighted to be in the store.
What one thing would make your life better?
Ryan: More sunshine in London.
Dave: To be honest, I wouldn't change anything right now. I'm just enjoying the journey!
London Sock Co is available online and in our Notting Hill store. Catch them at their trunk show this weekend in Notting Hill for discounts off the collection.
Photography by Rui Jorge: http://www.facebook.com/ruijorgephotography