Mutrah is a jewellery brand started by two young Israeli designers, Mor Aldaag and Gani Bar-Lev. They have specialized during their fine art studies in traditional art forms. Inspired by ancient Egyptian jewellery and a tribal aesthetic, this eclectic brand blends contemporary jewellery design with a distinctive touch of bohemian chic. Mutrah's jewellery is retailed in the most famous high-end boutiques around the world, from NYC to Japan.

- Can you give us a bit of background on your brand, when you started it and why?
We started making bracelets as a hobby almost two years ago. We enjoyed making beautiful designs and experimenting with new materials, without any aspirations of establishing a Jewellery brand. The great attention and flatter that the jewellery received led us to establish MUTRAH six months later.
- What inspires your work?
Our work is inspired by tribal African culture, ancient Egyptian jewellery and Indian arts. Also the city, the beach and the modern life we're living in.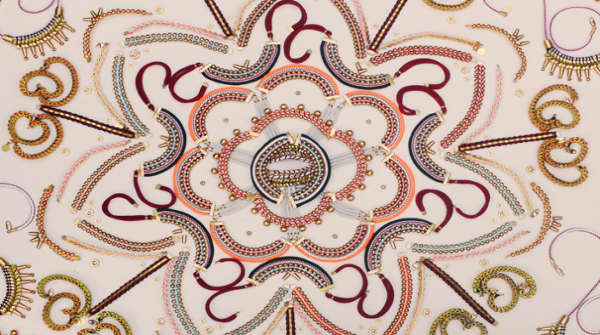 - What is the most difficult aspect of running your own label?
The most difficult part of not having any backing or previous experience in running a fashion accessories business was the need to learn as you go. From the beginning we decided to limit the expansion of the label to the rate of our ability to control our operation and to maintain our focus on the quality of our products, and to innovation in our designs. This policy has so far proven to be successful.
- Which part of the creative process do you enjoy most, and least?
We enjoy all parts of the creative process: The assembly of a new collection, finding and experimenting with new materials, and the involvement in the whole creative and labelling aspect of Mutrah.
- Is music important in your working day, what is on repeat a the moment?
Hell yes! Happy music helps creating happy jewels.

http://youtu.be/PbsRJyW50vM
- If you had a chance to do it all again, what advice would you give to a younger you?
The most important advice we could offer is to see yourself not only as the designer, but also as a costumer, to love what you do and to believe in it. Make things that excite you and that you and your friends would be proud to wear.
- What is your guilty pleasure?
Pinterest and Instagram. #Addicted.
- Where is your favorite city/place?
Tel Aviv!

 
- Who inspires you?
We cannot point to a single person, but to many. Some for their courage in design innovation, some for their vision, and others for their never-ending ability to surprise and excite their customers.
- Wolf or Badger?
Actually we prefer poodles.