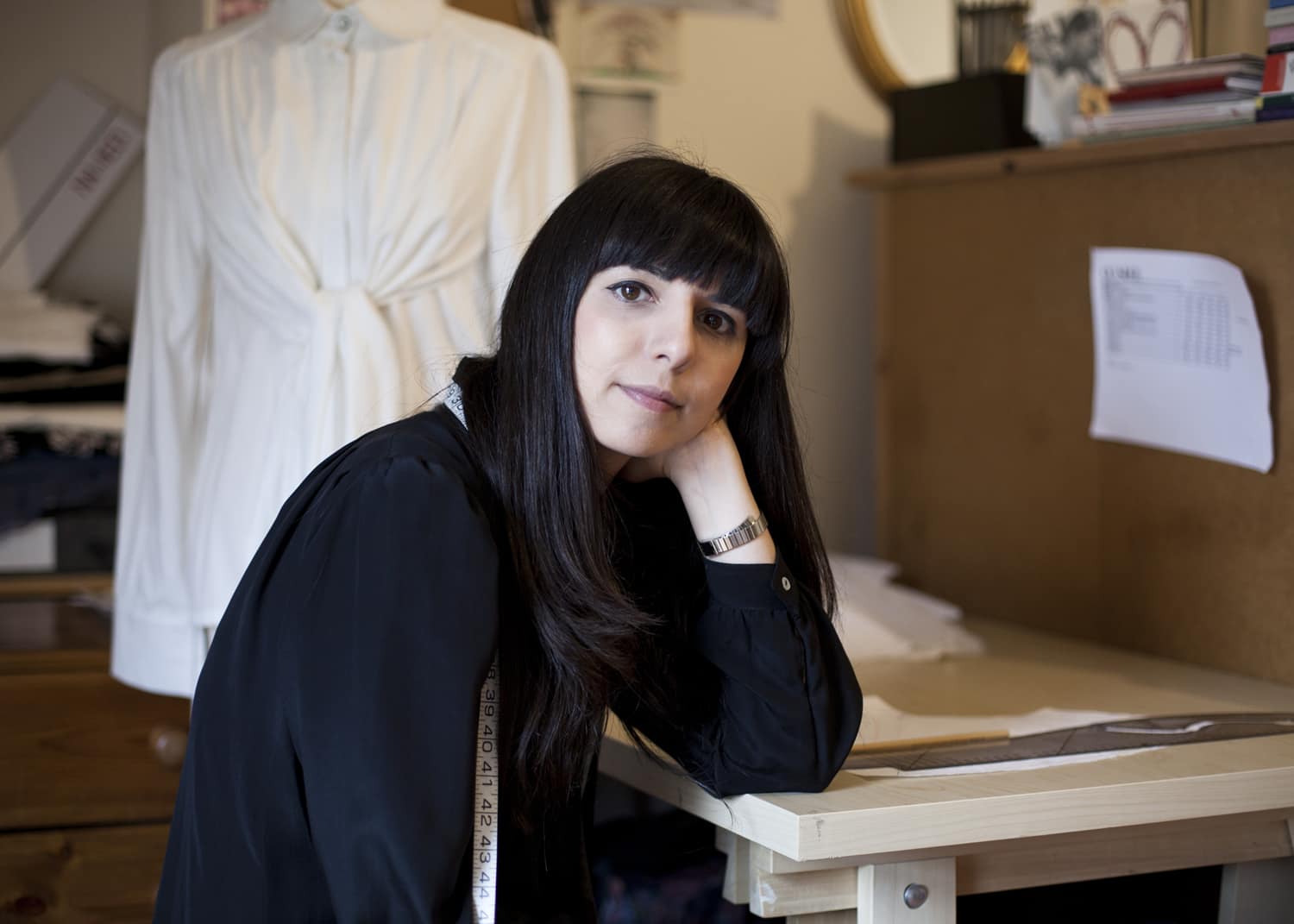 After graduating from her Fashion degree, Outsider founder, Noorin Khamisani, worked for a variety of fashion companies, from small independent designers to large conventional brands. She became very concerned with the way larger companies were producing their garments, and felt as though there must be a better, more conscious way of producing garments. Noorin envisioned a production process that didn't involve cheap fabrics made from petrochemicals, or that required people to work in unsafe conditions. She also couldn't find sustainable/ethical fashion that she wanted to wear, so she decided to solve her own dilemma… When starting Outsider, her mission statement was 'ethical fashion should look just like fashion', which she has stuck to whilst producing versatile and long lasting garments which are both flattering to wear and guilt free.
-          What have been the highest and lowest points on your journey so far?
Production and quality issues are always a low but once they are resolved and we are happy with the finished pieces it becomes a high point.
-          How would you describe your customer base?
Independent thinking ladies with busy lives, they need versatility from their garments so they can go straight from a work meeting to a party with just a change of accessories.  They are exciting and inspire us, so much so that we celebrate them on our blog and Pinterest pages under "Who's wearing Outsider?"
-          What are the morals you run your brand by?
I always begin my work with fabric sourcing, this is where I am a geek!  I look for new sustainable/organic fabrics with luxurious hand feel and good drape.  Merino wool knitted jersey is one of my favourites for winter, it's warm to wear but keeps you cool on those warmer autumn days, it's also machine washable and biodegradeable.  I use a lot of organic cotton which is sustainable and of course so much better for the farmers producing it. All our styles are produced ethically in small, family run factories which we regularly visit – we would never work with a factory we wouldn't want to spend time in ourselves.
-          Who is your mentor?
Daisaku Ikeda, a very inspiring Buddhist. He has written many books about philosophy which are a constant source of wisdom.
-          What inspires you?
Life, everything I see around me. Whether it's in London, the countryside or abroad, there is always something to see or experience that can help generate ideas.
-          What building holds the most sentiment for you?
Jagiellonian University museum, Krakow, my beloved proposed to me in the magical courtyard last year. It's beautiful and like stepping back in time.
-          What book changed your life?
The Alchemist by Paulo Coelho – bit of a cheesy one to choose but I love the story and it says that when you follow your dreams the universe will conspire to help you.
-          What is your most treasured possession?
A very old Singer sewing machine which belonged to my great-grandmother, she made all her children's clothes on it.
-          What motto do you live your life by?
This year I am focusing on buying less, buying better and using more.
-          How do you keep your body and mind healthy?
I walk a lot, in the city and the countryside, it's the best time to think.  I also love Bikram yoga but my practice has been a bit lax lately, it's always on the to do list though.
-          Where do you see the brand in five years?
I want to develop the collection to cover lots of other product areas and to explore different approaches to design and sustainability. In five years I see us making lots more beautiful things.
-          What drew you to Wolf & Badger?
I love the concept of bringing together lots of independent designers and helping them reach a new audience.
-          What one thing would make your life better?
Less time on trains, buses or commuting in general. Some kind of teleportation device, or Floo Powder from Harry Potter, so you can travel between places in seconds.