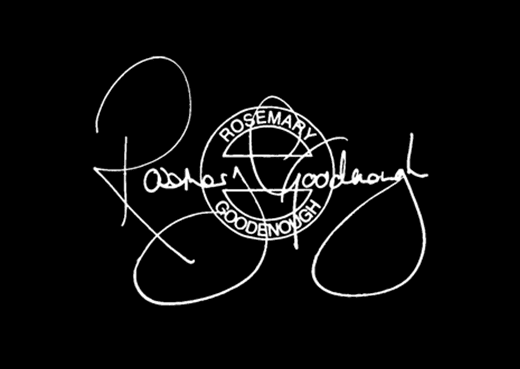 After over hearing "If That Painting was a Scarf I would wear it!" Rosemary Goodenough, an Artist and Sculptor, decided it was time to turn her artwork into a range of luxury scarfs made from heavy Silk Twill. Made with bright colours and an ability to be worn in different ways, these scarves are sure to make you stand out from the crowd.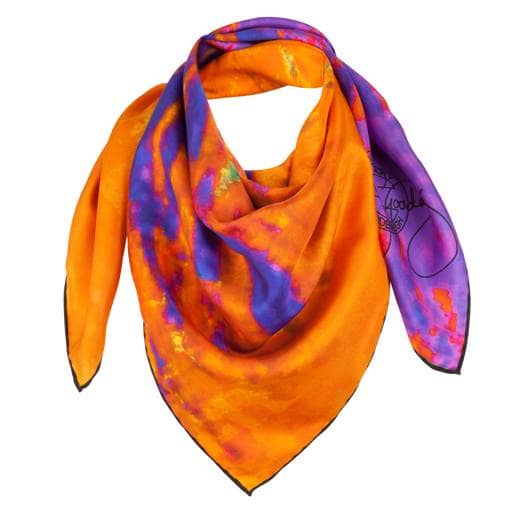 - Can you give us a bit of background on your brand, when you started it and why?
"If That Painting was a Scarf I would wear it!" I overheard that remark at an exhibition of my Oil Paintings and Sculptures on 31st July 2011 and almost inevitably a Brand was born. The first decision was very easy for me, my scarves would have to be utterly luxurious and of course that means heavy Silk Twill, nothing else would do. Next was to work on the design for a first scarf, followed by the design of my logo and packaging and to identify and prove the quality of Silk Twill, the quality of the Digital Printing and the Handrolling of the Hem. This was much more challenging and led me ultimately to the great Silk Printers near Lake Como. My first scarf was produced in December 2011, which gave me a sample to work with as proof of concept and the following 7 designs were launched at SCOOP International Fashion Show at the Saatchi Gallery in July 2012.
- What inspires your work?
I am an Artist not a Scarf Designer so my Scarves are digital variations that I make of my own Oil Paintings and they are inspired by the smell of the paint, the surface I have chosen to work on and of course the beginning, the middle and the end is colour. I have 17 new scarf designs in development at the moment and am very excited about an additional new product that I am designing.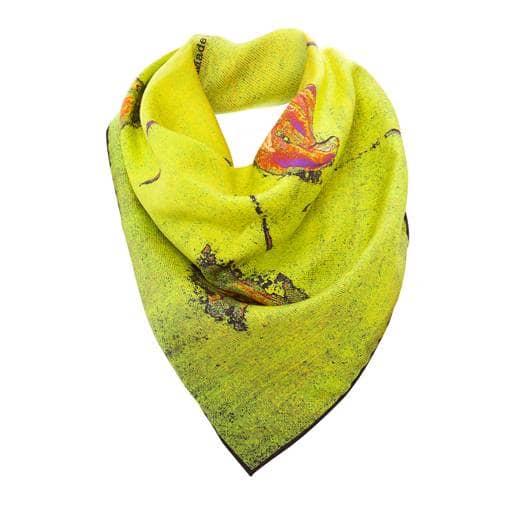 - What is the most difficult aspect of running your own label?
Logistics! It is also one of the most important aspects as without reliable production and delivery of the product, the boxes, the tissue paper etc. I cannot be reliable in delivery to my stockists and my reputation for reliability is absolutely vital to me. The intellectual and creative process in a Brand cannot function successfully without being underpinned by robust business processes.
- Which part of the creative process do you enjoy most, and least?

I love the privacy of creativity. It is about passionate engagement with my medium whether it is Oils, Clay, Charcoal and now my Mac for digital work. I am ambidextrous and don't use brushes when painting so the physical engagement is intense and I believe that I function equally with my left and right brain. What I enjoy least is stopping.
- Is music important in your working day, what is on repeat at the moment?
Music is vital, I am synaesthesic and so for me colours have sounds and sounds have colour but I don't like any words in English as they intrude and thus affect how I feel. On repeat at the moment is Pergolesi's Stabat Mater, a Polka by my step-daughter Isobel Waller-Bridge and Flying Rhino Trance Music.
http://www.youtube.com/watch?v=9mrVZHPikqM
- If you had a chance to do it all again, what advice would you give to a younger you?
Avoid arrogant people. Avoid competitive people. Listen and consider carefully. Just quietly dot along, working hard and always deliver what you have said you will deliver and at the right time.
- What is your guilty pleasure?
Banks Five Island Rum with Tonic and Cucumber, it is impossible to have only one!
- Where is your favourite city/place?
I haven't got a favourite city as cities concentrate a mass of competitive people which makes me nervous. From a purely visual point of view it has to be London as I love the visual chaos which is somehow also incredibly harmonious and then of course there is Berlin! Cities based on grids although initially very beguiling ultimately bore me visually. I love shopping so that just has to be London! Outside the city, anywhere remote is wonderful but not hot or full of creepy crawlies!
- Who inspires you?
I find this question the hardest one of all as I never communicate with someone else when I am working but at risk of sounding corny, loving and being loved adds a dimension that cannot be found elsewhere.
- Wolf or Badger?
Definitely a Badger. I am a sociable loner and terrified of the pack mentality, sorry Wolves!
Rosemary Goodenough.