Tom Horne and William Green met at Edinburgh University and together founded the brand L'Estrange.  The concept behind it is to bridge casual and formal wear, starting by redefining the hoodie; smartening its image and creating a piece of clothing suitable for any occasion.
What was it about hoodies that made you so passionate about creating something new?
T: We both regularly wore hoodies but felt increasingly dissatisfied with the fit, cut and look of those in the market. We could see the functionality of a hoodie in the wardrobe but not in its original form.
W: We had this idea to create a garment that would be versatile enough to be worn throughout the day irrespective of whether we were going to a meeting or heading out to see friends. With that vision in mind, we started making toiles...
How did L'Estrange form as a brand?
W: We first met at Edinburgh University - I was trying to flog Tom a ticket to some dodgy nightclub. It soon became apparent that we both shared an interest in fashion.
T: After we left, we hit the ground running. We had no idea about the process of making clothes, we just knew exactly what we wanted to create and did as much research to find out how we could do it. We ended up in a small studio in East London with a bunch of toiles and samples that look nothing like what we have today!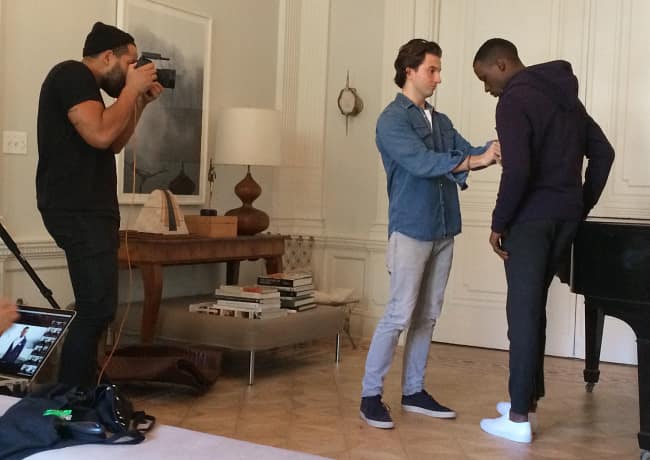 What have been the highest and lowest points on your journey so far?
T: We always say the robbery, but I think it probably is the worst moment of the brand's history. Having our entire collection stolen in transit just before we launched. It could have ended things before we'd even got going.
W: On to a more positive note...we really felt like we had laid down a marker with our first collection and in the past whenever we have opened temporary stores.  A physical space feels really special where we can show people what we're all about.
T: The Shop at Bluebird still is my favourite store in London (alongside Wolf & Badger of course!) and working with them for the first time was special.
What is your greatest fear?
T: Not fulfilling my potential.
W: Or the brand's potential. We're expecting a big year...
How would you describe your customer base?
T: It's very wide ranging, from the young guy who just wants to have a fresh look to the older man who wants to wear something more modern to work. I think one of the interesting things about our demographic is that the hoodie has these casual connotations and is seen as an item that young people wear, but this isn't a hoodie...
W: We like to hear when people are wearing their Hoods throughout the day, feeling as comfortable in their meeting as they would heading out to see their friends. That person.
What are the morals you run your brand by?
W: Integrity, honesty and respect. Knowing and connecting with who is making our clothes is important to us. We work closely with our factory and like to spend time in their environment...I respect them greatly for their skill; I'm fascinated by the process.
Who is your mentor?
T: Richard Craig, Managing Director of Margaret Howell. Still exuding a level of passion after the number of years he has been at Margaret Howell. That's how we want to be.
What inspires you?
T: Progression. In recent years, we've seen a number of companies revolutionising their sector. That hasn't happened by accident, they are led by people attempting to do something different rather than follow the status quo.
W: The world is not static. Every part of it is the product of an idea someone had at some point in time, that grew into what we see now. Every part. People who change things set out to do so. And it all starts with an idea.
What building holds the most sentiment for you?
T: My old family home in Richmond. It's where I grew up and it holds a lot of memories. Everywhere I've lived since then has been quite transitional.
What is your most treasured possession?
T: I have a pendant with my dad's initials engraved on it. I'm not very sentimental about possessions though, I don't really need a physical item to remember him!
W: The first toiles for The Hood. I would be upset if we lost those.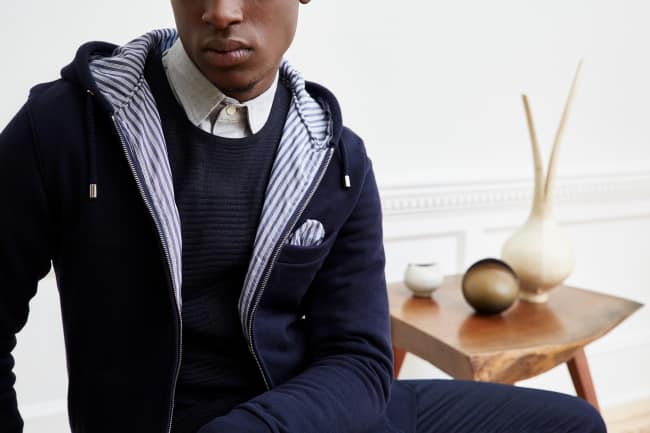 What motto do you live your life by?
T: I don't really have a motto. I do believe that you reap what you sow. Hard work is important to me.
How do you keep your body and mind healthy?
T: Remain as excited about what I do as possible.
W: I don't. Late nights in the studio will do that to you, but when I can, I try to meditate. And I've started running again rather than always eating eclairs.
Where do you see the brand in five years?
W: A full collection being presented seasonally, permanent stores, working with a list of key global stockists...
T: ..but still keeping that same attention to detail in everything we put out.
What drew you to Wolf & Badger?
T: There is a very eclectic, interesting mix of brands in store. It's a great platform for younger brands that are looking to make a move in the industry.
What one thing would make your life better?
T: More sleep.
W: Izabel Goulart.