Luxury London swimwear and lifestyle brand, Lilliput & Felix, creates high-end pieces with a structured feel and sense of fun for confident dreamers, aesthetes and travellers. The label focuses on creating new and considered flattering shapes using beautiful quality and timeless design. We chat to Catriona Ramsay, the designer behind the brand to find out how the collection came to be at the top of every woman's holiday wishlist.
Designing a swimwear line has always been something I've wanted to do. Having grown up all over the world, especially in Asia next to the sea, I lived in swimwear and always dreamed of creating something different. My brother unexpectedly died in 2012 and I decided that life was too short to not follow my dreams, so I enrolled in an evening course at the London College of Fashion and set up a limited company before I lost my nerve.
After graduating from Cambridge with a degree in Social Anthropology I started work as a Country Brand Strategist based in London and wherever the job took me abroad. I soon moved into the Fine Wine world, working for Goedhuis & Co organising and running wine tastings where I took my Diploma in Fine Wine & Spirits. Meanwhile I studied Swimwear Design at the London College of Fashion in the evenings. I started designing and sourcing for my first collection and putting together mood boards in the evenings and on the weekends. I then opened a pop-up Port and Tapas bar and restaurant in Soho with a friend and had my first taste of managing a business, which encouraged me to take Lilliput & Felix a step further and take the plunge!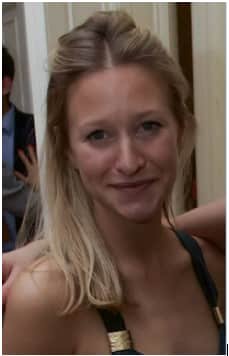 Have you always been interested in fashion?
I've always loved it, but not taken it too seriously, enjoying to put my own spin on outfits. As a child, I used to spend hours in the bathroom when everyone was asleep making ball gowns and dresses out of all the towels. My first work experience was at Hardy Amies of Savile Row when I was 13 and I fell I love with couture. I used to design my own dresses for the May Balls at University.
What have been the highest and lowest points on your journey so far?
The highest point was seeing my designs in-store and in e-stores for the first time- elation! The lowest was probably before I launched and not having any physical product and working long hours alone- I had to learn to motivate myself and to actually get out of the studio to get perspective.
What was the inspiration behind your latest collection?
The Secret Garden!
Do you ever struggle to stay inspired?
Not in terms of designing as I am always dreaming of the next shape or print, but if I ever have a day where I'm in need of motivation, a phone-call to a friend or a brisk walk always helps to focus me.
Where is your go-to meeting spot?
My studio is in Westminster and there aren't many café options but I always like to get out of the studio for meetings, so either a cup of tea (or glass of wine!) in the garden or I scuttle to Iris & June.
How would you describe your customer base?
Confident dreamers, aesthetes and voyageurs for whom style and elegance is a way of being. L&F customers feel at home on any beach, yacht or poolside but never lose their innate sense of playfulness or love of life. They aren't attention-seeking but are effortlessly stylish so still turn heads wherever they globe-trot.
Is there anyone you would love to see wearing your designs?
Any customer! Really, it is such a thrill seeing someone wear a Lilliput & Felix costume even if I know them really well, but I suppose if a celebrity, then Rosamund Pike or Clemence Poesy would be wonderful LF muses!
What are the morals you run your brand by?
Quality is paramount. I make sure that every stitch is in place and that even the linings are beautiful and soft. I really believe in detail and creating a luxurious brand experience.
Do you have a mentor?
No one with that specific title, but I have been so overwhelmed with the kindness of both complete strangers and acquaintances alike who have generously given me their time to advise me and use their talents and experience to help me and L&F. My friends and family have been amazing and I know it may sound cheesy, but my mother, with her infinite wisdom and support, has been a life-long mentor.
What apps keep you sane?
Afterlight. Hands down. Visuals are No. 1 and it is so quick and easy to edit snaps on your phone before uploading them with it. And also Ruuby- the beauty concierge at your fingertips started by a friend of mine- crucial for last minute appointments before a sunny holiday or for hair on a shoot.
If you could only wear one piece from your collection, what would it be and why?
The Lilium swimsuit in snapdragon texture- it makes me feel happy and think of summer just looking at it. It is my favourite shape from the collection and I often wear it with a skirt or pair of shorts as an outfit.
What's the biggest style mistake you've ever made?
As in dressing? I mean I've worn some wacky things but I don't want to call them mistakes- I think it's fun to experiment and wear outrageous outfits. I like to make my own style.
Is there another designer whose work you particularly admire?
In terms of swimwear, Eres I think are wonderful. I love their clean simplicity and level of quality.
What's the best piece of advice you've ever been given?
To listen to absolutely everyone's advice, absorb it, learn from it, and then make your own decisions and conclusions- always listen to your intuition. The more advice you take the better placed you are to know whether to act upon it or not.
What drew you to Wolf & Badger?
I was really impressed with Wolf & Badger as a brand platform and the level of publicity and marketing the team provides is superb. The stores are so well curated I knew that I would be alongside some other wonderful brands.
Where do you see the brand in 5 years?
In 5 years, I hope that Lilliput & Felix will be an internationally loved brand, available across the world in different stores. I would also like to bring out a men's line…