Liz Nehdi Studio had been a long time in the making. While work on the brand began roughly eight months ago, it's something she'd been mulling over and forming for years. She had always been an artist and studied it in university, but pursued a business career for nearly a decade before returning to her dream of creating and getting her point of view to the world, which led Liz Nehdi Studio being created. 
How has your career led you to where you are now?
My background is in fine art and textile design, a history that is reflected in the colour theory, painterly prints and artistic traditions incorporated in my designs. I previously studied at Dartmouth College, Chelsea College of Art & Design and Central Saint Martins, and worked in publishing and online media before moving into fashion design.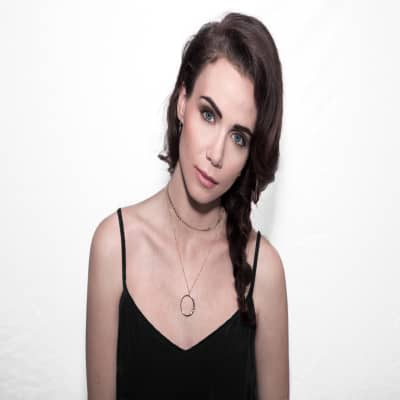 What have been the highest and lowest points on your journey so far?
High: Receiving my first shipment of finished scarves and pocket squares back from our Italian manufacturer and finding them to be absolutely perfect…super soft fabric, brilliant colours, precisely finished edges. Extraordinary craftsmanship to complement my designs.
Low: Starting a business is a roller coaster ride, so there have been a lot of highs and lows. The hardest part has been bowing out of a lot of social outings over the past year so that I can get my business going, which can be an all-consuming affair. I'm a really social person, but a start up requires a lot of attention so I've missed out on more get-togethers with friends than I'd like.
What is your greatest fear?
It used to be failure, but starting a business has made me a lot more comfortable with making mistakes.  Now, I think my biggest fear is not demonstrating enough how much my friends and family mean to me. I'm a bit of a perfectionist and drive myself really hard, but as I've matured, I've realized that so much happiness and meaning is tied to the quality of people you surround yourself with and how much you can positively impact their lives.
How would you describe your customer base?
The Liz Nehdi customer is above all an eternal optimist.  A city dweller, he or she loves the fast pace and endless muses of urban life, but is a keen traveller who values new experiences and seeks sunshine and colour as a counterpoint to city living. Our customer is naturally curious and interested in the stories embodied by my scarves and handkerchiefs – from the artistic and cultural inspirations behind their creation, to the individuals and traditions behind the quality and sustainability of their manufacture – and will create their own stories to add new meaning to the life of the object.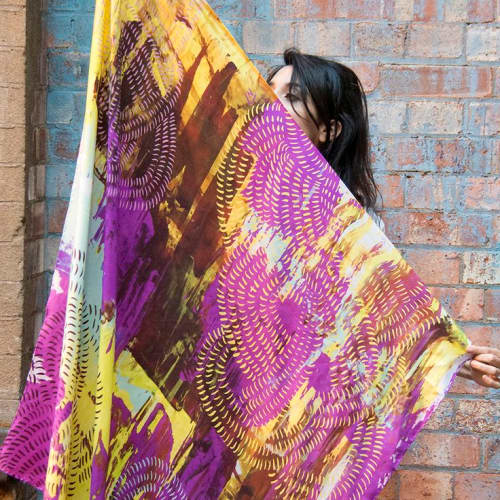 What are the morals you run your brand by? 
Ethical sourcing and manufacturing conditions are very important to me, emotional durability is also imperative in my work. I'm seeking to create objects with beauty and quality but also a great amount of thought and consideration to their meaning, so that people see them as cherished items and want to have them in their lives for a long time. I often take inspiration from the idea of a child's "security blanket", which takes on talismanic properties and becomes an object that is kept for a lifetime.
Who is your mentor?
I'm really lucky in that I've had the privilege to work with some amazing people over the years. As an art student, a number of my professors inspired me and gave me the courage to pursue my dreams, and have been incredibly supportive now that I have the opportunity to do so.
I also draw a lot of strength + guidance on how to lead a team from my husband (+ LNS co-founder, Karim Morgan Nehdi) as well as a handful of female friends who are in the process of starting their own businesses
What inspires you? 
In no particular order, art, unusual doors, natural beauty, London (especially Notting Hill, my home!), travelling, and the seashore.
What building holds the most sentiment for you?
The bungalow we stayed in for our wedding in Thailand. When we were living in Singapore a few years ago we took an impromptu trip to a little-known place in Thailand called Railay Beach, fell in love with it, and the rest is history!
What book changed your life?
I'm a voracious reader and love reading fiction for its ability to transport me to another place and time, so it's hard for me to pick just one. I'll have to get back to you on that!
What is your most treasured possession?
Orangina II, the beloved, transformed Citroën 2CV that has carried my husband and me through our lives in both Paris and London. As a part of my Masters programme, I completely covered the inside and outside of the car in my own pattern designs. It was an extraordinary amount of work and effort, but it truly illustrates all that I hold dear in terms of emotionally durability within my work. It's currently being taken care of in Paris, but I'm attempting to return it to our current home. 
What motto do you live your life by?
I have three:
Live colourfully! Life is too short to be boring.
Choose kindness.
Build the life you want. It won't be easy, but it's a hell of a lot more satisfying than slaving away at one that doesn't excite you.
How do you keep your body and mind healthy?
That's the constant challenge, isn't it? I sometimes succeed more than other times, but I try to exercise regularly, enjoy cooking from scratch and I get a full night's sleep most nights. My husband and I try to take walks together around Notting Hill or in Hyde Park a few days a week, which is not a tremendous amount of exercise but a great chance for us to get some quality time together.
Where do you see the brand in five years?
We plan to carefully expand our product offering over the next several years and in five years the hope is that we will have moved on to become a full lifestyle brand that includes clothing for men, women, and children, as well as home goods. The ethos and aesthetic will be in line with where the brand is now, but our patterns can really be applied to any surface and we're excited to play with form and scale going forward.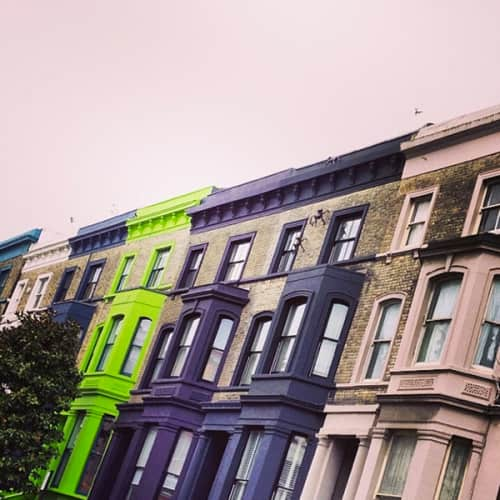 What drew you to Wolf & Badger?
Wolf & Badger has an incredibly well-curated selection of up and coming designers and reflects an aesthetic that is constantly new, innovative and fresh.  As a new label, showcasing and stocking with a boutique that echoes our brand values of quality and originality was extremely important.  Wolf & Badger's position of offering a platform and support to new designers is one I was very impressed by and excited to be part of. Plus, Wolf and Badger has a store front in my very favourite London neighbourhood, Notting Hill, which I also happen to call home.
What one thing would make your life better?
More hours in the day! I really love what I do but the days pass too quickly.
Liz Nehdi can be found on social media here:
http://instagram.com/liznehdi/
https://www.pinterest.com/liznehdi/
https://www.facebook.com/liznehdistudio