This season we teamed up with Fonfique to create our Spring/Summer '16 limited edition tote bag, inspired by our theme for the season - 'Pastel Paradise'. Emma Foreman speaks to the designer, Ceylan Kolat, to get a glimpse behind the scenes at the design process.
Ceylan Kolat has one of those creative minds that it's easy to envy; born and raised in Istanbul she spent years studying fashion design and illustration to hone in on her unique illustration style. Studying in a plethora of prestigious fashion schools, including Central Saint Martins and Istituto Europeo di Design in Milan, Ceylan worked hard to turn her passion into her career and launched Fonfique in 2014.
Fonfique is a colourful lifestyle brand that's known for creating playful, vibrant prints inspired by nature and places around the world to which Ceylan has traveled to. Ceylan cites being at her most inspired when she is exploring new cities and towns, with each place so vastly different in culture, emotion and ambience that it triggers her to draw and paint, channelling all of the surrounding influences into her work. She also names London as a key city to affect her designs, due to its overflowing creativity, and has lead to the creation of the beautiful prints that we see today. Fonfique aims to bring colour and joy into people's lives with their exclusive prints, and it's clear that they have achieved this since they started stocking with Wolf & Badger in May of 2015. Their delightful clutches, wallets, notepads and jewellery rolls were a hit with our customers who were instantly seduced by the hand illustrated designs.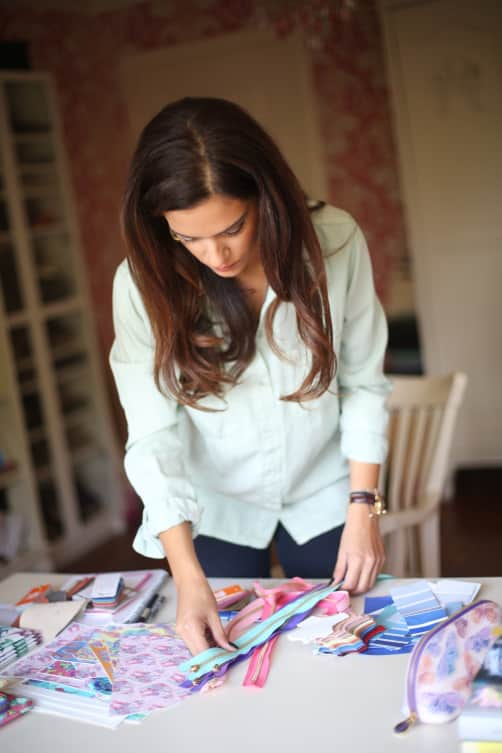 Fonfique was an obvious choice for our spring / summer collaboration, we set a brief of incorporating 'pastel paradise' into the tote bag's design, our aesthetic for the season ahead. Fonfique's iconic pineapple print has already been well received by customers in our stores, so this seemed like the perfect place to start. Afterall, the pineapple is everyone's favourite fruit! Ceylan added bright, playful colours to the existing pineapple print in order to achieve a perfect blend of the two brands styles.