Introducting the Wolf & Badger X Louise Coleman collaboration, the limited edition tote bag that we have released this autumn.  We spoke to Louise to find out how she began the process...
Louise Coleman is living in her imagination, a world of fairy tales, folklore and magic, filled with wildlife and wonder. From early childhood, Louise would spend hours just sitting and drawing, having grown up in the Norfolk countryside she was, and continues to be inspired by the woods and fields that surrounded her. This environment entwined with her love of old books and stories sparked what is fast becoming the instantly recognisable Louise Coleman print that it is today.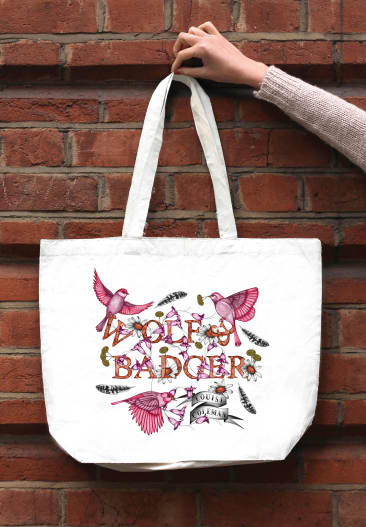 Having studied textiles at school and university, Louise has honed in on her skills over the years and has developed a beautiful illustrative style. It began simply with flora and fauna, although Louise believes there was a dark edge to her designs from the very beginning, but it was when she made the conscious decision to start including more macabre, horror inspired imagery that her magical aesthetic really formed, revealing her love of wildlife but with a darkside.
The impressive results of Louise Coleman's debut collection in our Dover Street store gave Louise the confidence to develop her collection from simple scarves, into a plethora of ready-to-wear garments including kimonos, camisoles and tunic dresses. Customers were captivated by the prints and the brand simply took off. Louise's expertise lies within the prints themselves, and she is at her happiest when sitting and illustrating outside in natural sunlight.  She uses pen with a combination of shading and dot work to create the intricate designs and the whole process can take a couple of days for an impressive single piece.
It seemed only natural for Wolf & Badger to team up with Louise to produce a limited edition tote bag for autumn winter, a blend of the two brands into one seamless illustration was what we wanted to achieve. Louise started with the text then added the flora and fauna, the real challenge was maintaining an autumnal style when so much animal and floral print was involved, but with clear direction in her head, the result is a beautifully unique and eye catching design.  
Pop into one of our stores today to pick up your limited edition tote bag or receive one with your online order.