Eating from porcelain plates is an occurrence most of us take for granted. Artist Jane Lee McCracken has turned this every day object into art! Aestheticly pleasing as well as functional, Jane's exquisite fine English china plate collection "In Homage to the Last Great Carnivores of Eurasia' reproduces her meticulous Biro drawings in porcelain form. Presenting dinner on drawings of wolves, bears, leopards and tigers, allows time not only to contemplate each animal species but enjoy some beautiful art, revealed as food disappears from the plate.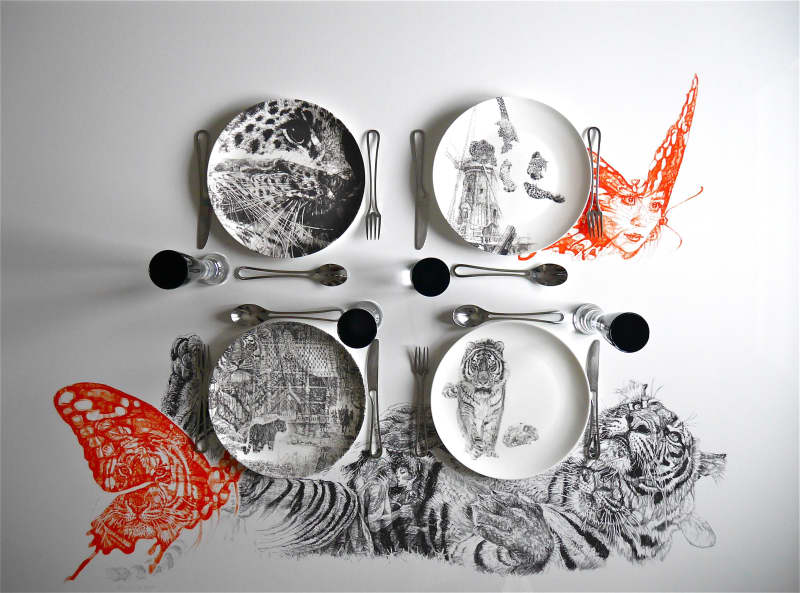 Created as artwork for her solo installation 'The Woodcutter's Cottage', Jane's china collection celebrates the beauty and majesty of threatened and endangered Eurasian carnivores. 
"We grow up with tales of animals whose images become so much part of our psyche, we often forget that many of these species now face an uncertain future. Transforming a simple household object into a piece of art, enabled china plates to tell the tales of familiar animals and their plights. My aim was to create a magical dinner set for 'The Woodcutter', an avatar who sits in his cottage deep in a forest, dining from his fairy tale plates, which depict nature and the changing environment he inhabits."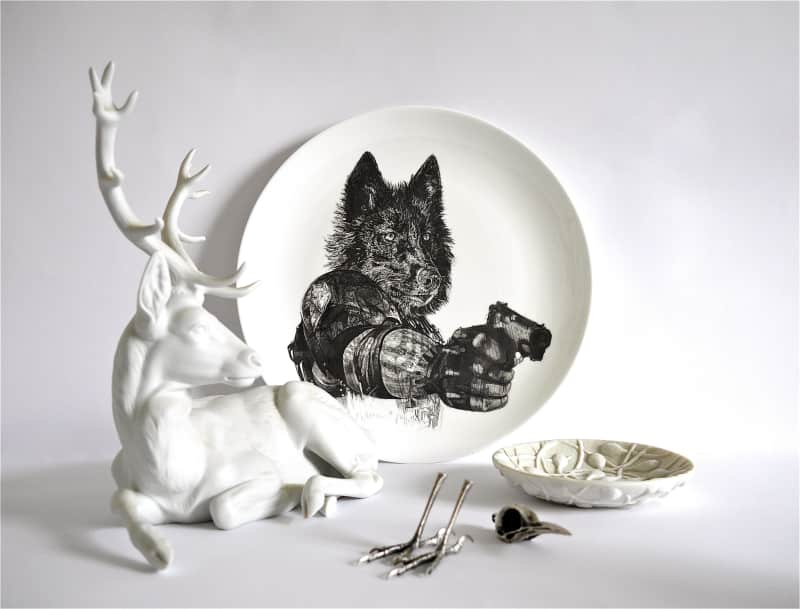 The original plates made for exhibition were produced and continue to be manufactured by prestigious ceramic designers, The New English of Stoke-on-Trent.  Following Jane's installation she decided to release the collection as limited edition pieces, which retain the concept of object d'art, whilst functioning as a dinner set for fine dining. 
"I wanted to bring something unique to dinnerware, manufactured to the highest standard possible that also shared my passion for wildlife and conservation."
Jane's exciting lifestyle images bring further creative inspiration as to how her collection can be enjoyed.