Tuesday's are a somewhat uneventful, they don't have the reluctant dread of Monday's or the hopeless optimism of hump day Wednesdays.  However my Tuesday was instantly made brighter when I was invited to review Ask For Janice, a new bar/restaurant near Smithfield Market.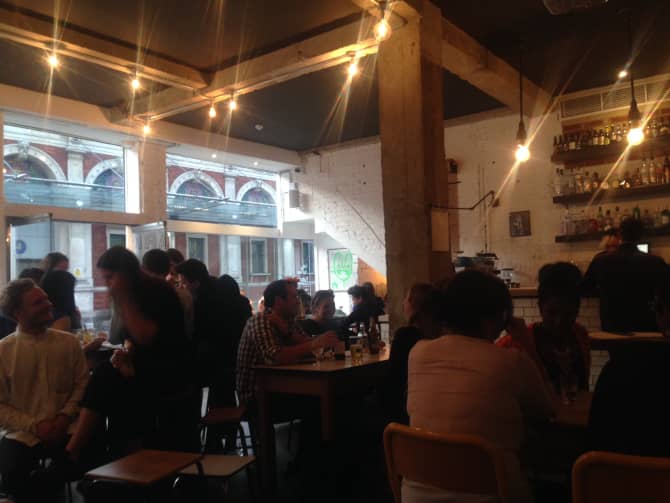 It was off to a satisfyingly good start when upon entry we were alerted to the fact that the place offers over 50 different types of gin and craft beers, with a lot of them coming from local London breweries and distilleries. Ask For Janice has a lot of style for the area, with exposed brickwork painted white, a slate grey ceiling, filament light bulbs and mismatched furniture. It's an interior design treat for an area that's other wise filled with large pubs and bars to satisfy the needs of the after work boozers.
Now let's talk about the food. The menu gives the option of 'things' or 'bigger things' – read small plates or large plates.  There is so much choice on this menu you simply won't be able to stop ordering more.  
We opted for a couple of the 'things', smoked salmon with caper berries and rye, ham hock with a poached egg, deep fried sprats, fries and roasted peaches with parma ham and cheese.  The small plates came in at around £7 a dish, perfectly reasonable for the high standard of food - well-presented and full of flavour.
Ask For Janice is the latest venture of Urban Leisure Group, the same people behind The Elgin in Maida Vale and The Alice House in West Hampstead.  It's definitely worth going a bit out of your way to make a trip there, no matter what time of day – but we recommend going at a time where people won't judge you for making your way through the outstanding gin list.