Being an east London resident, I don't tend to venture west too often, but when I do there is always a good reason for it.  This time it was to try 'London's best piri-piri chicken'.
Situated on Fulham road, we entered the Portuguese inspired restaurant and were given a cosy table in front of the smiling fireplace – perfect for a stormy evening. After hearing the hype about cocktail menu we were quick to dive in and try the Albufeira and the Bagas do Algarve - two signature Portuguese drinks, and they certainly did not disappoint with a splash of refreshing kiwi or summer berries.
The founder of the restaurant Harry Deighton told Wolf & Badger about the summers he spent at his parents place in the Algarve, and the restaurant where they would return to every time without fail; sometimes even straight from the airport to feast on Portugal's best chicken.  It's great to see someone with a genuine passion about piri-piri, and his enthusiasm is definitely reflected in the food.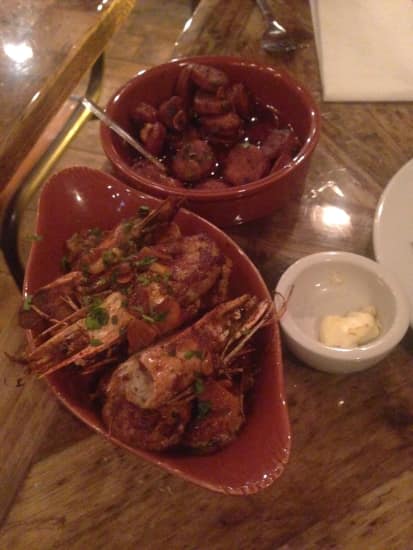 With a simple no-fuss menu you won't spend ages deliberating over what dish to get. A lot of them are perfect for sharing, inspired by traditional Portuguese cuisine. We started with a sharing plate that included sardine paté, garlic carrots and olives. We followed this with garlic prawns that were full of flavour and a generously sized portion of chorizo.
For the main course, halloumi and roasted veg accompanied our whole piri piri chicken along with chips, which unfortunately weren't hand made along with the rest of the meal – letting it down slightly. Honestly I'd say skip dessert, turn your attention back to the cocktail menu instead.
With exposed brickwork, vintage Mediterranean tiles and wooden beams – this is a place you can sit in for hours, with its relaxed atmosphere, well-priced cocktails and flavoursome piri-piri chicken.