If you find yourself wandering around the serene residential streets of Notting Hill, you may just be lucky enough to stumble upon this little gem. Nama has only been open a few weeks but it is already quickly establishing a reputation as one of the most innovative raw food restaurants in London.
With a serene colour scheme of grey and cream, this place will make you feel relaxed as soon as you walk in. All ingredients are vegan, organic, unprocessed and wheat and dairy free. So what do they serve?! Well firstly, Don't let the word 'raw' scare you, Nama's creative collection of dishes will completely revolutionise your conception of raw foods (there wasn't a crudité in sight!). Open for breakfast, lunch and dinner, you can really take your pick at meals but if you want the fullest range of choices to tantalise your tastebuds, I would pop in at lunch time.
My friend and I were at a loss as to what to order, with dishes like 'daikon ravioli with nut cheese' and 'zucchini pasta' (unless you're Gwyneth Paltrow), it's likely you're in for something new. We ended up opting for one of their most popular dishes: the 'lasagne verdure'. Founders Irene Arango and Rich Havardi have completely reinvented the stodgy Italian classic; by combining non dairy seed and yellow pepper cheese with pesto and marinated spinach, your tastebuds will be as satisfied as your waistline.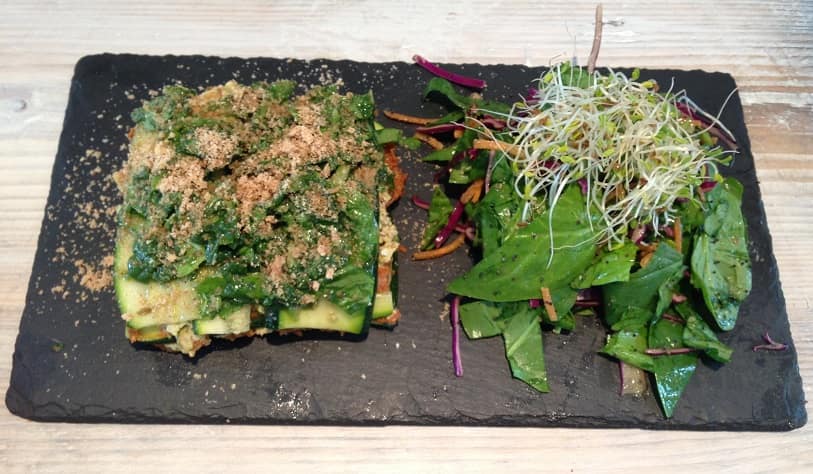 We also decided to try the 'Italian' pizza. The very word 'pizza' usually sends us running in a carb induced fearful frenzy, a Nama pizza however, is of course a guilt-free experience. A delightful array of colourful vegetables tops a crunchy walnut and courgette base, making it a healthy alternative to your usual greasy slice of dominoes.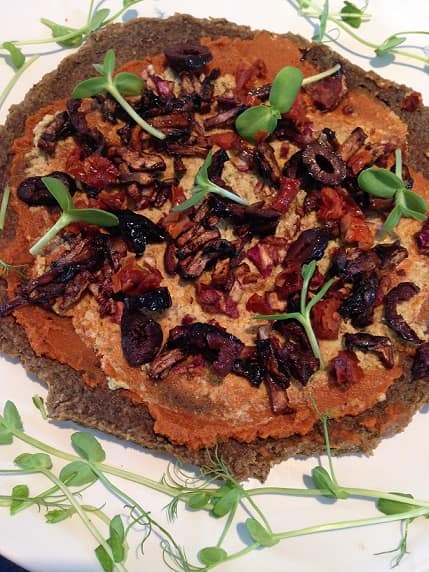 Admittedly they did keep us waiting a while for our food (luckily we weren't in a rush), but when the food arrived so beautifully presented by the smiling, apologetic waiter, we couldn't help but smile back. Oh and the desserts! Well, I can only say that my insatiable chocolate desires were completely satisfied by Nama's delicious white chocolate buckwheat pieces. Made entirely from cacao instead of cocoa, these little bites of magic are actually loaded with anti-oxidants and are consequently pretty nutritious!
We left full and happy and with a goodie bag full of green juices and some raw cheesecake slices (yes, that's a thing). Unfortunately, Nama is not a place for the financially faint-hearted; with most mains trumping £12 and juices at £5 a bottle, you'll struggle to enjoy the full experience without splashing £20 each.
That being said, it is definitely a splurge worth splurging and I can confidently say that I will be returning to Nama very soon and I will be leaving with an even bigger goodie bag of treats - the juices and cheesecake didn't even make it as far as the tube ride home.
NAMA Foods, 110 Talbot Road, W11 1JR.