# 1 – Eat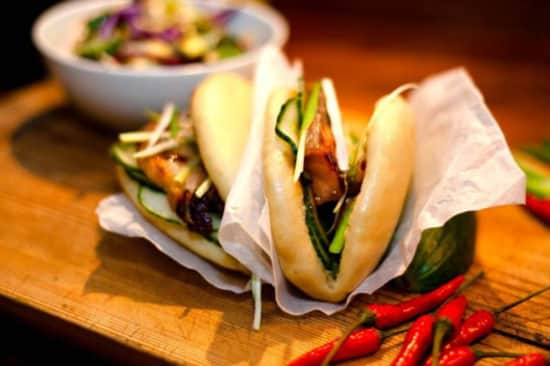 What: The Long Table
Where: Abbot Street, Dalston
When: Every Friday night until Christmas, 6pm – 1am
Why: This Friday is the launch of London's only outdoor food night market, taking place in a secret, disused space in East London's trendy Dalston. The Long Table is a pop-up market with a focus on bringing people together, offering dishes from a mix of top street food vendors, including the five-star steakhouse Hawksmoor and Exmouth Market's Moro. There will be live music, an abundance of drinks and a chance to mix with locals whilst sharing some truly amazing food - something we rarely get the chance to enjoy in the heart of such a big city!
How will you find this secret location? Just follow the amazing smell of the food stalls and listen for the sound of bands playing!
Top tip: Although the markets are covered and have fire pits to help beat the cold, make sure to dress warm! Think big cosy scarves, thick knitwear and woolly hats.
# 2 – Cinema

What: The Underground Film Club
Where: The Dorfman Hub in The Roundhouse, Camden
When: Friday & Saturday night, various start times
Why: Created by the same people who did this summers Rooftop Film Club (which we blogged about here), the Underground Film Club goes below ground for the winter season and will be showing films to suit everyone's taste. The films will be screened beneath the Roundhouses main floor in 'The Dorfman Hub', which is a brick maze once used to store ash and cinders from steam trains, meaning you are guaranteed a completely unique cinema experience! With a big screen, high quality wireless headphones, comfy chairs and fabulous food, there will be everything you need for an incredible evening.
This weekend, head down to see some real cult classics. Back to the Future is playing on Friday night (starts at 9.30pm) and Pulp Fiction will be shown on Saturday (starts at 7.30pm). Since we can't chose which one we would rather see, we may just go on both nights!
# 3 – Shopping
What: Conchita Perez Trunk Show
Where: Wolf & Badger Notting Hill boutique
When: Saturday 26th November, 12 – 5pm
Why: This Saturday, Conchita Perez will be hosting a trunk show at our Notting Hill boutique from 12-5pm. It will be a great opportunity to check out the Autumn/Winter 2011 collection and enjoy an afternoon of Christmas shopping. Come along for a chance to see some beautiful clothes, sip on fruit punch and enjoy some sweet treats.
You will also receive an exclusive 10% discount on the current collection, so you can expect to find the perfect Christmas gift for the ones you love or even treat yourself to something special! To top it all off, Conchita Perez's team will be there, so you will have opportunity to meet the people behind the brand!
Have a nice weekend! x