#1 – Kamola

What: Kamola Trunk Show
Where: Wolf & Badger Notting Hill, 46 Ledbury Road
When: Saturday 11th January, 12-6pm
Why: Heavily discounted pieces from a wonderfully original designer.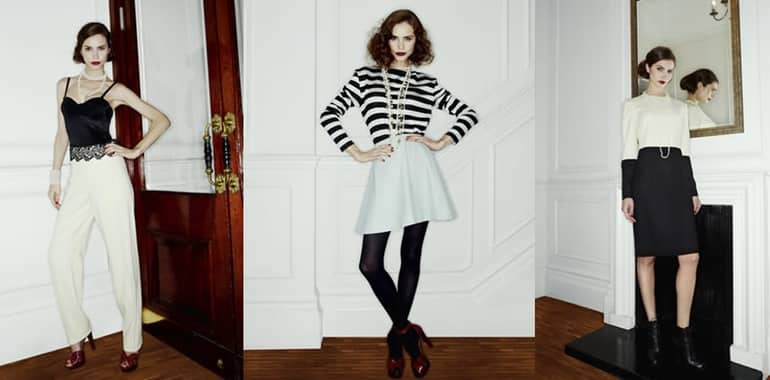 #2 – The Male Nude

What: The Male Nude - Eighteenth-century Drawings from the Paris Academy
Where: The Wallace Collection, Hertford House, Manchester Square, London W1U 3BN
When: Until Sunday 19th January
Henry Graham tells us why... 
The nude is the most widely recognised and universally understood theme in Western art. Whether it is the pre-historic rudimentary carved depiction of the rotund, yet diminutive, Willendorf Nude, or the supremely grand and realistic Renaissance portrayal of David by Michelangelo, the theme resonates with man, woman or child. Perhaps it is the depiction of the human form, something which we all possess and are as such automatically experts at analysing, criticising, sexually idealising or religiously worshipping, that make us all legitimate armchair critics of this subject. Traditionally the nude has been regarded as the most important subject to depict and debatably carries a certain weight of intellectual merit and artistic integrity. And so, it was with this perhaps overly confident reduction of a thirty thousand year artistic canon, that your correspondent decided to appraise The Wallace Collection's The Male Nude.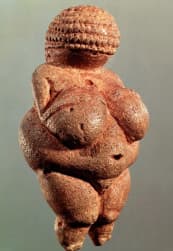 Willendorf Nude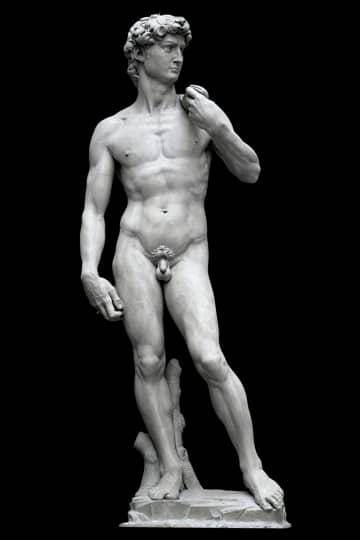 David by Michelangelo

This exhibition is an assemblage of 37 male nude drawings from the late seventeenth to late eighteenth centuries, on loan to the Wallace Collection from the collection of the École nationale supérieure des Beaux-Arts. There are a selection of works on paper, predominantly from artists represented in the Wallace Collection's permanent galleries, including Hyacinthe Rigaud, Jean-Baptiste Isabey, Francois Boucher, Carle Van Loo and Charles de La Fosse.
Life drawing was a skill that all aspiring young French artists of the time seeking to become great painters, or sculptors, had to master. In the Academy's 150 year history, there was never a deviation from studying male nudes rather than women, as the latter was thought to be a distraction and lead to a lower level of skill and a depravity of behaviour amongst the students. These detailed, rigorous academic studies formed the preparatory groundwork and laid the foundations for a grand tradition of French painting, spanning several generations of masters, who painted works depicting historical, classical or allegorical themes, predominantly with a strong focus on the male nude as part of the subject matter. The artists would have been strongly influenced by these grand works of their predecessors and colleagues, who had also studied under the regimented, anatomical training of the FrenchAcademy.
Examples of such luminaries that greatly drew influence from the Academy's teachings include Jean-Auguste-Dominique Ingres and Jacques-Louis David. The most influential French painter of the period was Nicolas Poussin, who studied in Rome and whose works formed the teaching style of the FrenchAcademy. To look at his masterpiece 'Et In Arcadia Ego', one immediately sees variations on some of the poses drawn in the exhibition and it is clear quite how influential he was on French art of the period and teaching methodology of the Academy.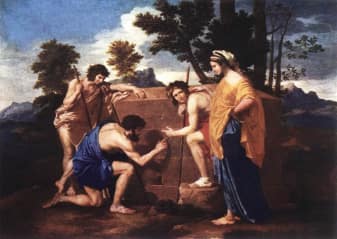 Et In Arcadia Ego by Nicolas Poussin

Two of the most interesting works in the exhibition are a study of a man sitting on a rock (Figs 35 and 36). They have been drawn during the same studio session and are an interesting example of how two accomplished students, practising within the strict confines of the Academy, can produce two quite different examples of the same subject. There is also a lovely languorous, yet still anatomical, depiction of a man lying on his back by Antoine Raspal and a beautiful gentle work of a seated man by Carle Van Loo (Fig 15). However, the runaway star of the exhibition is 'Man Lying Down' by Francois Boucher (Fig 16). 
Fig.35 - Jean-Baptiste Lagrenée, Seated man, leaning on his right arm, 1789. © ENSBA, Paris.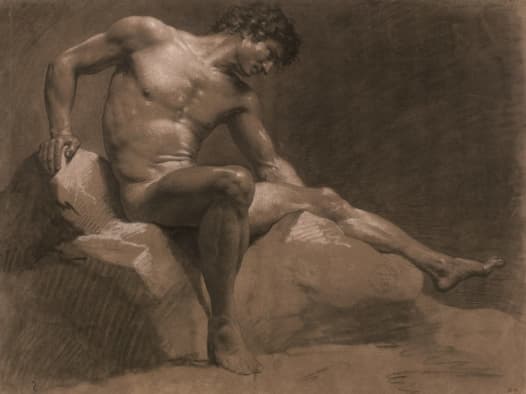 Fig.36 - Jean-Baptiste Isabey, Seated man, leaning on his right arm, 1789. © ENSBA, Paris.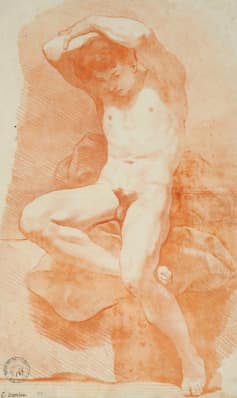 Fig.15 - C.
Van
Loo,
' Male
seated
face‐on,
arms
on
head',

(undated) ,
51.5x31.2cm.
(c) ENSBA,
Paris.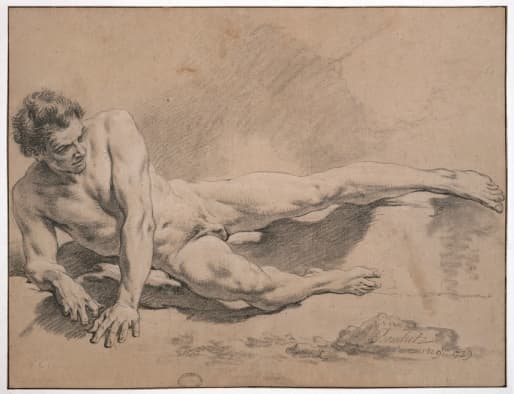 Fig.16 - François Boucher, Study of a man lying down, an elbow leaning on the ground, 1739. © ENSBA, Paris.

This work shows Boucher's mastery of drawing in both an absolute and comparative sense when put on a wall with works from his contemporaries. The line of the body moves from soft, narrow and tactile to hard, thick and using a great deal of chiaroscuro to delineate his form from the background. Shading and the treatment of musculature are treated in what appears to be almost an afterthought by the artist, but result in creating the appearance of the sitter being captured mid-movement and conveying a sense of emotional realism, rather than the static, detached and purely anatomical representations some of the other artists have achieved with their subjects. His hands also grip the rock he sits upon with a tenacity and sense of purpose that is mirrored on his face helping to reinforce the message that Boucher wants to convey emotion and sense of character in the sitter. This work of his is also somewhat reminiscent of his erotic and slightly amorous style that divided opinion amongst critics of the day, but is a clear reminder as to why he is remembered as a true master and founder of the Rococo style.
Words: Henry Graham