#1 – Pomegranate
What: Pomegranate Trunk Show
Where: Wolf & Badger Notting Hill, 46 Ledbury Road
When: Saturday 1st March, 12-5pm
Why: 15% discount across the whole collection plus free pomegranate fizz! Now that's how you enjoy superfoods!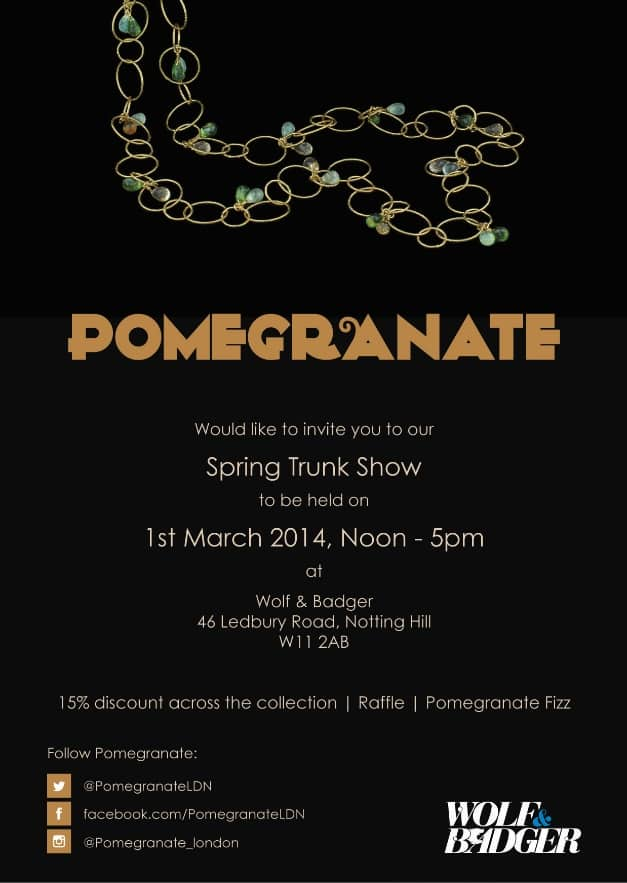 #2 - Lady Dinah's Cat Emporium
What: London's first ever cat cafe!
Where: 152-154 Bethnal Green Road, Shoreditch, London E2 6DG
When: Opens Saturday 1st March
Why: The internet facilitates access to all the information in the world and what do we choose to do with it? Look at cats. People love cats. Don't have a cat of your own? Not to worry - Lady Dinah's has a solution for you! London's very first cat cafe opens its doors on Saturday 1st March in Shoreditch. As an area that is notorious for being achingly 'on trend,' it's no surprise that it is the home to this new wave of social dining. Agreed, it won't be everybody's cup of tea, but we can't think of a more purrfect way to spend a lazy afternoon.
We'll be there with bells on!
Why not dress to impress with some of our cat related items?