Try as you might, there is no escaping the worlds biggest sports day, which kicks off today. So instead of moaning about the traffic and all the extra people that will be descending on London, we have decided to get into the Olympic spirit and embrace the games! As well as our usual suggestions of what to get up to this weekend we have also included our top tips of places to hang out over the Olympic fortnight.
# 1 – See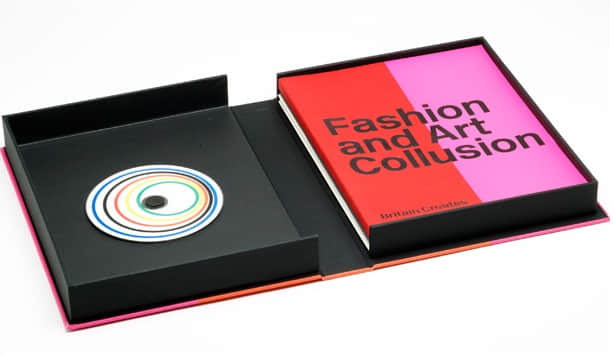 What: Britain Creates 2012: Fashion + Art Collusion
Where: V&A
When: Ends this weekend; Sunday 29 July 2012
Why: Promoting the longstanding relationship between fashion and art. This weekend is the last chance to see the collaboration between leading British fashion designers and visual artists in a series of works commissioned as part of the London 2012 Festival. With the freedom of a completely open brief, the paired artists and designers have emerged with sculpture, video, music and photography.
Featuring:
Hussein Chalayan + Gavin Turk
Giles Deacon + Jeremy Deller
Mary Katrantzou + Mark Titchner
Nicholas Kirkwood + Simon Periton
Peter Pilotto + Francis Upritchard
Jonathan Saunders + Jess Flood-Paddock
Paul Smith + Charming Baker
Stephen Jones + Cerith Wyn Evans
Matthew Williamson + Mat Collishaw
# 2 – Hang out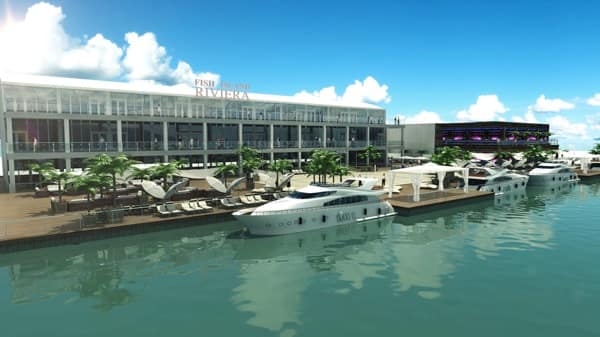 What: Maddox Beach Club
Where: Forman's Fish Island, Stour Road, Fish Island
When: Open from 11.30am until 2am until Sunday 12 August
Why: Screening the Olympic games with the Maddox club pop-up at Forman's, a well known venue for hosting VIP Parties on the Bank of the River Thames. Just 100 meters from the Olympic stadium and complete with a man-made beach, volleyball court, palm trees, sun loungers and cocktails. The indoor bar will screen all Olympic action and host regular live music. This is surely the place to celebrate the Olympics with Forman's teaming up with Ronnie Scott's and an art exhibition will also be on show (In the Rings with Ali) in celebration of boxer Mohammad Ali who celebrates his 70th birthday this year.
# 3 – Buy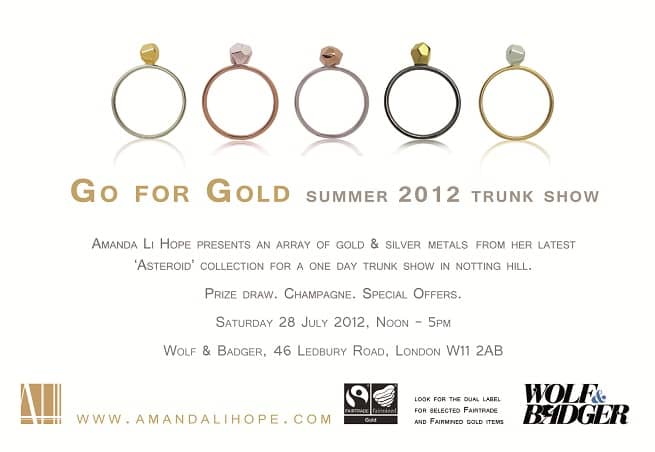 What: Go for Gold Summer 2012 Trunk Show
Where: Wolf & Badger Lab
When: Saturday 28 July 2012, 12 – 5pm
Why: Amanda Li Hope presents an array of Gold & Silver metals from her latest 'Asteroid' collection. Amanda trained as an architect in London and New York and finds much of her inspiration from this backgrounds. A self-taught jeweller, her pieces have a sleek, geometric aesthetic. The 'Asteroid' collection's inspiration stems from the recent discovery that Earths gold came from a meteor shower that struck the planet 3.9 billion years ago. The designs are a contemporary interpretation of these extra-terrestrial rocky bodies and their travelling patterns, and made into faceted gold. All gold used is certified Fairtrade and Fairmined. Don't miss out on a prize draw, champagne and special offers.
Lastly, in the spirit of one of London's greatest historic moments, the Olympics 2012, we give you Wolf & Badger's top picks on what you should not miss out on over the Olympic period.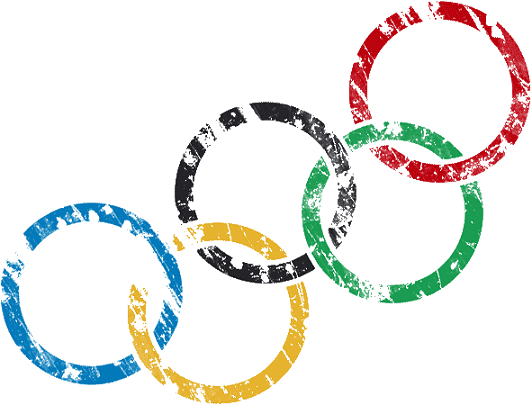 What: The House of Nations
Where: Kings Cross, WC1 and the Tower of London EC3
When: From Friday 27 July
Why: The two pop-up spaces provide a pre-Games meeting point or after-party location with live giant screens to watch the sporting action, cocktails, live DJs and ping pong.
What: Global Feast 2012
Where: Old Town Hall, 29 The Broadway, E15
When: Until Monday 13 August
Why: A unique dining experience over 20 successive evenings during the Olympics featuring cuisines from around the world. With a different specialty each night diners will enjoy cocktails, canapés, dinner, entertainment and a bar open till 2am.
What: Jimmy's Supper Club
Where: Annex East, 2 Hutchins Close, E15
When: Until mid August
Why: Jimmy Garcia of Southwest Super Club will be hosting a number of fine-dining experiences celebrating the best of British cuisine. There is also a Sunday brunch sports club day and Olympic-themed lunch boxes.
What: Road To 2012: Aiming High
Where: National Portrait Gallery, St Martin's Place
When: Thursday 19 July until Sunday 23 September; 10am-6pm, Thursday and Fridays until 9pm
Why: Photographic portraits which celebrate athletes and those working behind the scenes to make the London 2012 Olympic and Paralympic Games happen.