After watching Beyonce's interactive, and pretty awesome performance at the Billboards last week we have been thinking about the meeting of art, design and digital media, how these things have not only become interconnected but also how they have become a part of mainstream culture. Music, and music videos in particular, are becoming far more design and fashion conscious and often feature pieces from emerging, cutting edge designers, much like the designers in our boutique!
So we have looked to this notion to inspire our weekend plans.
Starting our cultural weekend, tonight, the V&A will be hosting a late night event and will be staying open until 10.30. The evening is part of their current Yohji Yamamoto exhibition. The evening is completely interactive and encourages visitors to get involved. It features activities such as a screen-printing workshop, installations, talks, live music, and, of course, a bar.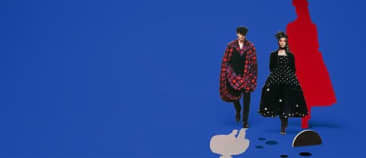 Today also sees the opening of a new sculpture exhibition at The Saatchi Gallery called The Shape of Things. It is the first time the gallery has held an exhibition celebrating all things 3 dimensional; it features the work of 20 diverse and international artists.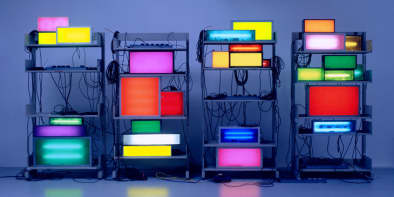 The weekly Trunk Shows at Wolf & Badger have become a really good platform for our new designers to showcase their work, and this week is no exception. One of our newest brands, LaBante will be showing some limited edition Jewellery from their gorgeous collection, there will also be bubbly and a chance to win a necklace worth £200! To make things even better, 10% of all her sales of the day will be donated to charity!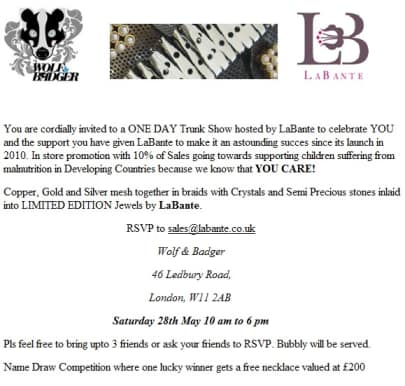 Running all over the weekend is Clerkenwell Design Week which is a showcase of cutting edge design from some of the biggest names in the industry. With over 150 events including pop exhibitions, live music and workshops it is set to be a feast for the senses, and there is plenty of things to get involved.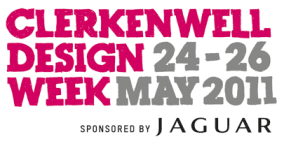 One of the highlights is Lulu Guinness's installation called Be a Pin Up, it is a life sized pin art creation inspired by one of her iconic Lips clutch bags. The installation is interactive and visitors are able to make their own full body sized portraits. The best one wins a Lulu Guinness clutch bag.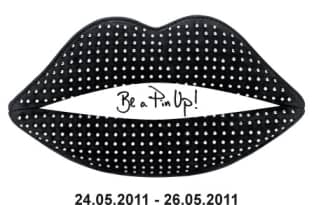 Have a lovely long weekend,
X Wolf & Badger