Following the success of last year's Graduate Design Awards we have set out once again to find the lucky hopefuls that will present and sell their graduate collection in our flagship boutique in Notting Hill.
The competition is split into three categories of product, jewellery and fashion design. Each category has now been narrowed down to five semi-finalists and YOU, the public, will have the opportunity to choose one nominee to present his/her collection alongside two nominees chosen by Wolf & Badger in front of the selection committee in the finals on 1st September at the Wolf & Badger boutique.
Here is how it works:
1. Go to the Wolf & Badger Facebook page: www.facebook.com/wolfandbadger
2. Browse through the three category albums, which present the five nominees, and chose your favourite designer.
3. Simply "Like" the image of your favourite designer (not the album) and that will count as your vote. The designer with the most "Likes" wins this public wild card.
And here we go....
The nominees for the category "Fashion"
Gemma Land - "Strawberry Hill: Part 1"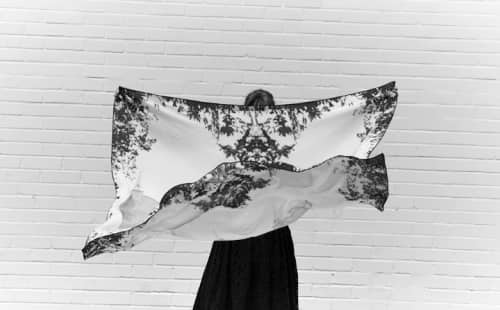 "Strawberry Hill: Part 1", is a series of five monochrome prints of London's much-loved Strawberry Hill House.
Gemma Land's background is in Fine Art Photography graduating from the much-acclaimed MA at London College of Communication.
Her style is unique, fusing her photographic art into printed scarves; she likes to play with architecture and often uses symmetry to create impossible structures and hallucinogenic patterns. Her style lies between the romantic and the gothic; creating beautiful and yet often somewhat unsettling imagery.
She aims to push the photographic print in fashion to new directions, whilst also exhibiting her artwork in galleries internationally.
The collection, which is due to be presented at "Capsule" for Paris Fashion Week, is created and hand finished within the UK which in turn supports the local manufacturing industry..
To vote for Gemma click here.
Biancha Samuel - "Symmetry Beneath the Surface"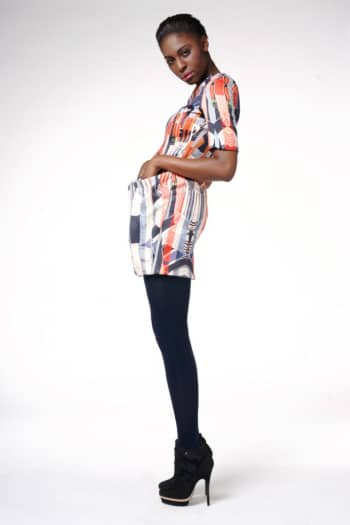 Biancha Samuel graduated in "Innovation in Digital Media and Design" from Ravensbourne College this year.
Her collection "Symmetry Beneath The Surface" encompasses the exuberance and magnetic ambience of the city. This collection presents itself to be young, edgy and contemporary. Each piece heavily focuses on intricately engineered and desirable placement prints.
The print artworks have been inspired by the linear and symmetrical space of the London underground network. With strong structural and clean silhouettes, the bold and dynamic digitalized print projections explain a narrative of weaving and geometric forms. Displaying a creative use of techniques such as digital draping and silkscreen printing on exotic and luxury leathers.
To vote for Biancha click here.
Hannah Cumming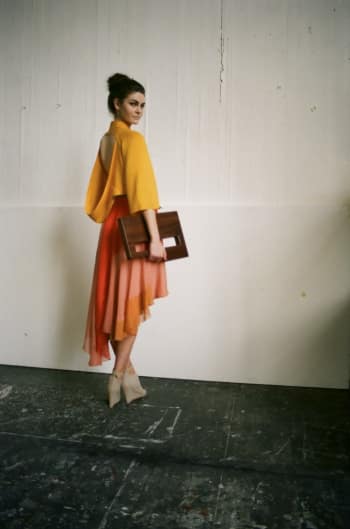 Hannah Cumming graduated from the Edinburgh College of Art with a Fashion BA (Hons)
Hannah's work is based upon the time she spent living in South America, exploring the emotions associated with travel, how we feel traversing, the boundaries of cultures and how we collect memories as we move among different people and places.
Hannah began to explore how to represent these emotions through garment design, twisting and manipulating fabrics, colour experimentation and studying the use of contrasting materials.
Billowing a-symmetric full skirts and dresses are intricately panelled with warm richly coloured sheer silks against bright leather inserts and pleating to create contrasts in structure and movement. Hannah's skirts are panelled with brightly coloured chiffon and suede inserts, whilst her dresses and trousers are constructed from flowing silks and jerseys with elastic suede inserts. The soft garments are contrasted against the structured wooden accessories.
"I believe fashion should be used as a tool to give confidence and beauty to all women" – Hannah Cumming
To vote for Hannah click here.
Liam Freeman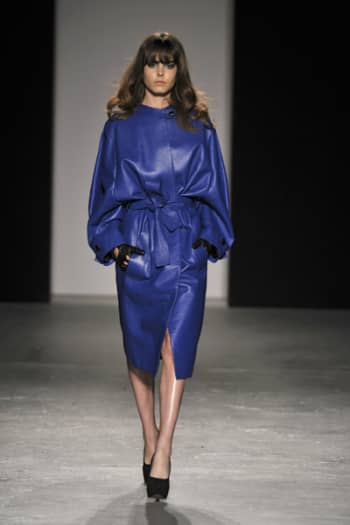 Liam Freeman is a Graduate from the BA Fashion Design course of the University of Westminster.
The student riots at the beginning of 2011 acted as a catalyst of sourcing inspiration for Liam's collection: 'Woman of Mass Destruction'. Imagery of the demonstrations bore a great resemblance to the miner's revolt against Thatcherism, who in turn acted as a muse. Love her or hate her; Margaret Thatcher epitomises a woman of power, strength and determination embodied in the collection's atomic silhouette, monochromatic palette, industrial details and clean lines.
The body's contours are streamlined by the fusion of garments, notably the leather all in one suit and the 'troots' that combined a trouser and boot all in one piece. The mushroom cloud silhouette was achieved through the complex cutting of a 'uni-sleeve' while foiled black leather was used to represent the shimmering of broken glass.
To vote for Liam click here.
Vesna Pesic - "Poetry in Pose"
Vesna Pesic is a recent MA Fashion Artefact graduate from London College of Fashion.
She has 14 years of experience as a milliner and has spent the last 6 years working for Stephen Jones Millinery.
Vesna's collection Poetry in Pose is a collection of sculptural leather headpieces and hats. The concept lies in poetry, symbolism and abstract art, it questions who we are: do the illusions that we create then create us? What is it that we want to hide or reveal?
Vesna's practice is concerned with questioning the traditional use of the materials and the accepted associations of beauty, usefulness.
To vote for Vesna click here.
The nominees for the category "Jewellery"
Birgit Marie Schmidt - "I can't seem to get rid of the horses"
Birgit Marie Schmidt graduated with a masters in Goldsmithing, Silversmithing, Metalwork & Jewellery from the Royal College of Art.
For her final installation and collection Birgit transformed her own recurring childhood fantasies of wild horse adventures into wearable jewellery pieces. The pieces are physical manifestations of surreal equestrian creatures, reminiscing early childhood fantasies made up sitting underneath her grandmother's kitchen table. She used repetition and form manipulation as a tool to communicate the constant reoccurrence of her own infantile world of make-believe.
To create her pieces; which come in the form of necklaces, pendants, rings, bracelets and earrings, Birgit carved and combined wax figures to later cast them into brass and silver before gold plating.
To vote for Birgit Marie click here.
Rachel Boston
Rachel Boston recently graduated from Central St Martins.
Rachel's jewellery collection concept stems from a fascination with insect collection. Collecting is itself an exertion of power, one that is remarkably successful when compared to our attempts to dominate and control living things. Rachel is fascinated by the incongruous nature of the insect collector who professes to love insects but in the process kill them and display them as trophies.
She has created a collection of wearable insect trophies cast from exotic beetles and incorporated real beetle wing cases into the jewellery to produce a collectable medley of man-made and natural objects.
To vote for Rachel click here.
Victoria Kelsey - "Precious Grime"
Victoria Kelsey graduated from Middlesex University with a BA (Hons) in Jewellery and Accessories.
During her time at University she took advantage of a year out assisting the designers "Husam el Odeh", "FS Augusta" and "Fred Butler" on their seasonal collections and catwalk pieces.
Precious Grime is inspired by the marks and traces of age left behind on discarded objects at flea markets. Victoriaappreciates beauty in the layers of dust, grime, rust and filth gathered over many years. Victoria is interested in the uncanny nature of how these dormant objects fall into disrepair altering their original form. Her jewellery explores an exaggerated representation of dust, transforming the subtle dirt into something more precious and beautiful.
To vote for Victoria click here.
Wei Wen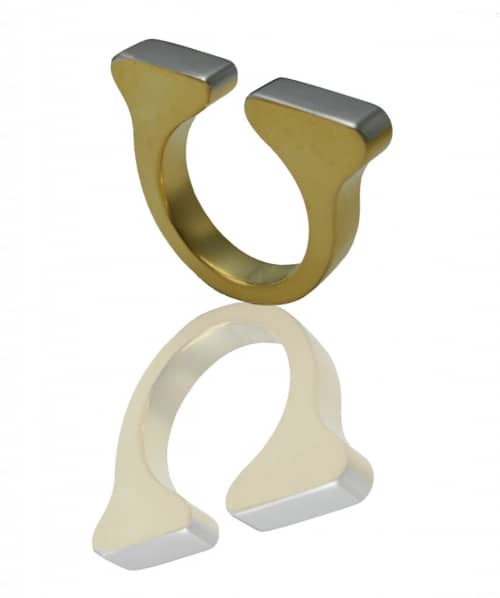 Wei Wen's collection is based on the Chinese zodiac signs.
In Western culture, the horoscope consists of 12 signs to represent 12 months. However, in Chinese culture the zodiac signs of 12 animals represent a 12-year repetition. The Chinese zodiac signs are determined by the lunar year in which one is born. The Chinese believe the animal ruling one's birth year has a profound influence on personality, and destiny.Therefore, the concept of this work is for celebrating the birthday of each client.
The rings can also be used as engagement rings. The Chinese is often used for choosing the most auspicious date for a wedding.
To vote for Wei Wen click here.
William Huynh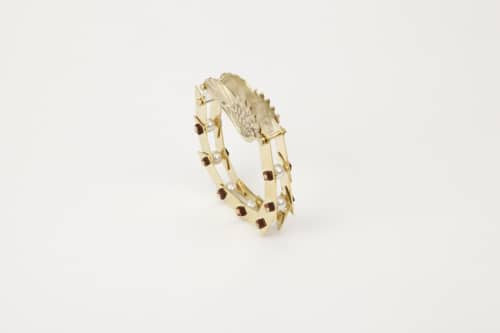 William Huyhn is a recent graduate from Middlesex University.
William's collection, originally inspired by birds, has a sleek contemporary take on Renaissance jewellery meets the Greek god Hermes. He believes the pieces to be wearable sculptures that appeal to both sexes, as the pieces have both a feminine feel and a touch of masculinity.
To vote for William click here.
The nominees for the category "Product Design"
Hazel Thorn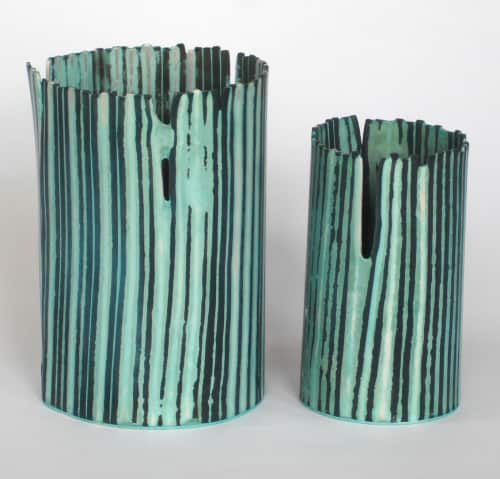 Hazel Thorn graduated in Jewellery & Silversmithing BA (Hons) at the Edinburgh College of Art.
Hazel's sculptural vessels are an exploration and celebration of experimental metalwork techniques. The joining of seams, molten layers and experimental alloys build up complex internal structures within the metal forms. Chemical patination reveals these structures which create contrast by reacting with each metal differently to produce a bold range of colours.
Inspired by the beauty of imperfection and by the limitless possibilities of metal as a material, these painterly sculptural vessels show more details with each viewing, and are intended for decoration and for thoughtful contemplation.
To vote for Hazel click here.
Jonathan Smith - Landscape (Hot Blown Glass)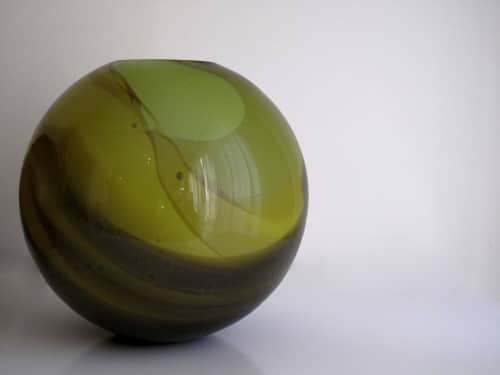 Jonathan Smith is a recent graduate from the University of Sunderland in Glass and Ceramics BA (Hons)
Jonathan's art is a hybrid vestige of mind and feeling; experiences transposed into colour, paint and glass, creating a dreamlike segmentation and lucid storylines fractured then reassembled as an abstract form.
Jonathan preserves in glass, these fragmentary emotions that would have otherwise been forgotten. For this collection Jonathan spent a lot of time taking Polaroid photos, from which he then translated the colours into glass. He looked at the human relationship between spherical forms and vision and chose to use this form to represent the human eye.
To vote for Jonathan click here.
Makiko Nakamura - "Baronage Declass" (One Hundred years after the party)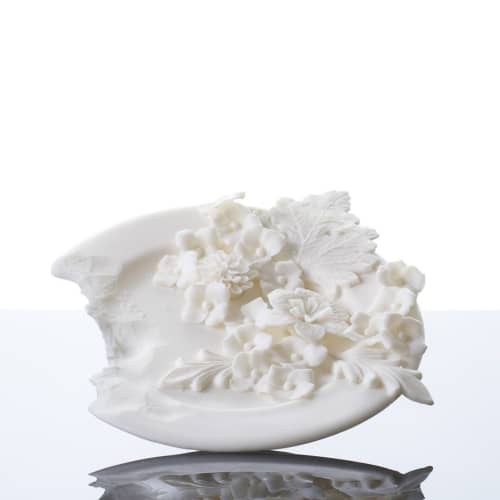 Makiko Nakamura studied MA Ceramics and Glass at the Royal College of Art
Makiko finds the process of decay fascinating, a notable transformation of materials as they become imperfect over time.
In this project she wanted to express the passage of time and the beauty of imperfection, impermanence and incompleteness by destroying porcelain tableware and adding extra and excessive decoration. The destruction of excessive superfluously decorated tableware accompanied withthe layering of such objects isa way of creating unseen landscape.
To vote for Makiko click here.
Sara Fell - "Precious integrations"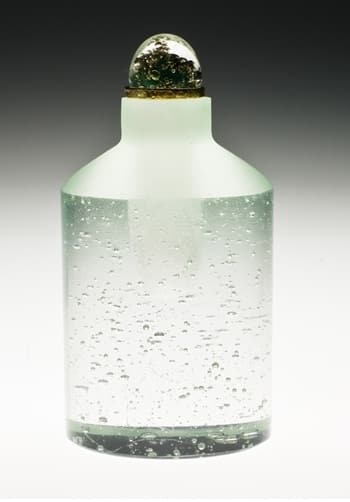 Sara Fell is a recent graduate in the Applied Arts BA (Hons) course, Plymouth College of Art
Sara Fell has an enquiring mind. Never content with being either a jewellery designer or a glass artist; her work is often a collaboration of both skills with a conceptual twist.
The "Precious integrations" series is a celebration of the 'high altar' of femininity and of the ritual beautification that forms the essence of the dressing table.
This series is a continuation of Sara's intrigue into the hidden and precious elements of jewellery, "why do we hide away what we perceive to be our most treasured possessions".
Taking inspiration from the glass dressing table sets of the 1920's, Sara bestows a contemporary take on them by integrating hidden elements of jewellery such as rings, bangles and necklaces within each of her sets.
Sara has received the following acknowledgments for her pieces:
Contemporary Glass Society's New Designers Associate Award 2011, Inspired by... at the V&A 2008 (the Access Prize sponsored by the Louvre), The Warm Glass Prize 2008 and Pewter Live 2007.
To vote for Sara click here.
Theo Brooks - "Seductive Qualities of Sneakers"
Theo Brooks graduated in Three Dimensional Design BA (Hons) at the University for the Creative Arts: Farnham.
A lot of Theo's designs derive from urban environments, particularly urban fashion and architecture. He is inspired by strong dynamic lines, slick flowing curves and abstract patterns.
The collection "Seductive Qualities of Sneakers" explores the themes of desire and obsession within consumer behaviour in relation to urban fashion. Theo was inspired by footwear; he loves the vibrant colours and the strong dynamic lines that are contrasted with slick curves to create beautifully designed objects whilst paying the up most attention to the combination of plastics, suede and leathers. The colour layering for his range is produced whilst the pieces are molten he carves back through the layers allowinghim to reveal inner qualities of the glass. The process leaves the glass seductive to touch as it is based on the ergonomics of the hand.
To vote for Theo click here.