As we suggested in our latest weekend plan, we went out and tried to chase down some of the amazing eggs that are displayed around London.
For those of you who were wondering why giant eggs seem to be appearing everywhere, it's for The Fabergé Big Egg Hunt- over 200 beautifully designed and crafted eggs are scattered across London for you to find. Each egg is accompanied by its own unique code- when you find one, text its code to 80001 to be entered into the prize draw to win a fabulous prize, The Diamond Jubilee Egg, valued at over £100,000!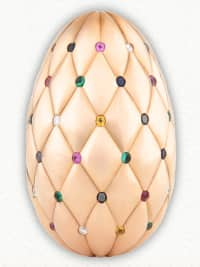 We can't deny that we had our eyes peeled for two eggs in particular, which are very special to us...
We are proud to present our two beautiful eggs, produced in collaboration with our fantastic brands Isharya and Mumo! Although we can't reveal their whereabouts (after all, it is a competition), we have taken pictures of them in their 'natural habitats', so to speak- so you know what you're looking for!
Mumo is an ethical brand with a design focus, which uses luxury organic and fair trade textiles from Brazil for their collections. Hence it comes as no surprise that their Sao Paulo Skyline egg is made from crocheted peace silk, hand spun and dyed with natural colourants in a small factory in South East Brazil. The factory employs people from a local favela, training them up in traditional weaving techniques.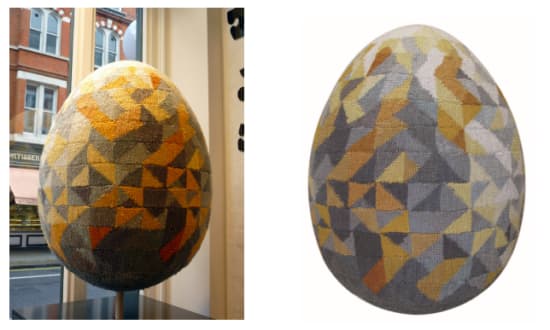 Isharya's egg design expresses the spirit of hope through the Tree of Life, an ancient philosophy which symbolises the concept that all life on Earth is interconnected. The Tree of Life egg celebrates life by portraying nature with intricate illustrations, myriad of vibrant colours and accents taken from Isharya filigree and stone jewellery. The egg has travelled around the world to be made directly in the Isharya design house in Mumbai. We love that they included stones and filigree which they also use in their luxury costume jewellery.
These gorgeous eggs are also up for auction, in order to raise money for Action for Children and Elephant Family. So you can own a gorgeous piece of art, and donate to charity all in one go!
To bid on the Isharya egg, follow this link.
And for the Mumo egg, click here.
Happy hunting! x