Dressing for weddings can be a notoriously tricky task. From navigating the weather, to vague dress codes and some slightly unusual location choices; picking the perfect outfit can be a headache. Therefore, we've aimed to ease the stress a little and have compiled our complete guide on wedding attire to (hopefully) suit any occasion. From black tie affairs in the most luxurious of hotels to an afternoon ceremony on a tropical beach, we've got you covered. Browse dresses from our independent designer's here and bag yourself a unique creation to see you through wedding season. 
Summer Weddings
For casual daytime events or a beach wedding, a bright sundress will always be a great option. Opt for a midi or maxi length for a more sophisticated style and pair with a pair of interesting sandals. We love Valle & Vik for their effortless summer staples. They have a beautiful selection of prints and colours to cater for all preferences and these dresses can easily be dressed up or down with accessories. Opt for heels and a handbag in a clashing bold colour to make a statement.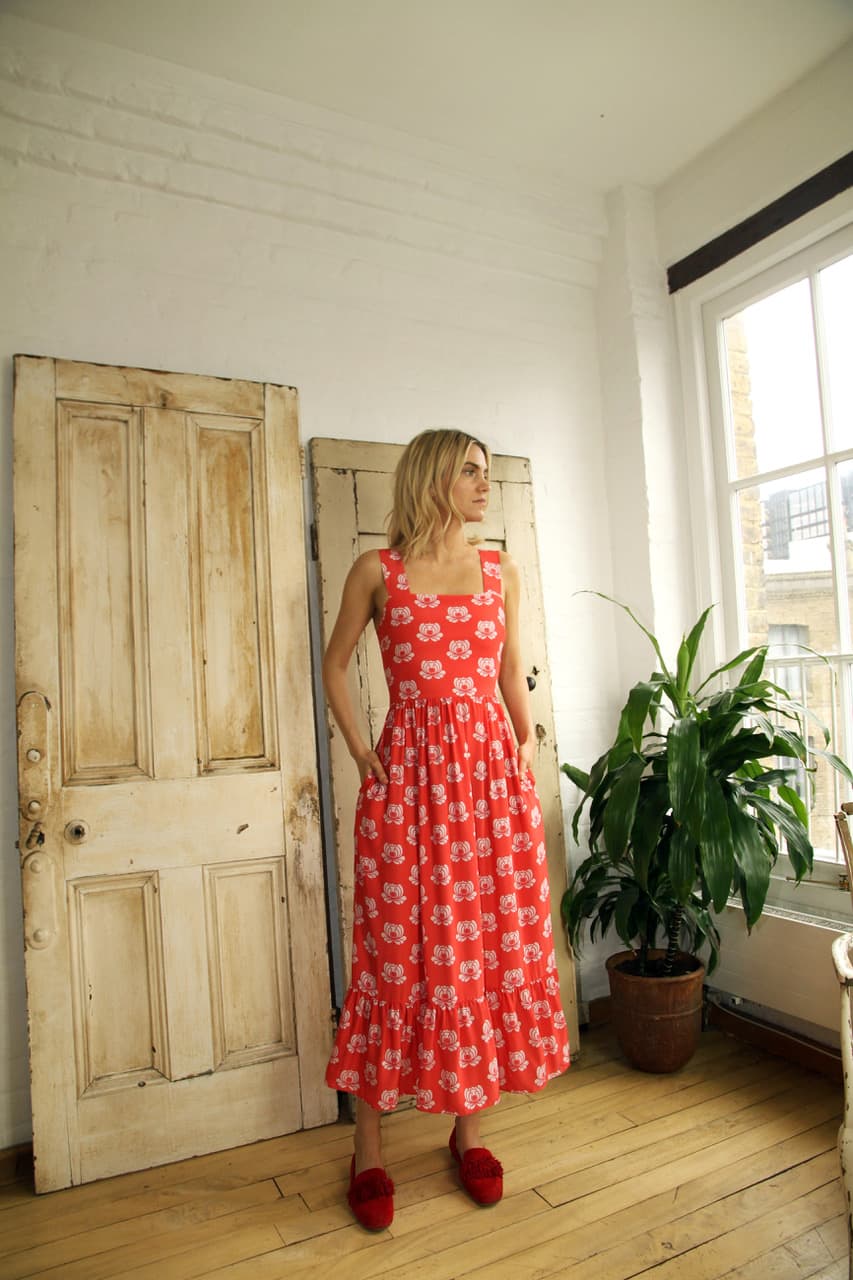 The Breezy Mini Bunad Red Silk, Valle & Vik
For a more formal summer occasion, look for silky fabrics like this beautiful pink number from Vivienne Hu. We particularly love this style for evening occasions as the long sleeves will keep you warm for those late evenings sat outside, or unpredictable weather.

Bejewelled Baby Lavender Leather T-Strap Pumps, Alexis Isabel
Printed Floral Pink Dress, Vivienne Hu
Malini Dream Gold, Mae Cassidy
Summer weddings can also call for a more considered shoe option. For Garden parties look for flat shoes with a chunky heel to avoid sinking in the grass! We love these metallic slip-ons from Lou Earl. Also, they can easily be teamed with jeans and a tee afterwards, making them extremely versatile.
Celine Sandals in Copper, Lou Earl
Sofia Linen Wrap Dress, Les 100 Ciels
Elyssia Green Agate Gemstone Earrings, Tiana Jewel
Alternatives to Dresses
If dresses aren't your scene, or you just want something a little bit different, you can definitely experiment with separates for Weddings. If you love to dress up and are invited to an evening occasion, then look at this glamorous bodysuit from Haithairat. The neon orange colour will be an unexpected showstopper. Team with the Slit Pants (complete with rhinestones for that extra dose of sparkle) and complete the ensemble with glamorous earrings.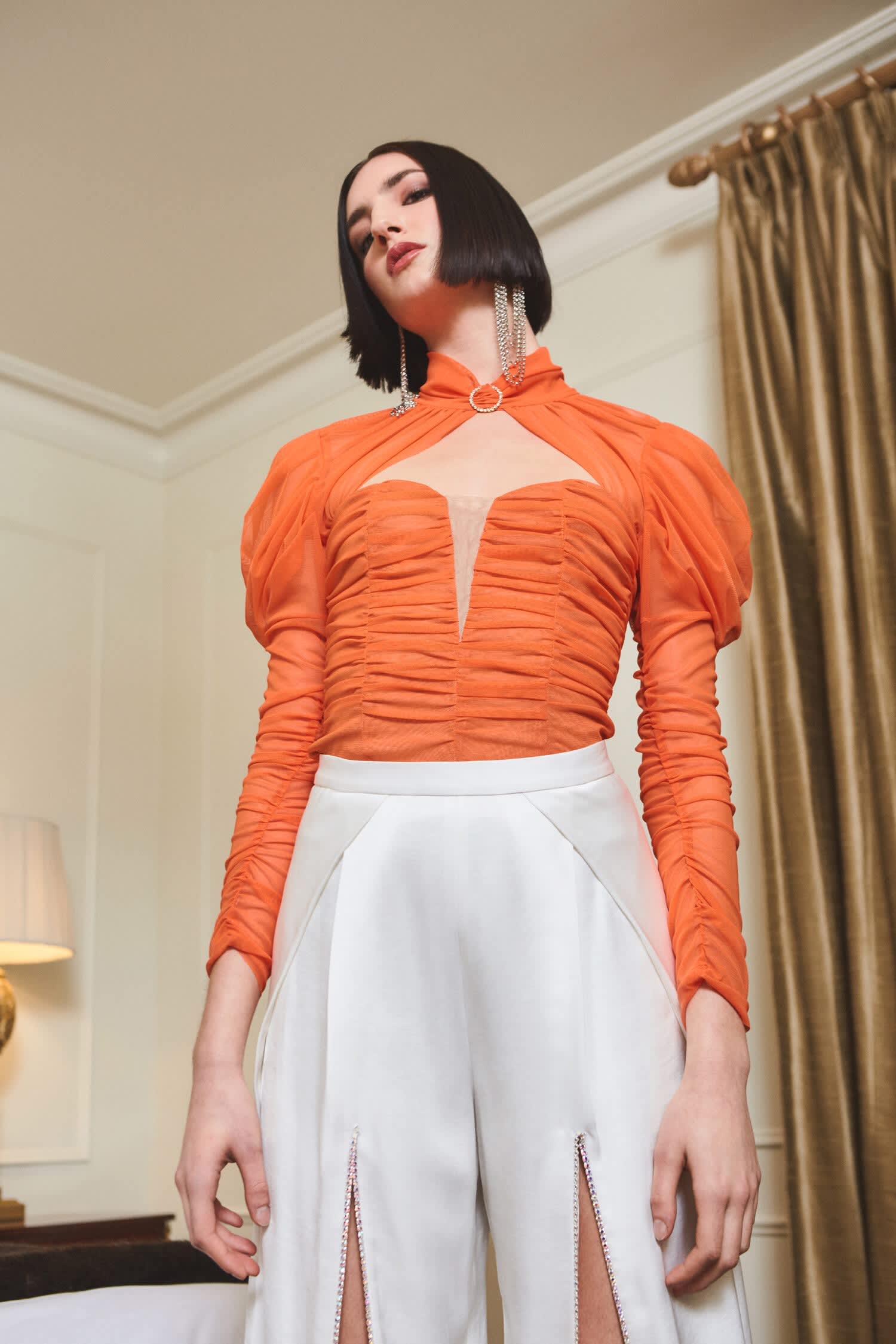 Victoria Neon Orange Bodysuit, Hathairat
For a slightly more toned down affair, play with fun colour combinations and experiment with fabrics. If you're not one for clashing colours why not try pairing similar tones together? For a pretty pastel outfit team Jiri Kalfar's silk shirt with Paisie's ruffle trousers. Look to add a pop of colour with the accessories to avoid a pastel washout.

Latte Silk Blouse with Cuffed Sleeves, Jiri Kalfar
Wide Leg Trousers with Ruffle Panel in Blush, Paisie
Mini Quadratino Lacca 2, Lobos
If you don't want the extra effort of co-ordinating separates, then a great jumpsuit can be a flattering go-to (especially for the taller girls) and it requires minimal effort to pull off. This beautiful baby blue number from Tomcsanyi is another versatile piece and can be dressed up in a variety of ways - perfect if you have multiple events. Choose a statement pair of heels like the Linka Nude from Alepel, or even experiment with bold coloured accessories and jewellery. However, this piece also works perfectly teamed with a simple silver cuff, for an understated and elegant look.

Budapest Cerulean Kimono Jumpsuit, Tomcsanyi
Evening Occasions
If you're invited to an evening celebration you can add a little more glitz and glamour to your outfit. The rich gold colour and backless detail on this Sarvin number is a great option for a sophisticated guest, it can easily take you from the ceremony to the dance floor. Add some gold heels and intricate drop earrings as a finishing touch.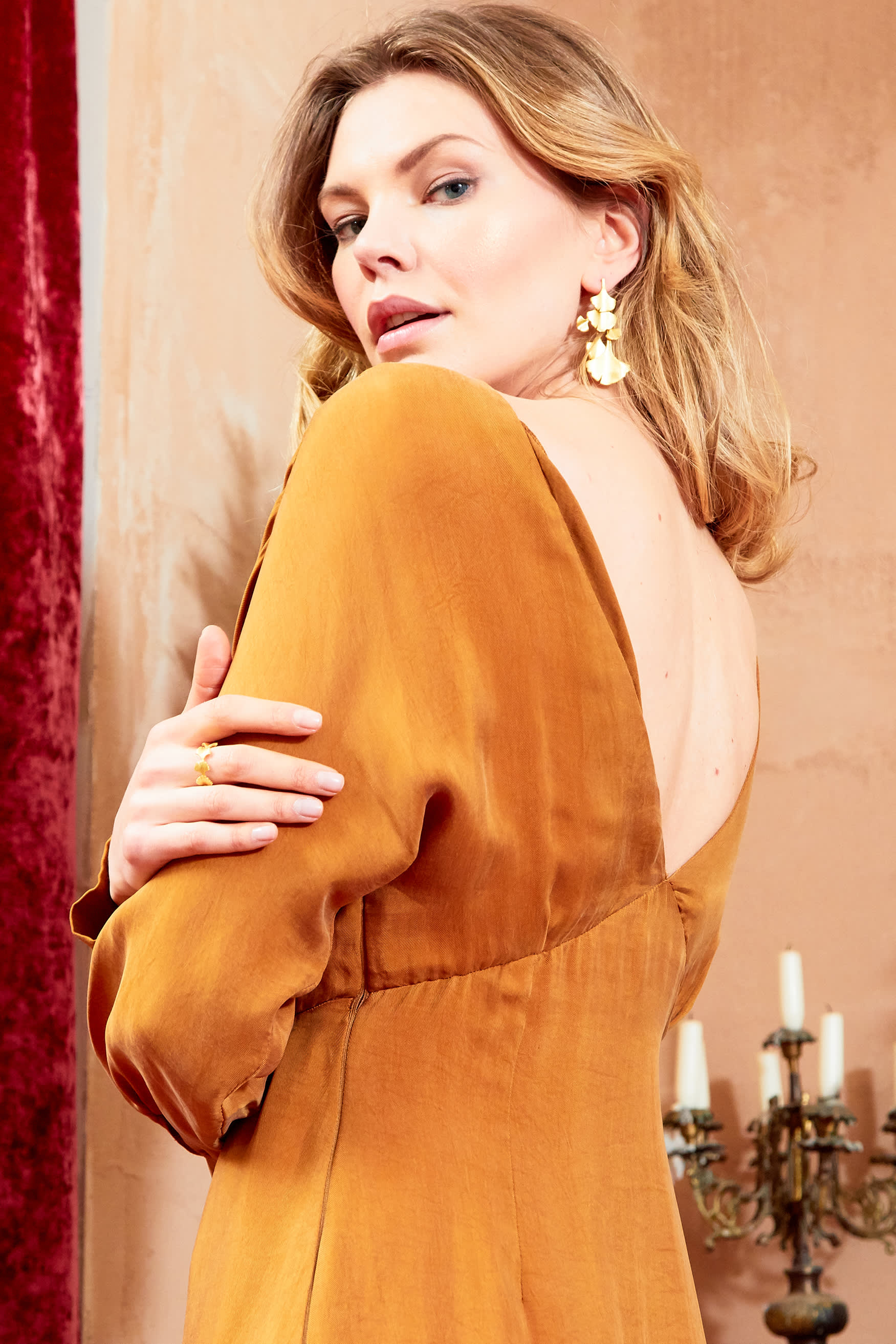 Shay Gold Handcrafted Long Sleeve Backless Midi Dress, Sarvin
A cocktail dress code means you can opt for lavish beading and embroidery. For those who love a bit of sparkle look to this Jiri Kalfar dress in a bright red, perfect to dance the night away. 

Teardrop Filigree Statement Earrings, Ottoman Hands
Red Cocktail dress with embroidery, Jiri Kalfar
Cocktail attire doesn't have to be over-the-top. A sleek dress paired with minimal accessories can look equally as elegant. This Riona Tracey gown would work perfectly for an autumn wedding with its rich plum colour and would also look great paired with a tailored black jacket for when there's a chill in the air.

Aurelie Agate Earrings, Edge of Ember
Pink Tie Dye Polo Neck Dress, Riona Treacy