Events
Curated by Wolf & Badger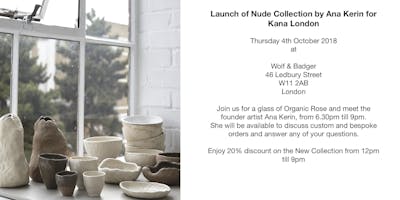 FREE
Thursday, 4 October 12:00
Thu, 4 Oct 12:00
Meet The Maker: KANA London
Kana London was born fortuitously as a result of Ana Kerin's training in sculpture & her background in fine art, eventually becoming a fully developed project in London in 2012. Sculpting and an affinity for working with clay led her to wanting to apply the principles of her art work - the tactile, hand built aesthetics, the traces of her fingerprints and hands on the surface - into functional ceramics.  Join Ana in Wolf & Badger Notting Hill for a glass of organic rosé and enjoy 20% off the collection.
View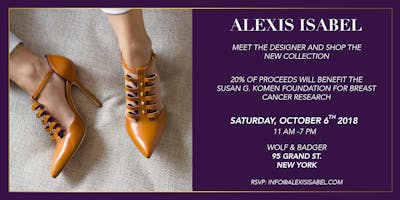 FREE
Saturday, 6 October 11:00
Sat, 6 Oct 11:00
Meet The Maker: Alexis Isabel
Produced in Italy by master artisans, the Alexis Isabel brand embodies integrity and quality. The designer imbues each shoe with femininity and soul as her guiding philosophy has always been to prioritize shoes as the centerpiece of any outfit. Alexis divides her time between New York and Milan, where she develops each shoe with a special attention to detail. Both the mundane and the extraordinary serve as constant inspirations for her work.  Alexis has been featured as one of Footwear News' emerging designers to watch, and is a 2018 CFDA + Elaine Gold Launch Pad award winner. Join Alexis Isabel in our New York store for drinks and shopping the new collection. 20% of the proceeds will benefit the Susan G. Komen foundation for Breast Cancer Research. 
View