Press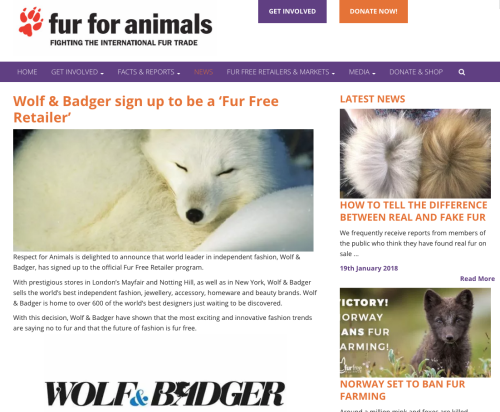 Respect for Animals
January 2018
Wolf & Badger sign up to be a 'Fur Free Retailer'
Respect for Animals is delighted to announce that world leader in independent fashion, Wolf & Badger, has signed up to the official Fur Free Retailer program.
With prestigious stores in London's Mayfair and Notting Hill, as well as in New York, Wolf & Badger sells the world's best independent fashion, jewellery, accessory, homeware and beauty brands. Wolf & Badger is home to over 600 of the world's best designers just waiting to be discovered.
With this decision, Wolf & Badger have shown that the most exciting and innovative fashion trends are saying no to fur and that the future of fashion is fur free.
Henry Graham, Creative Director, says:
'At Wolf & Badger we disagree with the concept of "ethical fur" and do what we can to defend the rights of those that are unable to speak for themselves.'
Commenting on the announcement, Respect for Animals Campaign Director, Mark Glover, said:
'We are thrilled with Wolf & Badger's commitment to being fur free. Their announcement has got 2018 off to a flying start. Despite the fur trade's public relations and spin, more and more retailers and consumers are coming to realise just how cruel fur is and wanting to have nothing to do with it. Fur Free Retailers are the future of fashion and it is fantastic that Wolf and Badger are now members of the scheme.'