GeeGee Collection is a contemporary British womenswear brand founded in 2019 by Georgia India Crossley, and is based on the principles of creating one-of-a-kind luxury womenswear clothing, entirely crafted by hand.
The GeeGee Collection style radiates luxury by combining modern effortless contours that are elevated with bold splashes of colour and embellishments, designed for the free bohemian spirit.
The brand instils these codes into the highest standards of quality and refinement with each garment rigorously crafted in England and the selected fabrics are handwoven in Italy and France. The craftsmanship and fabrics of the collections are of the utmost importance to ensure that every individual piece is one of a kind and truly a work of art. We sat down with Georgia to learn more about her brand.
How did GeeGee Collection begin?
After graduating I was awarded an internship for a year at Alexander McQueen, following on from there I went to intern at Jenny Packham in embellishment placement and design. After this I went to work for a shoe company called Fitflop in material design and pricing, and then ended up in a factory in China for a few years sourcing and purchasing materials for different brands such as Michael Kors, Timberland, Alexander Wang etc.
Owning my own fashion label is something I never dreamt of doing until about two years ago when I started working in material sourcing and development, where I had access to a huge array of different materials, suppliers and an in-depth knowledge into how textiles are produced. Because of this, I was able to visualise design concepts. I then went on to register and set up the business, as I knew that it would motivate me to follow through with my ideas if I created the foundation for it to grow.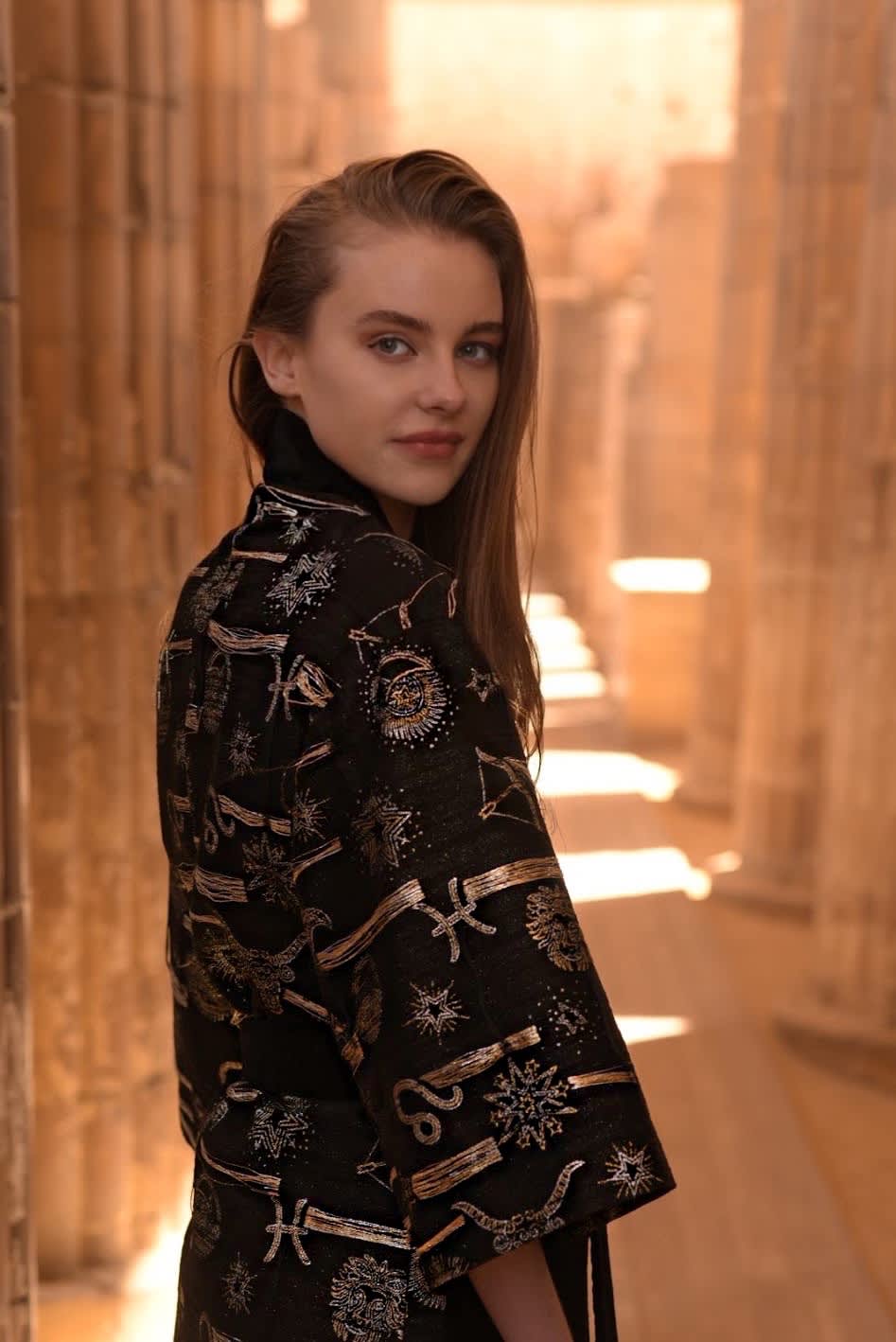 Have you always been interested in fashion?
Not until I graduated from University. Before that I had wanted to study fine art and become an artist, I've always had a passion for creating things. It was only when I was awarded an internship at Alexander McQueen after my graduation show that I became seriously interested in fashion and everything about it. 
What have been the highest and lowest points on your journey so far? 
The highest point was definitely my first sale! Also the feeling of satisfaction when I completed my 1st collection. I did everything myself, so it was hugely rewarding to see all my hard work finally coming together into something I could be proud of.
The lowest points are definitely during the start-up, trying to get noticed and make sales, which isn't easy when you don't have a big budget! I also struggled a lot in the beginning when making my first samples, as they didn't often turn out how I expected them to. So it took a lot of trial and error to get into the position I am in today. It literally took me almost a year to produce and be happy with my 1st collection.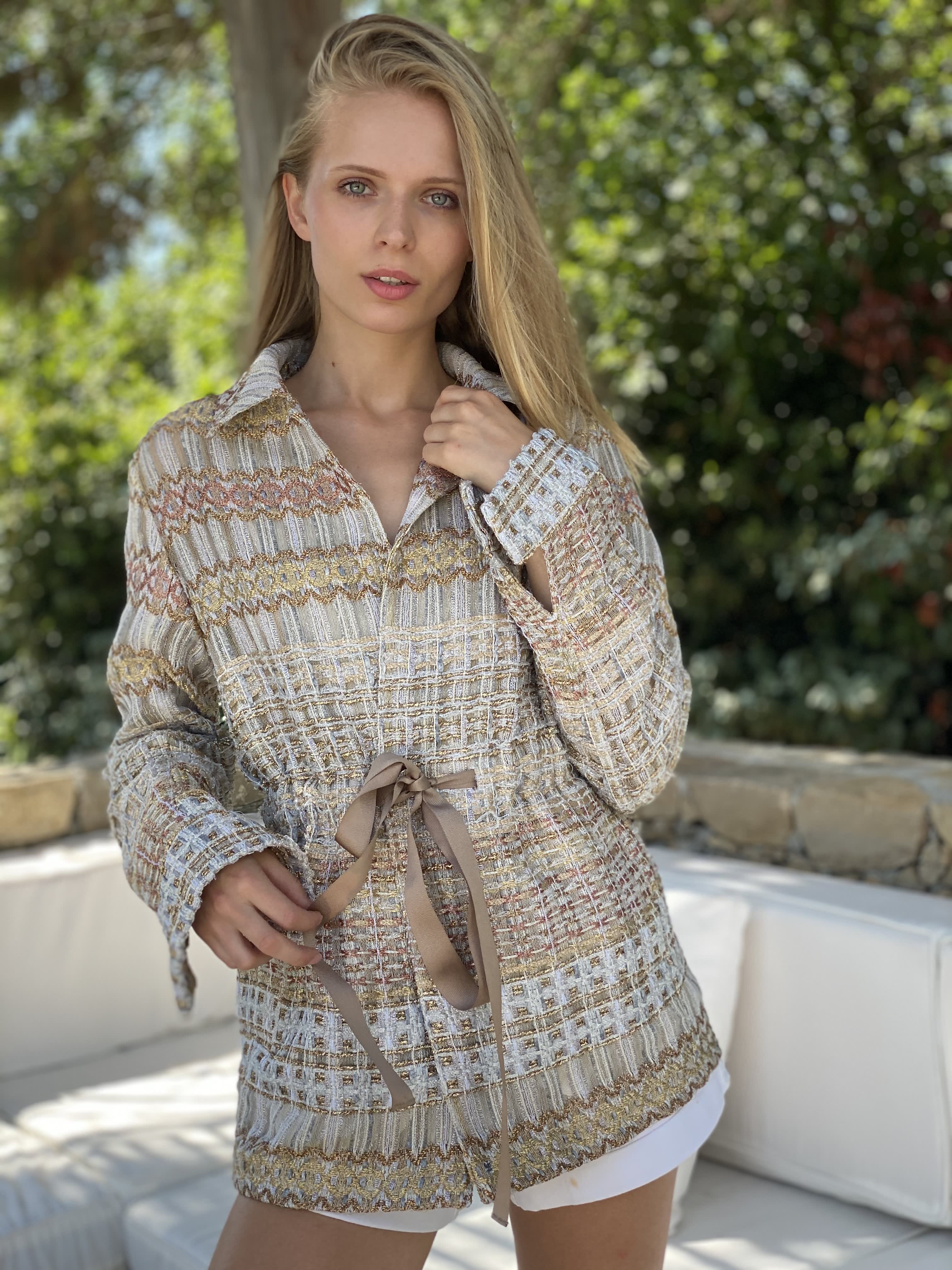 What are the morals you run your brand by?
As I am a bit of an environmentalist, when I began researching manufacturers for my brand, I wanted the process to be sustainable, better for the planet and in line with my personal values and ethos. For this reason, my collections are small and carefully considered and I have avoided mass production by sourcing fabrics that are handmade in France and tailoring from local manufacturers in the UK. 
What was the inspiration behind your latest collection?
My latest SS21 collection is inspired by the shamanic mysteries of Ancient Egypt. I was inspired after taking a short trip to Egypt at the beginning of this year and fell in love with the history, culture and colours.
How would you describe your customer base?
The woman I design my pieces for is always at the forefront of my process. She is carefree, international, bohemian and individualistic. As all my pieces are handmade, including the fabrics which are handwoven, they definitely have a striking edge.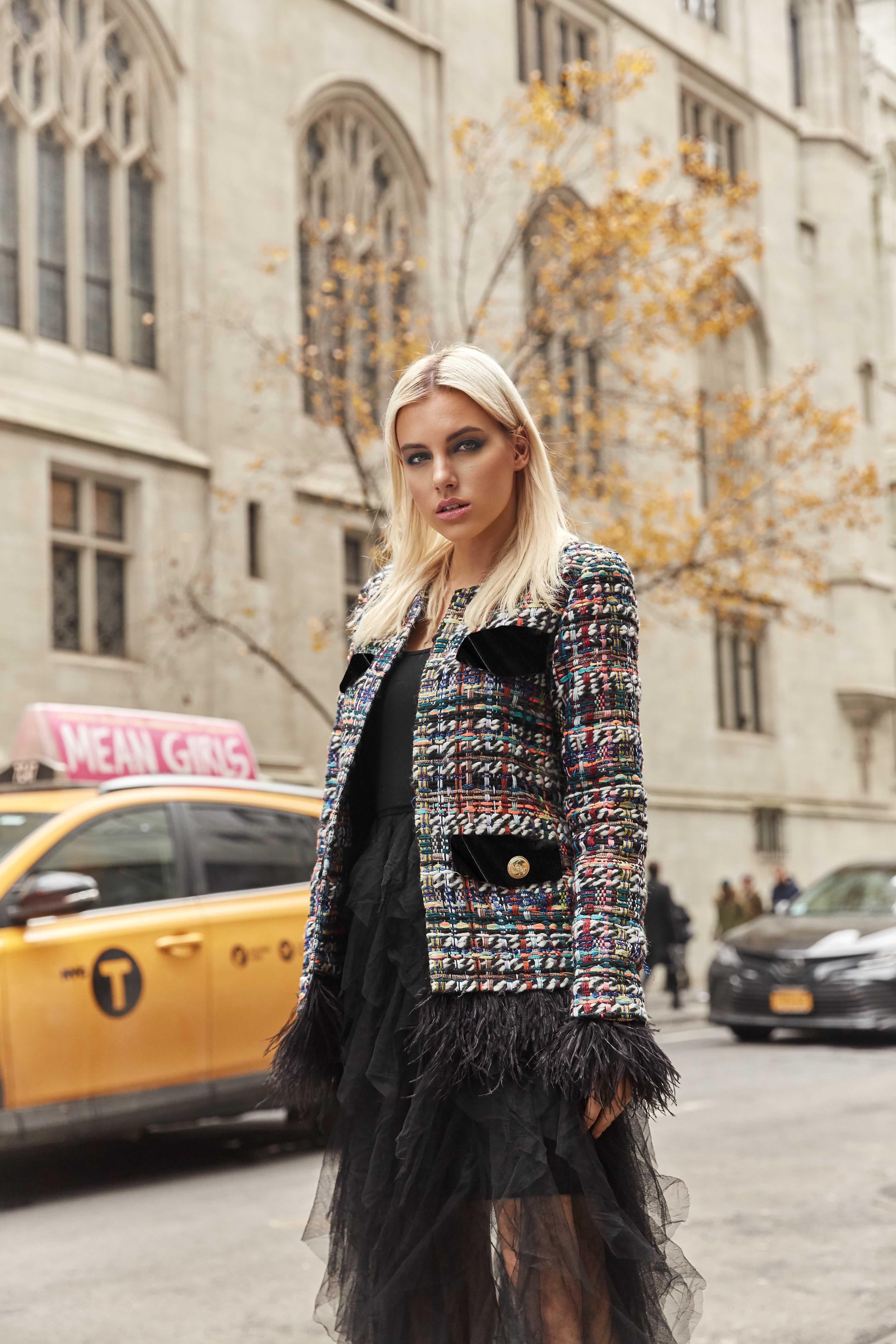 Do you ever struggle to stay inspired?
Never! Inspiration for me can come from anything so the more I live, the more creative I get. A vacation, a vintage find, an era in time or even a person can give me a vision for my pieces. 
Is there anyone you would love to see wearing your designs?
I love Kate Moss, she's such an icon. I would love to see her in some pieces!
Do you have a mentor?
No, but there are entrepreneurs I admire that I look up to for inspiration, tips and motivation. I especially like listening to motivational speakers such as Tony Robbins as they can really uplift my mood when I'm stressed or having a bad day!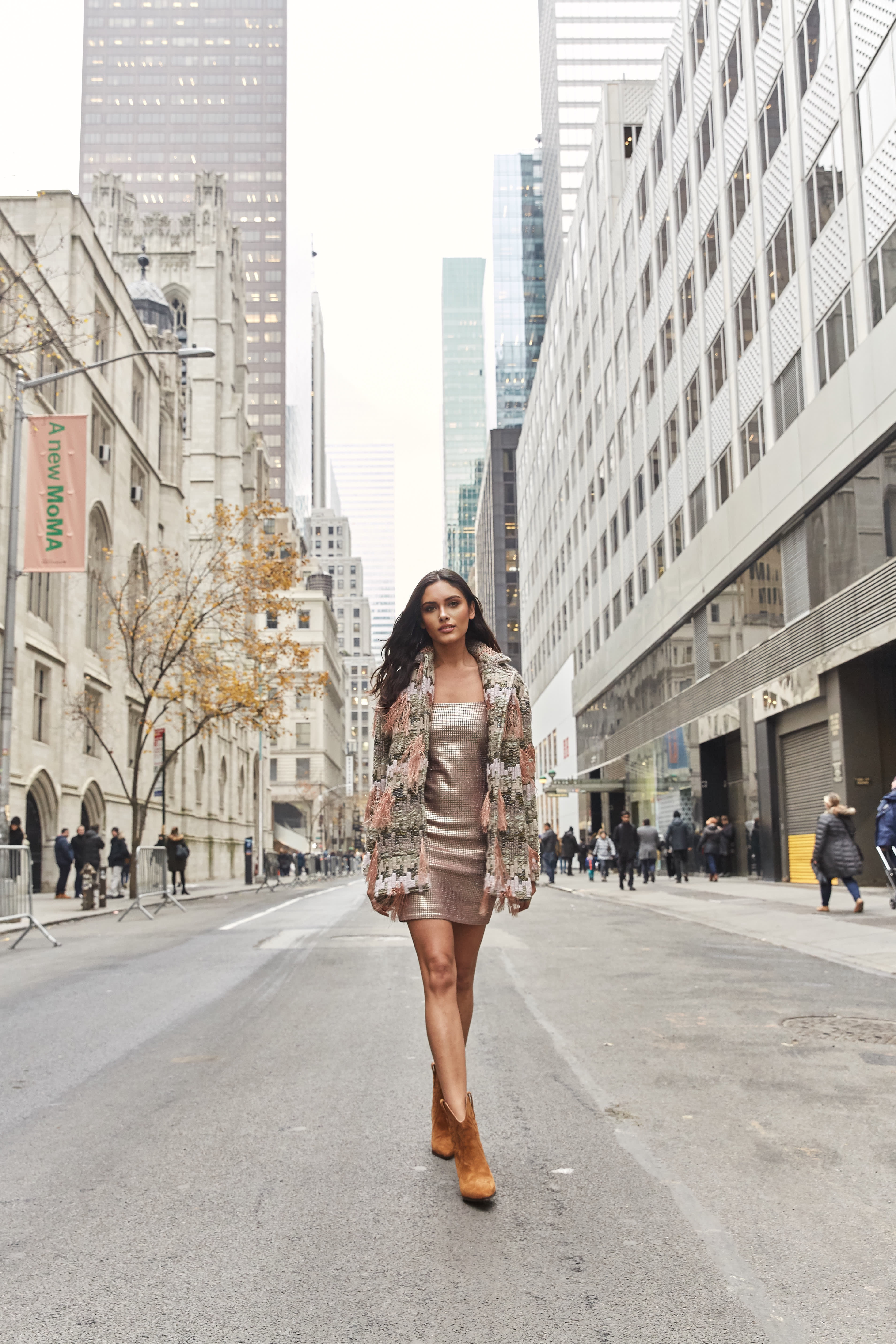 If you could only wear one piece from your collection, what would it be and why?
Most probably the Zodiac Kimono. The main strategy behind my brand is to "reinvent wardrobe classics" and this is my interpretation on the modern day version of a suit. It features handwoven metallic zodiac signs and the inspiration behind it came from a paper museum I visited in Egypt where I was shown the 1st ever version of a clock drawn by the Ancient Egyptians featuring 24 hour hands and all 12 zodiac signs.
Is there another designer whose work you particularly admire? 
I try not to compare myself to other people, especially designers as I feel it can really hamper your creativity when you are comparing yourself to someone in a similar field. 
If I was to talk about my favourite design company, I would definitely say Etro and Pucci, as I love the big, bold, colourful prints they make. You can instantly tell when an item of clothing is made by those brands, which is what I would like the same for mine, when people look at someone wearing my collection, they know it's a GeeGee Collection piece! So, I would say I admire brand identity as opposed to individual designers. 
What's the best piece of advice you've ever been given? 
"Be true to yourself and never compromise" which was given to me by my step-dad a long time ago, but it always stuck with me.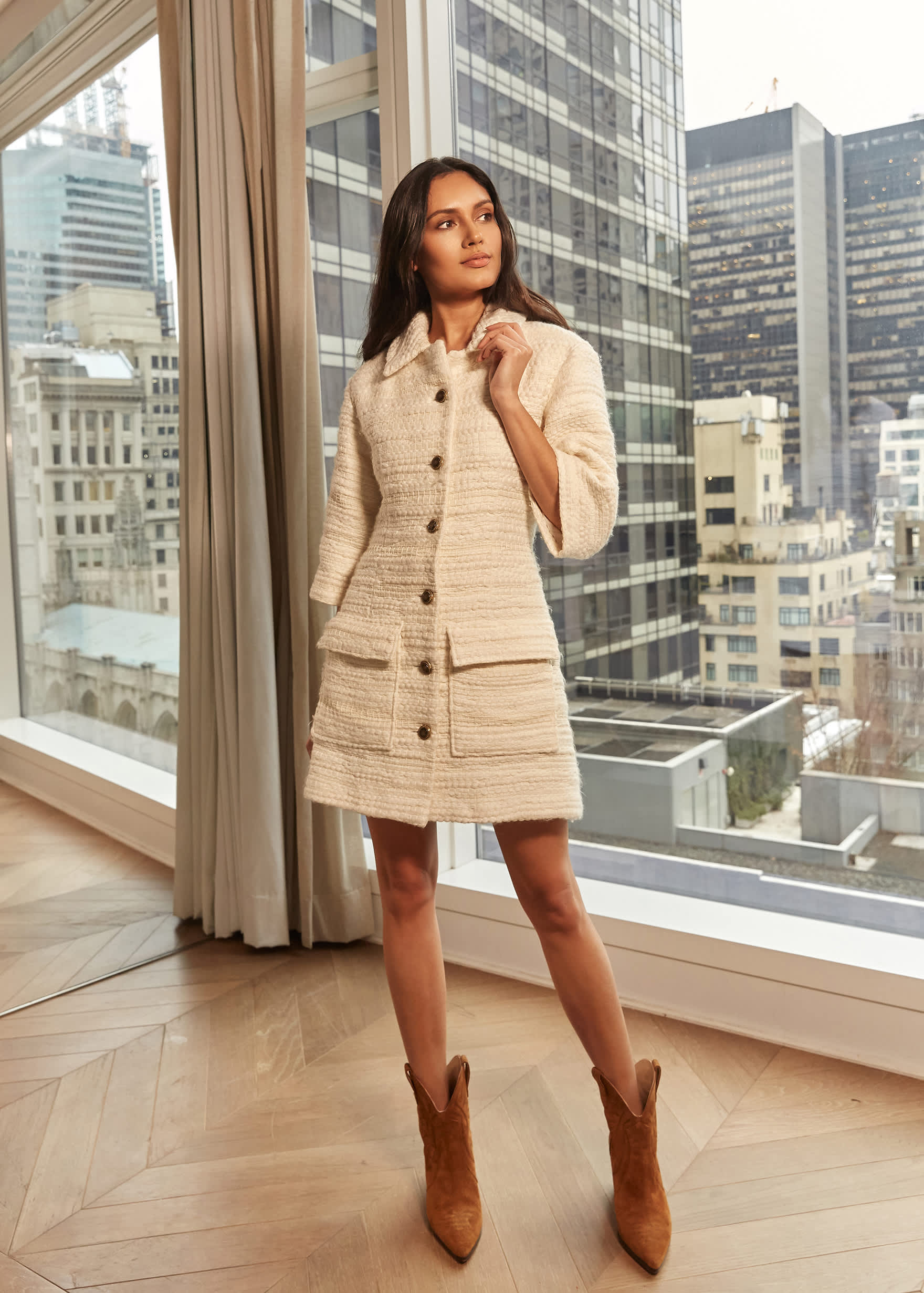 What drew you to Wolf & Badger?
I loved the fact that they only work with handpicked independent brands and have a strong emphasis on sustainability. There are so many online marketplaces out there, but their small and carefully selected designers, make you feel like part of a community of like-minded people.
Where do you see the brand in 5 years? 
I would love to have a larger collection, I have so many new ideas that I want to create! 
I also want to expand more into the sustainable aspect of fashion using fabrics such as bamboo and recycled Ocean Plastic etc. At the moment I have 1 piece made from organic hemp fabric which is fully biodegradable and I would love to explore this avenue more.