Boté A Mano is the result of a love a story between the two founders, Edoardo from Italy and Niloufar from Iran, who first met back in 2012. When they met, the two knew little about each other's culture. Edoardo, like most people, saw Iran mainly as an oppressive regime with no freedom, whereas Niloufar had a fair idea of life in Europe having lived in Paris for eight years. Since then, through their love, they helped each other put aside their prejudices by exposing one another to the beauties and traditions of each other's cultures but also neighbouring countries. 
How did Boté A Mano begin?
We wanted the launch of Boté A Mano to unite not only our expertise but also our cultures. At the time, when people are torn apart by race and religion, our idea was to expose people to the beauty, traditions and artistic mastery of each other's culture, thereby making them appreciate it. We wanted to prove to the world that by abandoning our prejudices and uniting know-hows no matter the race or religion, the result could be outstanding and hopefully we can bring the world one step closer to being united than being apart.
In keeping with the idea, we named our shoe brand, Boté A Mano. Boté in Farsi means paisley, which is an ancient Persian symbol and constantly visible in the Iranian art and architecture. A-Mano, on the hand is an Italian word, which means made by hand. Together they mean paisley made by hand. Their endeavour is to explore the traditional techniques and know-hows of the Eastern and the Western cultures.
To convert our idea into something tangible travels took us to the finest shoemakers of Italy, the winding lanes and mud brick houses of Yazd - a city in central Iran, the famed bazaars of Kashan, 150 miles south of Tehran, the vibrant streets of Varanasi and the mountains of Bhutan. In every city, we looked for the best artisans that are still keeping traditional techniques alive.
Our first stop was Varanasi, where we were looking for weavers who could help us with authentic brocade. We spent time at their homes to understand how they work and during two weeks of our stay we worked closely with the weavers in Kashi and Varanasi to bring back two historical patterns, the floral and geometrical, thatare used in our Inaugural Collection 01. The pattern was popular during the advent of Mughals in India in the 13th century, representing a fusion of Indian, Mongol and Persian arts and cultures. We then sent the hand woven silk brocades woven by the weavers of Varanasi to our Italian shoe artisans in Civitanova-Marche, the capital of Made in Italy shoes in the world, for meticulously hand producing every Boté A Mano shoes.
The result is a fusion of cultures, know-hows and techniques uniting the best of the two worlds and hopefully encouraging a wider dialogue, love and appreciation among cultures, beyond colour, religion and geographical territory.
For a few years before launching Boté A Mano, I was working in the footwear industry advising European startups and emerging brands in design, product development, sourcing and supply chain management. My experience of working within the footwear industry, my love and passion for startups and my strong relationship built throughout my career with the best Italian shoe makers, helped me in the natural transition from consulting entrepreneurs to becoming an entrepreneur myself.  
Once decided, I pitched the idea to my friend, husband and business companion, Edoardo,  a management consultant at the Boston Consulting Group, and after extensive studies of the market and the strategy we decided to launch the brand together.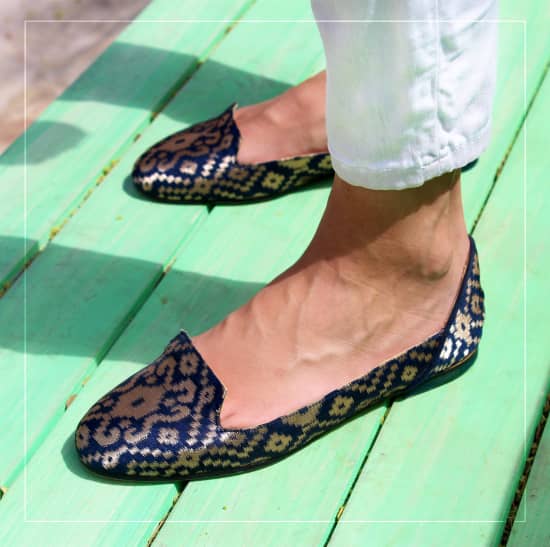 Have you always been interested in fashion?
I always wanted to work within the creative industry but my educational background in Economics never allowed me to, until I decided to apply for a master degree in Management of Fashion Industries at the University of Bocconi. That's when my career in fashion started to pick up .
What was the inspiration behind your latest collection?
The latest collection is inspired by geometric art and architecture of the Ancient Persia, which is still visible in today's Iran. The motives of the fabrics are historical and represent the advent of Mughal in India in the 13th century and beautiful fusion of the Indian, Persian and Mughals art and cultures.
How would you describe your customer base?
Our customers are confident, open-minded ladies, eager to discover and learn about art, history, and culture of other countries, they are financially independent and are not trapped within the cycle of trends. They have their own sense of style; they are elegant, feminine and timeless and like to spice up their look with statement accessories and shoes.
Is there anyone you would love to see wearing your designs?
I would love to see Olivia Palermo wearing one of the Boté A Mano shoes, as she's the person that best describes our customer base: elegant, feminine, traveller of the world and not follower of the trend.
If you could only wear one piece from your collection, what would it be and why?
I love all 3 of the designs, because they are meant for different looks and occasions. I usually wear "Midnight in Banaras" in the evening when I am not wearing heels but still like to standout in semi formal occasions. However, "Lilian of Banaras", the red and gold floral brocade flats, are my favourites during the day, as they shine the most under sun and are extremely beautiful with baby blue or white outfits. And in my casual days, with a pair of jeans I wear a "Midnight in Banaras R", the sporty version of the former one and best for walks around the city.
What's the best piece of advice you've ever been given?
The best piece of advice that drove us to launch Boté A Mano and is inspiring us everyday, is from a German writer named Goethe:
"Until one is committed, there is hesitancy, the chance to draw back. Concerning all acts of initiative (and creation), there is one elementary truth, the ignorance of which kills countless ideas and splendid plans: that the moment one definitely commits oneself, then Providence moves too. All sorts of things occur to help one that would never otherwise have occurred. A whole stream of events issues from the decision, raising in one's favor all manner of unforeseen incidents and meetings and material assistance, which no man could have dreamed would have come his way. Whatever you can do, or dream you can do, begin it. Boldness has genius, power, and magic in it. Begin it now."
What drew you to Wolf & Badger?
What drew us to W&B is the idea of being among designers that celebrate the best in craftsmanship.
Where do you see the brand in 5 years?
Our immediate plan is to expand the product categories to women's boots and high heels, with the same design identity that represent the geometric art and architecture of the Ancient Persia. Our midterm growth plan is however set for a line extension to menswear, a category in which I have an extensive past experience in. Again, this would continue to represent a fusion of eastern and western know-hows and techniques.