Ecrannium Jewellery was created by Ana Almendros, who has shaped the spiritual value of gems and metal with creativity into a material certainty. We spent 5 minutes with Ana to find out more about the dragon collection and how the brand began.
How inspired you to create Ecrannium Jewellery?
I decided to become a jewellery designer 3 years ago. I didn't have a vision of a brand straight away, or a view on what my first collection what look like. So, I decided to draw whatever came into my mind. After many drawings, it was easy to see what my style was and then what the brand would be. Ecrannium means skull in Latin, and I thought this represents my brand really well. The Ecrannium brand seeks to show beauty where people normally wouldn't see it- In things like dragons, skulls, skeletons and insects. The jewellery pieces transform items normally associated with darkness into elegant expressions of beauty. The jewellery collection not only expresses power or luxury, but also a more humble beauty, to be enjoyed in all its forms.
My background is in hotel management and total quality management. At the age of 33 I decided that I have been engaged in a career that just wasn't me. I wasn't happy. Through some good advice, I decided that it was time to do something where I followed my heart. I remember as a child that I was into design, doing things like making clothes and visiting trade shows for my mum's interior design shop. After some soul searching, I realised that jewellery design was my passion, and I always had good ideas around this. So I gave up my job, took some design courses and started to draw out my ideas that usually came to me in my dreams.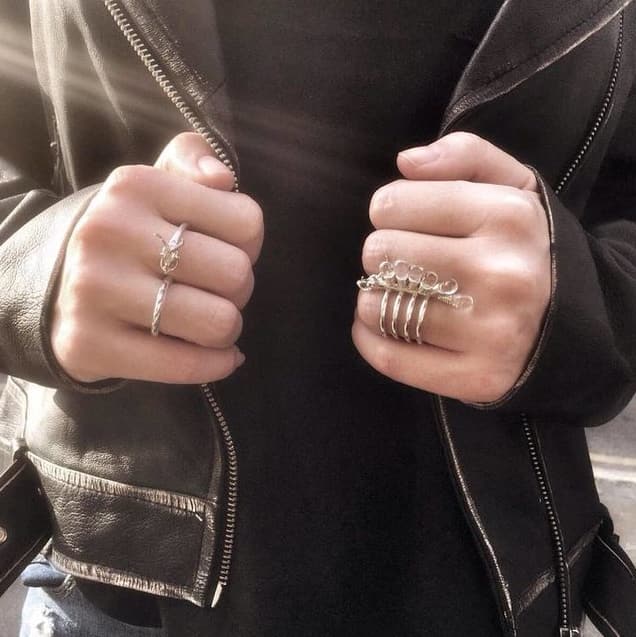 Have you always been interested in fashion?
Yes, when I was a child I would make clothes for my dolls, hang around with my mum in her interior design shop, and visit jewellery shops with my grandmother. I have always bought lots of jewellery from a young age, and have a great collection.
What have been the highest and lowest points on your journey so far?
There have been no low points on this journey so far as I didn't have a background in jewellery design, so wherever I get to is an achievement for me. I am so happy to have got this far, and that people actually like what I create.
What was the inspiration behind your latest collection?
This first collection is called The Dragon's Collection. It's made up of jewellery that represents different parts of the dragon's anatomy. I've always loved dragons; I even have a dragon tattoo. I love the shapes contained in the dragon's anatomy, they are so edgy and dark, but strikingly beautiful. I also took inspiration from Japanese manga cartoons.
Do you ever struggle to stay inspired?
I think everyone does at times. Sometimes, I am just not in the mood to draw anything, or I am bogged down with boring paper work and managing logistics. Also, soon after I started on my adventure I was diagnosed with breast cancer. During this time, there were moments where the energy and inspiration just wasn't there.
Where is your go-to meeting spot?
I love working in my local coffee shop called Ez & Moss on Holloway Road. The coffee there is the best in London, and they serve great vegetarian food.
How would you describe your customer base?
I believe that this jewellery will appeal to all women who have an eye for quality and are looking to wear pieces that stand out from the rest of the market, without spending thousands of pounds. Maybe those who have a rebellious side to them!
Is there anyone you would love to see wearing your designs?
Kate Moss: My brand really identifies with her - she is rebellious, edgy, but sophisticated at the same time. She is also timeless – you never get tired of her look. I also like Lily Donaldson, Natasha Poly, Jasmine Tookes, Hanne Gaby Odiele, and Rosie Huntington-Whiteley.
What are the morals you run your brand by?
I need to be confident that the items are made to a high standard of quality. The most important feature of each item I create must be one of timelessness. I get bored of fashion trends quite easily, so I want to create jewellery that I don't get tired of, pieces that look better to me, the more I look at them. I want my customers to feel the same way about my jewellery.
Do you have a mentor?
Yes, I do. He is one of the best jewellery designers in Spain. As well as being an artistic genius, he is also very kind and generous. I wouldn't be where I am without him.
What apps keep you sane?
Instagram, Snapspeed (let's you add filters on your pictures), and my illustration programme. I am always taking pictures of people wearing my jewellery for Instagram, and creating wonderful Ecrannium branded illustrations of what is currently going on in the world. Check out my instagram page: @ecrannium.
If you could only wear one piece from your collection, what would it be and why?
The Dragon Crest Ring, which has glass tear drops on the dragon's back. The feeling I get I get with this ring more than I do with the other rings, is that the more I wear it, the more I love it. It is so unique with striking detail.
What's the biggest style mistake you've ever made?
In fashion I have made a lot of mistakes! I used to love wearing my grey track suit bottoms which were so comfortable but looked horrendous, but I didn't care.
Is there another designer whose work you particularly admire?
Isidoro Hernandez and Lydia Courteille. They not only create jewellery, but they create great pieces of art that you can get so immersed in.
What's the best piece of advice you've ever been given?
3 years ago, my partner told me to give up my boring career and to do something that I love doing, to live the life that God gave me.
What drew you to Wolf & Badger?
They sell items that are unique and different to what is in the mainstream. They also support independent designers really well.
Where do you see the brand in 5 years?
I see at least 5 new jewellery collections, and being sold in other countries such as Japan, China, and America.