Kiss The Moon is based in the English countryside and driven by a passion to help people have a beautiful night's sleep. While lots of attention is paid to looking after ourselves during the day, Kiss the Moon is the first brand to focus on night time well-being. We caught up with the brand to delve deeper into their world of wellness.
How did Kiss The Moon begin?
Born in Sunderland, my first home was in the pub that the family ran near Durham. At that time it was a well-known music venue in North East with bands playing every weekend.  It was busy and it was loud, not a conventional place for a baby to be in the middle of. Led Zeppelin played there. They were, at the time, the loudest band on earth so even at a very young age, I knew sleep was precious. I started off in London in advertising as a media planner at lead agency J Walter Thompson. From JWT to Saatchi & Saatchi and then to WCRS - life in 1990's London ad-land gave me a first-hand view of how brands were built and how the other half lived. City life was exciting and busy. Next came the call to go and head up Saatchi's media department in Sydney. Flights, a lot of them and a lot of long ones were to become a recurring theme in my life from now on. After two successful years there, and with an urge to be closer to home and family, I headed back to another media job in London before changing tack slightly to join innovation agency, '?What If! Ltd'. In what might be described as a '35,000 feet above sea level' lifestyle, I helped the company open their offices in China and landed business from Sao Paulo to South Korea.  Exciting - yes.  Exhausting - definitely. It was a whirlwind and I loved it, but I soon noticed that this type of lifestyle took its toll. When you are 20 you can do anything; but in your 30's you need the weekends to recover.  By 40 you really start to feel it. In a nutshell, I realised that unless you look after yourself and give your body the down time it needs, you are going to hit trouble. For me, the key was realising exactly how messed up this way of life was leaving my sleep. Without decent sleep everything else started to creak, from my mood to my skin. Leaving London behind I headed back to the Yorkshire countryside to think. However, with running my own innovation consultancy business from London meant the busy lifestyle and constant travel continued. I started the hunt for a solution for me and for everyone else who I saw facing the same dilemma - how to help busy people take back control of their sleep patterns and stay feeling and looking their best! I made the leap and launched Kiss the Moon into the world in October 2014 with the heart of the range - a set of 100% natural night-time bath and face oils. Now with a small core team working alongside, and in collaboration with some handpicked experts - Kiss the Moon is building a growing fan club. Good sleep is fundamental to a successful beauty regime because it is while we are asleep that the most active cell renewal takes place. That's why poor sleep so often results in poor skin. Our products not only help you get to sleep but also give your skin the nourishment it needs overnight as it repairs and regenerates.
Have you always been interested in the beauty industry?
I've always been interested in beauty products – I think that might have started with my Mum and her advice to me to "never scrimp when it comes to choosing a good face cream". As my background is marketing I've always loved brands with a compelling idea and insight at their heart, which I like to think Kiss the Moon has.
How did you begin to develop your products?
Kiss the Moon started as me trying to manage my own jetlag and get back control over my sleep. I realised that while having a life full of deadlines and travel was great fun, it can hit your sleep and that messes with your overall wellness and how you look/feel. Kiss the Moon was born from a desire to create a natural solution to that. It all started with the face oils and bath oils and has grown from there.
What have been the highest and lowest points on your journey so far?
Winning the Pure Beauty Award for Best New British Brand last year is a definite high – we couldn't stop smiling. It was a real honour as there were so many other great entries and it felt like a big thumbs up for all the hard work that the team had put in. Low points come when you are least expecting and are often just a series of small things that start to add up and make you want to pull your hair out. Production issues, problems with packaging, something being delayed which messes up timings, that type of thing. Luckily, I work with a fab team so when one of us is fed up we can pull each other through it.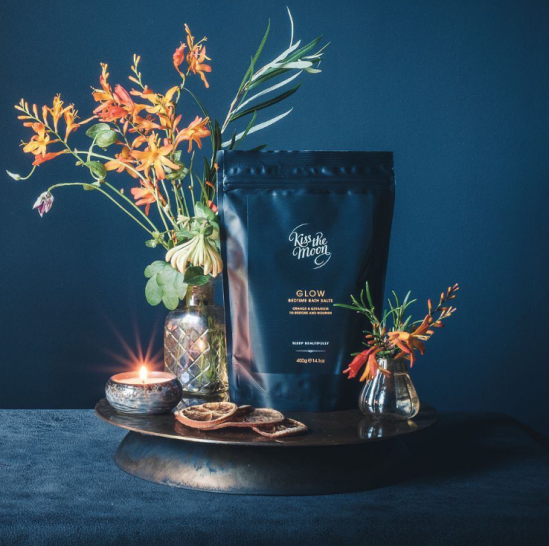 How would you describe your customer base?
Switched on people (mostly but not exclusively women), who lead busy lives and so know the importance of investing in their own health, wellness and beauty. They want something that works on their sleep and their skin but that is also a pleasure to use, touch, smell and to look at. Our goal is to create something that is beautiful from start to finish and that makes the end of every day something that people look forward to.
What do you do when you are feeling uninspired?
A walk in nature usually does the trick. Be that on the wide empty beaches of Northumberland (a place I love) or in the woods and riverbanks on the River Swale in Yorkshire where I live with my husband. Plus we'd have the dogs (I'm a bit of a mad dog lady – I have three) in tow of course.  Either that or travel. I find time sitting on a train or a plane really good drift time when your mind has a chance to wander and make sense of things.
What is your evening skincare routine?
As you'd expect it's a bit of a Kiss the Moon fest. I cleanse my face every night – usually with Dermalogica Cream Cleansing Lotion then a soak in a Kiss the Moon bath (the Dream Bath Oil is my favourite as it not only soothes the mind, it also eases tired muscles). I'm too lazy to bother with body lotion that late in the day, so using our bath oil is perfect as you step out of the water ready moisturised and ready for your pjs. Once a week I'll exfoliate with our GLOW Face Polish and will have a face mask now and then (current favourite – there's a lovely Rose scented one from Fresh). Then I'll finish with an eye cream (Dermalogica again) and Kiss the Moon After Dark Face Oil. I have a soft spot for the LOVE blend. It's made with Rose and Rosehip Seed Oil so is a real wrinkle-buster and the smell makes me feel instantly content and relaxed.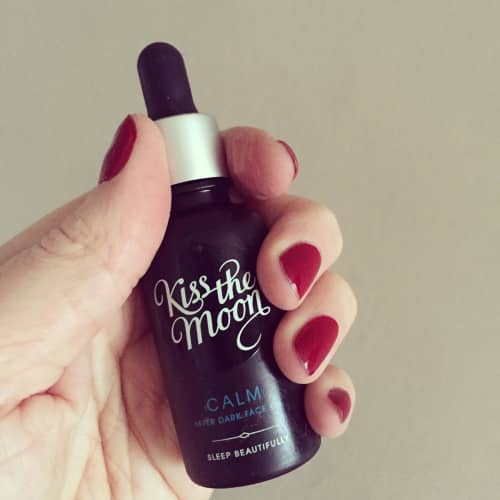 What makes your beauty products different?
We're the beauty sleep specialists so we only make products for night time – that's our passion and our expertise. We have developed four signature blends of aromatherapy oils that not only nourish skin overnight but are also super relaxing. They each help you switch off at bedtime so you get more out of your night's rest. Everything we make is also 100% natural, kind to animals and the planet, and made in the UK.
Why is using natural ingredients in your products so important to you?
Well who wants to go to bed covered in chemicals? Skin absorbs much of what we put on it, so in the same way that we care about what we eat, we should care about what's in the stuff we apply to our skin. Nature has such clever solutions so we say why not use them? The high-grade aromatherapy oils we use are rich in the micronutrients skin needs as it repairs itself overnight. They also are in a form that is easy for the skin to absorb and so are able to reach deep down in the layers where skin cells are forming. For exfoliation, the brown sugar we use in our Face Polish takes some beating. The grains are round not jagged and start to smooth naturally on contact with water so are gentler on the skin. Sugar also contains natural AHA's so can remove dead skin cells at a chemical level too. Best of all, it washes away to nothing, with no hint of a micro-bead and no lasting any harm to our environment or marine life. 
What is your go-to product from your range?
I have a confession – our newest product LOVE Night Cream for Hands is supposed to be for bedtime but I'm so hooked on it I have one jar on my bedside table and another next to the kitchen sink. My hands would struggle to live without it now. It launched in February 2017 and has already got quite a little fan club. Especially with people like gardeners and new mums who wash their hands a million times a day, and need something rich but not sticky to stop them drying out.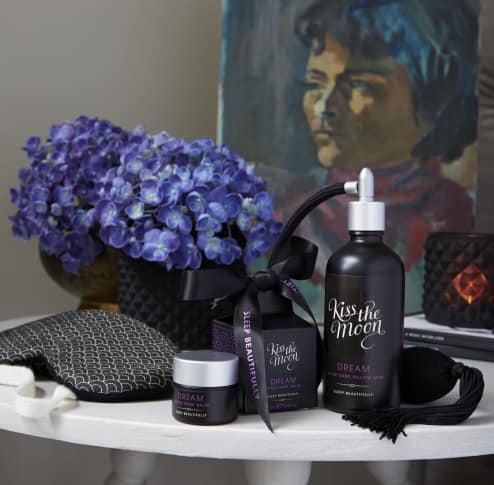 Do you have a mentor?
My Mum and Gran – both of who are no longer with us sadly but both left me with some words of wisdom that I find myself playing back time and time again. One phrase I heard lots when I was growing up is that you are as good as anyone else and no better. I love this thought so much. I think the idea of being confident without being arrogant is one of the secrets of a happy life and one I definitely try my best to live by.
Is there another brand whose work you particularly admire?
Oh, loads. I love good brands. One which you carry which I do really love is Haeckels from the team at Made in Margate. I love the passion they show for the botany of their home town and the fact they trawl the seashore for amazing ingredients. The way everything is presented is beautiful and original. They really feel like they are being true to themselves from start to finish. A morning shower with their Sea Buckthorn Body Cleanser is a perfect start to a day for me.
What drew you to Wolf & Badger?
Your love of the new and the different and the fact you open the door to emerging talent. What's not to love about that?
What's next for your brand?
We are so excited about what we have in store for Christmas. We've created a beautiful new gift set in collaboration with the luxury sleepwear ladies at Violet & Wren. We are also launching an range of Bedtime Bath Salts later this year. And have been up to our ears in ribbons and wrapping as we have three boxed sets that come beautifully wrapped and are going to make perfect gifts for frequent fliers and home lovers as well as the beauty queens out there. We can't wait to share...