LE SURI is a London-based fashion label creating unique handbags from 100% cork. With their innovative creative concept, they aim to break the rules of the traditional leather handbag industry by proving that modern design, elegance and sustainability can go hand-in-hand. We caught up with Nina and Paab, the founders of Le Suri to get a closer look inside the brand...

How did Le Suri begin?
We met in London in 2013 through a common friend. The first thing that brought us together was vegan cooking. We soon also discovered our mutual passion for fashion and design. At the same time we both felt that sadly, the exploitation of animals, humans and the environment are prevalent in the mass fashion industry. We believed that there must be another way of creating beautiful fashion without sacrificing on ethical values. The idea for designing bags from 100% cork came when one of us was living in Portugal, the "home country" of cork. There we first discovered the cork material, it's incredible qualities and versatile ways in which it is used. We saw that cork was already used here and there in accessories, but on a small scale by local handicraft to create souvenirs. We immediately saw how amazing the material is and the potential it has to be recognised widely beyond the borders of Southern Europe, and even revolutionise the entire handbag industry. We felt, however, that it has never been given the design-attention that it deserves, so our mission became to revamp the image of cork by creating bags in contemporary design made from ethical and sustainable high quality materials
We are newcomers to the fashion industry. It is our first label and we haven't worked for any other brand before, so this is a unique journey where we are both learning and supporting each other in designing, material sourcing, manufacturing process, logistics and marketing. Both of us have a business background which helps us to manage the company with a cold head. Paab has also studied interior design in the UK, however our main creative skills for designing our handbags come from pure passion for fashion.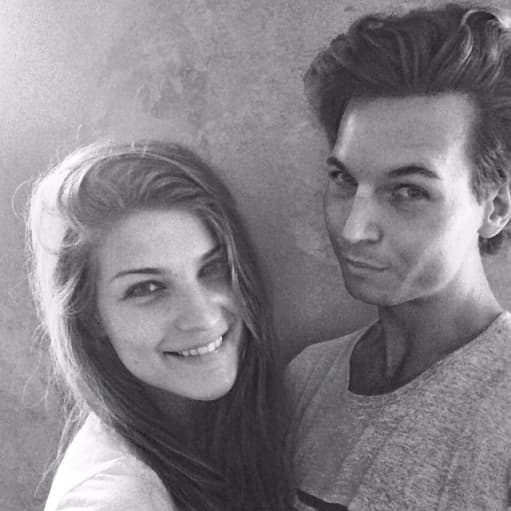 Have you always been interested in fashion 
Yes, we have always been fashion-savvy customers but never fashion-obsessed. We are keen observers and are always on the lookout for new, upcoming brands and have become great fans of some of them.
What have been the highest and lowest points on your journey so far?
We are a brand new start-up, so there aren't many reference points in our history for us to refer to. We think that the whole production process has been a hilly journey for us with many ups and downs. The lowest moments would probably be when our expectations were not met at the production and testing phase, or when people don't keep their word and delay things for example. The highest point so far is definitely the moment when you hold the product in your hand and it's everything you had imagined it to be, from the design, quality and ethical points of view - it makes us really proud.
What was the inspiration behind your latest collection?  
In our first collection, we wanted to showcase the beauty of cork, both as very natural and as a modern and contemporary material. Therefore we chose to combine cork in plain colours such as natural, black and navy with an ultra-modern cork material with silver square shapes. Geometric shapes symbolise timelessness, elegance and modernity which is exactly what we want to embody with our brand. We have hence chosen squares to be not only the leading pattern in our first collection, but also they are represented in our logo and social media.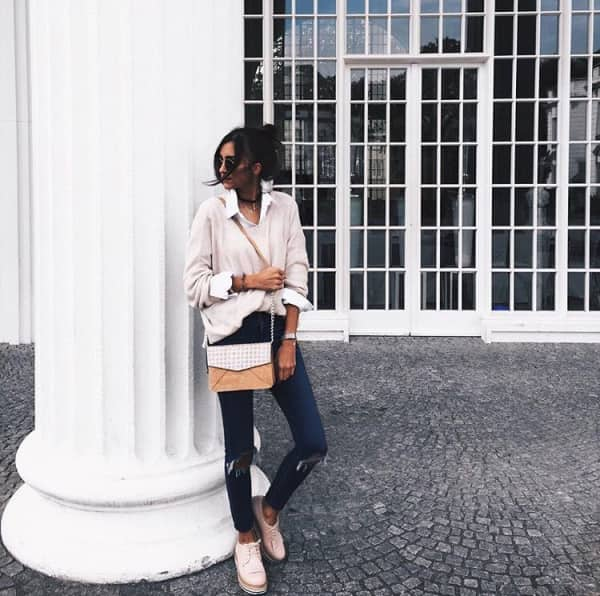 Do you ever struggle to stay inspired? 
When it comes to creative inspiration for our current and future collections, we feel that there is the whole universe for us to explore. We have only just started with a small handbag collection, but the cork material offers so many more fantastic opportunities - whether it's completely new cork colours and patterns or new bag models or even diversifying our product portfolio beyond bags in the future. We strongly believe that this is just the beginning. At the moment we are trying to stay focused and deliver great products one product range at a time.
Where is your go-to meeting spot?
We have two go-to cities – London and Dublin where we live. Whenever we feel the need to speak face to face, we just have to hop on the plane and land at the others headquarters. Luckily, the two are very close so it has never been an issue. When it comes to a favourite meeting spot, it would definitely be Portugal. This is where our initial inspiration for building the brand comes from and we love the sunshine and chilled atmosphere there. Going there always reminds us of our our beginnings, sourcing the materials and looking for manufacturers, our amazing and adventurous road trips which not only have created the foundations of LE SURI but also made our friendship even stronger.
How would you describe your customer base?
Our clientele is fashion savvy, eco and socially conscious customers who are open for experimenting a bit with their closet and trying new concepts and brands. They are early-adopters who can absorb and accommodate new fashion concepts and trends much quicker and eagerly before it becomes a high-street fashion. Our customers are well-aware of the global issues facing the fashion industry and would like to have even a small impact and contribution to it's transformation. Primarily, our customers love great design and value uniqueness and high quality.
Is there anyone you would love to see wearing your designs? 
Our goal is to make cork a well recognisable and reputable alternative for animal leather and we would love some of the celebrities to wear it and join our journey. Kate Moss, who is one of the largest fashion icons and our style-idol, would look stunning wearing our bucket bag in Chelsea streets. We also admire celebrities like the model and one of the PETA Angels, Joanna Krupa or TV presenter and comic Ellen deGeneres who are declared vegans and work hard on promoting animal-friendly fashion and lifestyle. They are a perfect fit for our brand. At the same time however, we would love to see the likes of Rihanna, who has already been criticised for wearing fur, make a statement by turning to LE SURI.  
What are the morals you run your brand by?
Sustainability, eco-friendliness and being cruelty-free are the three main values leading our brand. All of our handbags are made from the highest quality natural materials - organically grown, locally harvested and produced. Our bags are made from 100% cork without using any leather or other animal-derived materials. The cork material we use is made from the bark of the cork oak tree. The bark is harvested off the tree only once every 9 years. Thus the tree lives on and has time to fully recover. Moreover, we use as many natural and environmentally friendly materials as possible in our production and packaging. The handbags inline is made from 100% organic cotton. We also know our manufacturers and suppliers well and therefore can be sure that the bags are created under ethical and fair working conditions. Our handbag manufacturer employs disabled people for some simple pre and post production tasks and thus with LE SURI we are even able to contribute to the sustainable development of local European communities and the livelihoods of disabled people.
Do you have a mentor?
We don't really have a mentor, yet we have met many people helping us out on our way for which we are extremely thankful. There is always something to learn - whether it's someone really experienced from the industry, or advice from a close friend. We hope to be able to meet even more of those supportive people on our way, as founding a fashion label from scratch can be very tough.
If you could only wear one piece from your collection, what would it be and why? 
We would wear our natural colour bucket bag. It is the design which has come to our mind as the first one and we treat it as our "flagship" one.  We love showing the natural pattern of cork which is still very unknown to the wider fashion audience. We also love its shape, how soft it is and how well it goes with most of styling sets and occasions.
What's the biggest style mistake you've ever made?
Combining black, blue and brown at the same time ;-) If you combine two of those three timeless classics, you are bound for success. If you try combining all three of them – you might be doomed for failure.
Is there another designer whose work you particularly admire?
Luckily there are more and more innovative brands dedicated to creating beautiful designs with 100% commitment to sustainability. Not necessarily only in the handbags space, but look for example at Shrimps, which have changed the perception of faux fur or Uashmama who designs small household accessories and everyday bags from washable, waterproof paper. We see ourselves as one of these brands of the transformational force. When it comes to luxury sustainable handbags, there is no doubt that Stella McCartney has achieved a unique reputation for focusing on beautiful designs without making the sustainability of her bags her primary value proposition. She is a great role model and inspiration for us in that sense.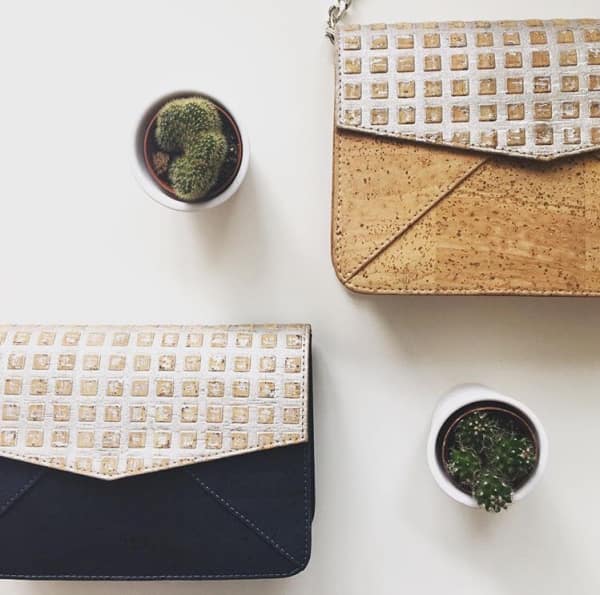 What's the best piece of advice you've ever been given?
"Never give up!" or "Get up if you fall!" may sound very tacky and trivial however they are at the heart of running your own business. When you start a business, you will experience set-backs and maybe long periods of insecurity.  You have to get through this and just keep going. Never give up, even in the darkest hours. We have suffered some lows in the past and probably will suffer them in the future. While the first ones almost shook us off our feet, over the course of time we have become more relaxed. We still get nervous and unsettled, but we believe that there is a solution for almost any problem and that we can get through it.
What drew you to Wolf & Badger?
We love the concept of Wolf & Badger because they promote young independent designers at the same time not compromising on the style and quality of the products placed there. We really enjoy being one of W&B's brands and being surrounded by so many other upcoming ones and creative minds in W&B's team, who have always been of great support to us.  
Where do you see the brand in 5 years?
We aspire to become the first globally recognized fashion brand to have introduced cork as a highly reputable alternative to animal leather to a wider fashion-savvy audience. We want to have put a strong foothold on all continents (maybe apart from Antarctica ;-) ) and earn a great reputation among our customers who will cherish their LE SURI's and come back for more of them. By transforming the perception of cork from eco-only to fashion-first, we want to contribute to the sustainable development of the fashion industry as a whole.