For some people, their bedside table is the land that time forgot. It's where all the random trinkets go - books, phone chargers, water bottles and more. Your bedside table should be your wellness and skincare station. As much as we would like to go straight to sleep, your hair and skin needs a little TLC first. It's time to give your bedside table an overhaul and make it work for your skincare needs. We've put together a list of the three must-have hydrating products that will turn your bedside table into a mini vanity.
Moisturizer
Do you want to know the secret to dewy skin? It's in your moisturizer. We all know the importance of drinking water, and moisturizing has the same effect on our skin. It's like a glass of hydration for your face. 
Moisturizer helps to balance your skin by preventing it from becoming too dry or oily. It will help diminish the appearance of blemishes and leave your skin feeling plump and firm. If you have a hot shower before bed, you'll want to use your moisturizer to replace all hydration that was stripped from your skin by the heat.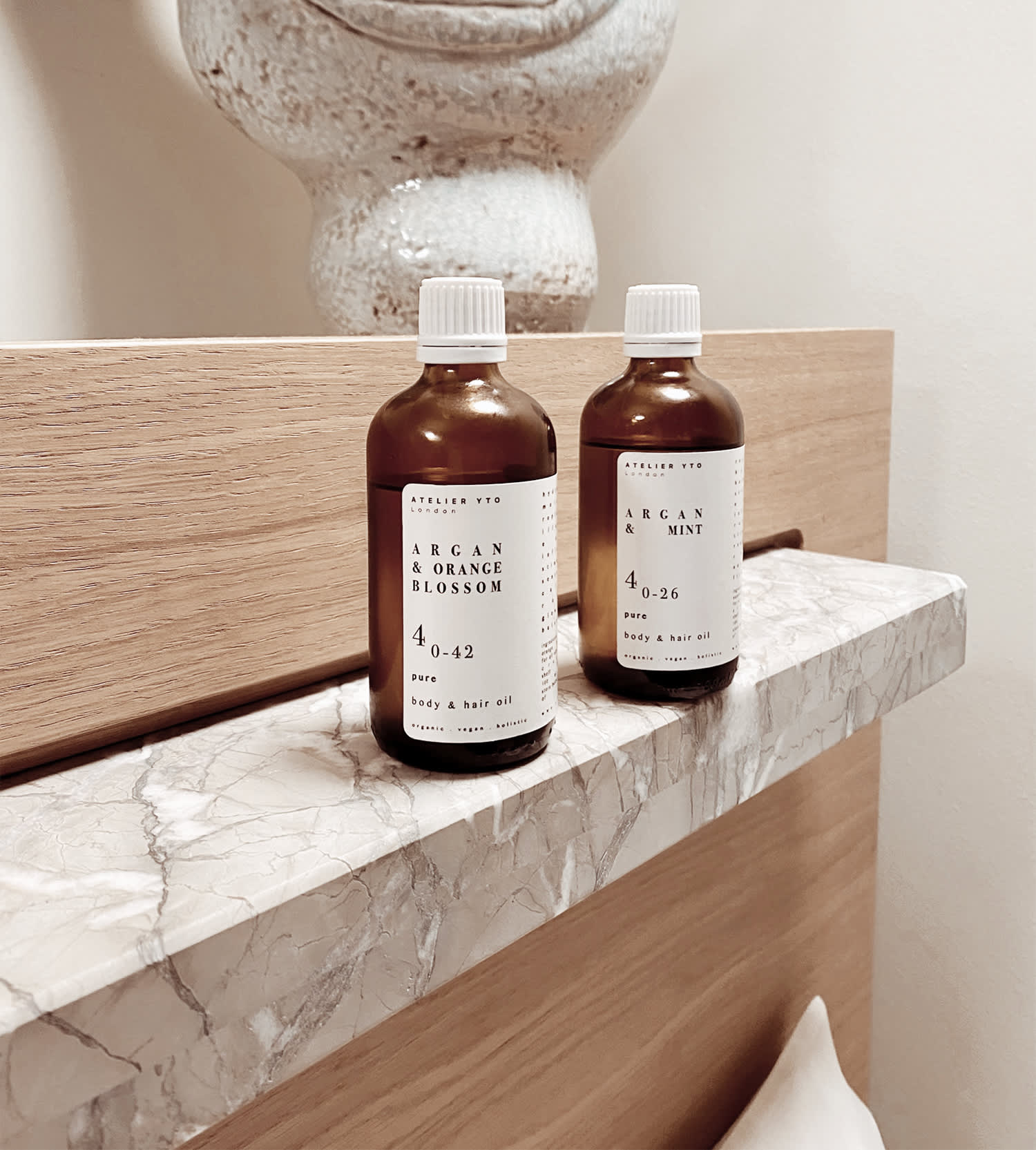 Hair and Body Oils
Speaking of hydration, if you can only have three products on your bedside table, we think body and hair oil has to be one of them. At Atelier Yto, we have two formulations, mint and orange blossom, with jasmine and rose oils on the horizon. Oil helps strengthen your skin and hair and protect them from the damage caused by free radicals, all while giving them a nourishing boost of hydration. 
Oils are perfect for your bedside table as the aroma will help relax your body so you can have a peaceful night's sleep. You can use our aromatherapy oils before bed by applying them directly to your skin (they're suitable for all skin types!) or using a jade roller for extra relaxation. If you want the wellness benefits, add a little to your pulse points. The scents will transport you to the gardens and mountain tops of Marrakech and away from the stresses of daily life.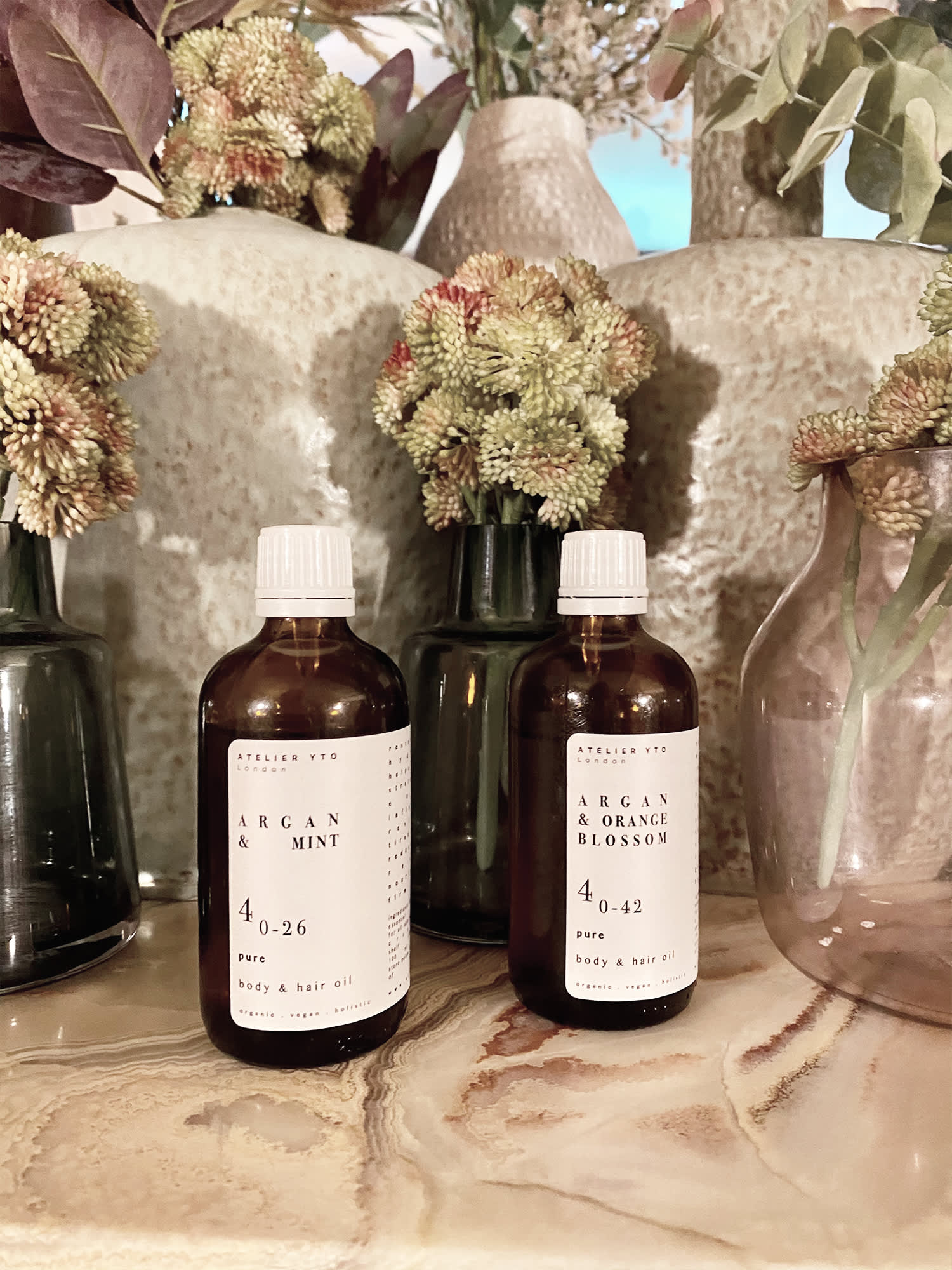 We took our inspiration for these body and hair oils from Marrakech and the age of ancient holistic body care where natural remedies were the focus. Our ingredients are ethically and sustainably sourced from the Atlas Mountains in North Africa and are cruelty-free. At Atelier Yto, we're proud that our products are alcohol, sulphate, and paraben-free. Clean beauty is at the heart of everything we do. 
Each ingredient is hand-selected for its skincare benefits, with pure formulas that will nourish your hair and skin. Argan oil is rich in vitamin E and is a hero ingredient, hydrating your skin while treating acne and protecting you from sun damage. Argan oil is also your hair's new best friend, leaving it feeling soft with a natural shine while hydrating your scalp.
Each oil can help you target your skincare and wellness needs. The mint oil will lift your mood while regenerating your muscles after a long day. Our orange blossom oil will brighten your complexion while soothing inflammation. You can use our hair and body oils for stress relief or anti-ageing as they help improve your skin's elasticity to fight off wrinkles and fine lines.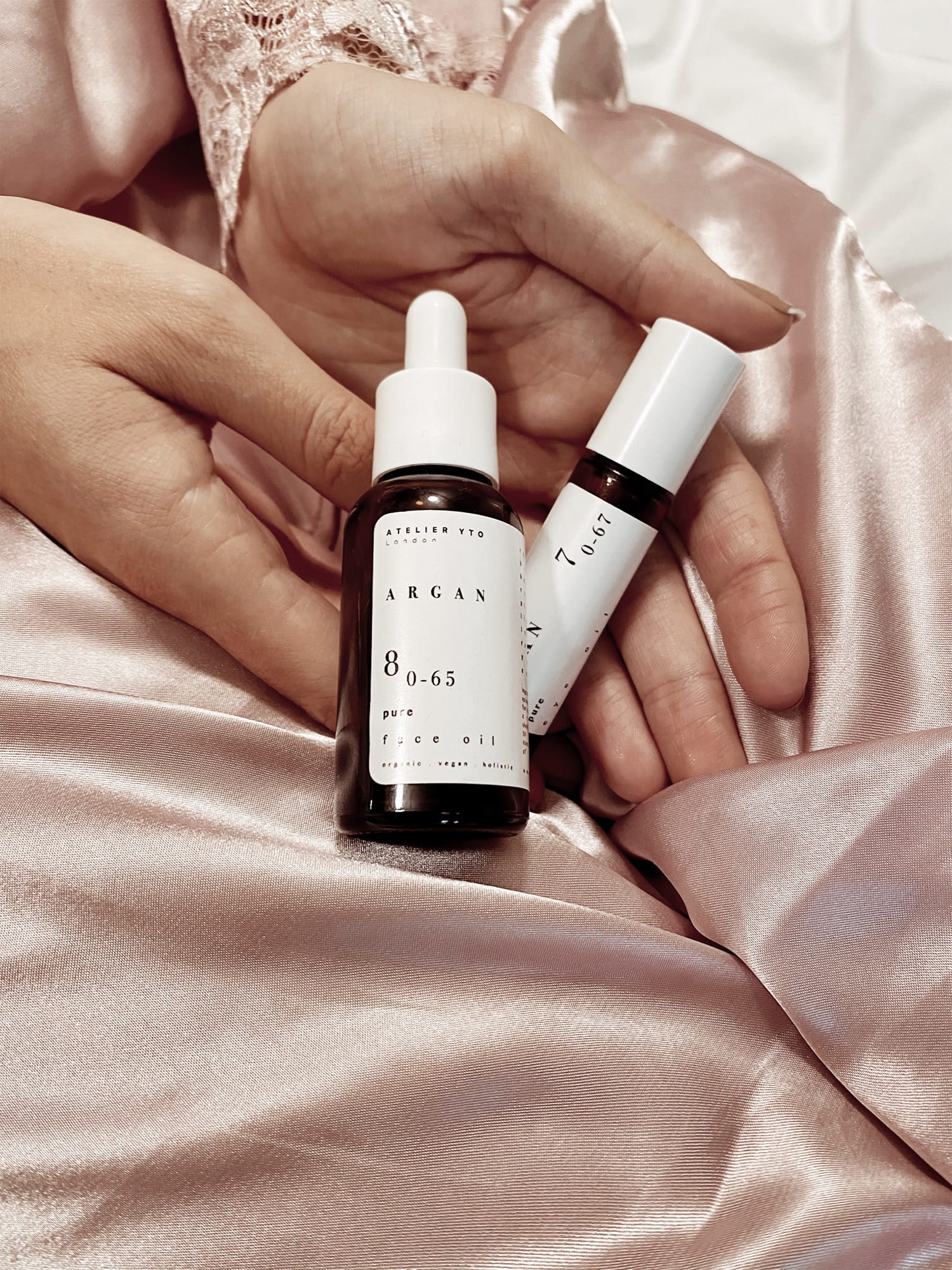 Lip Moisturizer
When we think about hydration, we often overlook our lips. You want to find a lip moisturizer that you can use as an overnight treatment to prevent your lips from drying out. While you're sleeping, your skin cells continue to regenerate, and your body temperature rises to remove impurities and toxins. You want to use a lip moisturizer before bed as part of your nightly skincare routine, grabbing it from your bedside table just before falling asleep. We've all experienced the discomfort of dry lips during winter, but you want to keep your lip moisturizer on hand all year round. 
These are our three must-have products to have on your bedside table. Whatever size your space is, this trio of hero products should be there to keep your skin hydrated, your hair feeling soft and help you relax before bed.