Aurore is a contemporary lingerie brand based in London specialising in high-quality handmade lingerie. They focus on sustainability, environmental ethics, and innovative practices that deliver a luxury experience without sacrificing social responsibility. They do not overproduce and support the "less is better" approach to apparel production with their capsule collections. They primarily use lace, silk, and tulle in production and source from European and Japanese excess stock.
Women have a complex relationship with their body as it goes through its natural life cycles, so they strive to power their lives through lingerie that is comfortable, empowering, and offers an excellent fit. In this new decade, they see a woman independent, strong and at the same time feminine and sensual. We sat down with founder Alexandra to learn more about her brand.
How did Aurore Lingerie begin?
The idea of Aurore had begun long before I started to put the conceptual designs together. I am a big fan of writing things down so the notes from previous shopping experiences, brands, materials and different styles had been with me for a while. When starting a brand there are a multitude of things one needs to organize, think through and scope out, so we started with the most necessary one first  - the name (which took a while to finalise)! 
Despite my love for art, literature and design, I graduated from a business school in the Netherlands and further completed my Executive Masters in Germany. Working as an independent consultant for several years throughout Europe, I moved to London to join a top tier consulting firm, leaving in 2018 with a goal to start Aurore. We had gone through several iterations of designs and styles to arrive at where we are today, it had been a long and exciting journey and we are so excited to continue it in 2021.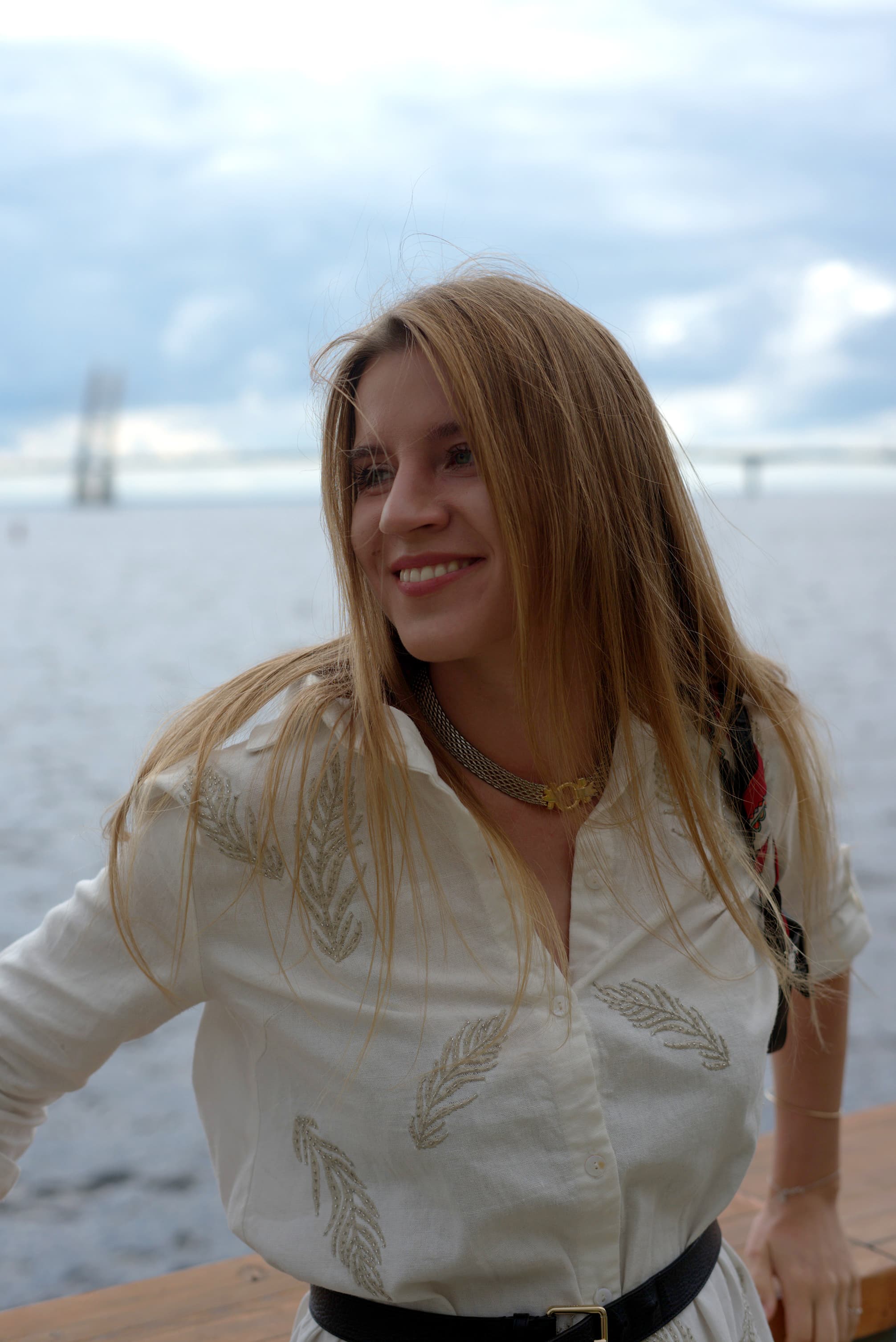 Have you always been interested in fashion?
Lingerie has been my passion from my teenage years, to me it is the most important item of the wardrobe, the closest thing that one can have to the body and the ultimate "hidden" mood uplifter that helps you feel glorious through the day and night.
Aurore is a combination of multiple passions - a passion for unique and luxury materials, excellent fit and the "feel good" atmosphere lingerie brings, but most importantly it is the embodiment of sophistication, minimalism and sustainability together. I am personally focusing my attention on ethical production in every detail from sourcing materials to packaging.
What have been the highest and lowest points on your journey so far?
Highest: customers often send thank you notes on how much they like the lingerie. That always makes my day!
Lowest: 2020 was tough enough and we are about to face the grand finale of the year with Brexit as well as the vague implications of this change for us. I feel over Christmas we will spend a decent portion of time reviewing the new processes we need to set in place to make servicing our global customer base smoothly.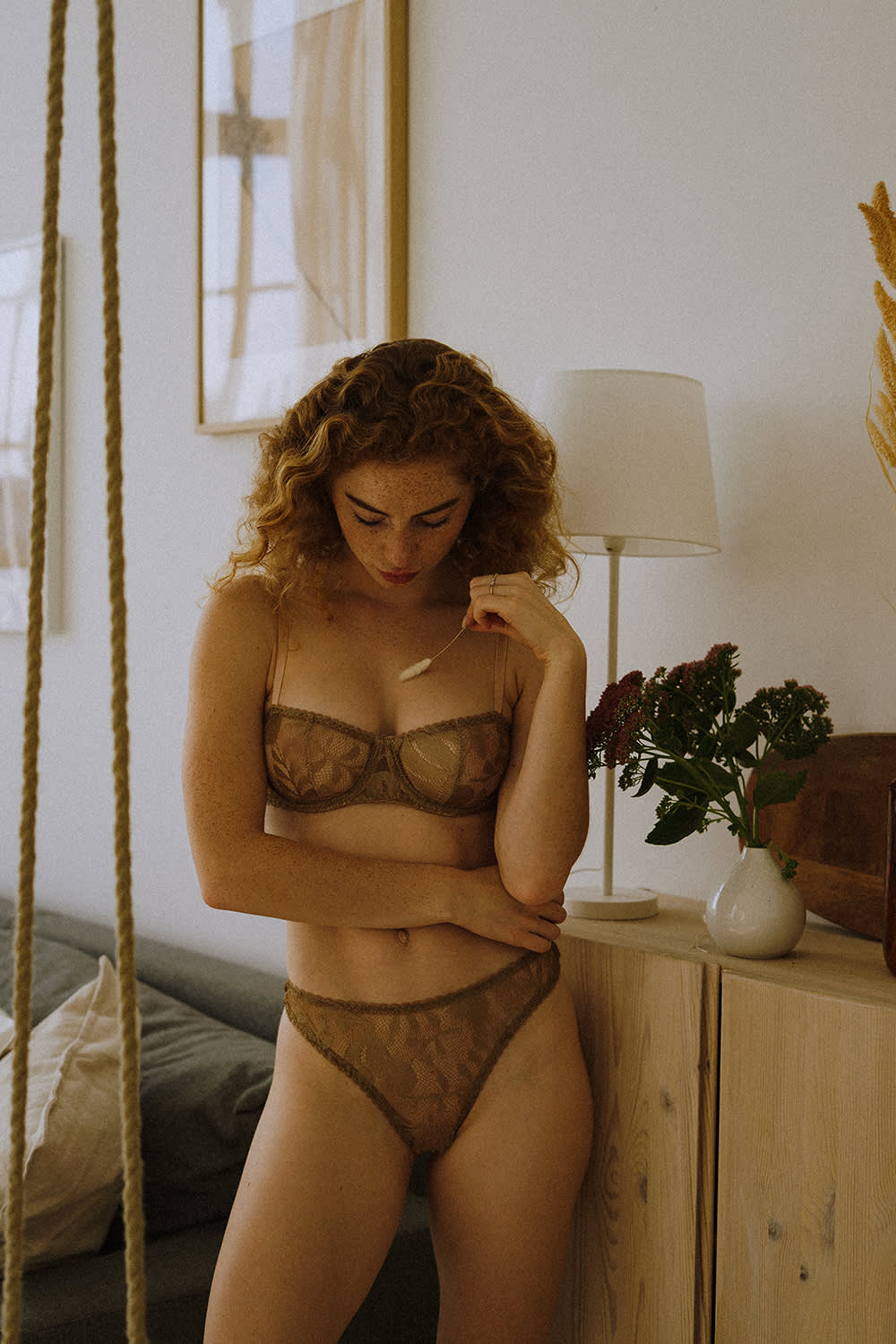 What are the morals you run your brand by?
Sustainability (not just in materials we use, but in a way we run the business), honesty and customer excellence.
What was the inspiration behind your latest collection?
Our latest collection had included the lace sets Isabel, Reina and Rococo as well as the ARC and Bounce sets that will become a part of our permanent collection. Through this year we continued to be amazed by the extraordinary strength of females to go through life changing situations, start a family and manage professional life, all in times of the pandemic. This observation reminded us of an image of a wonder woman, her corset style outfit and colors she is represented with (blue, gold and red).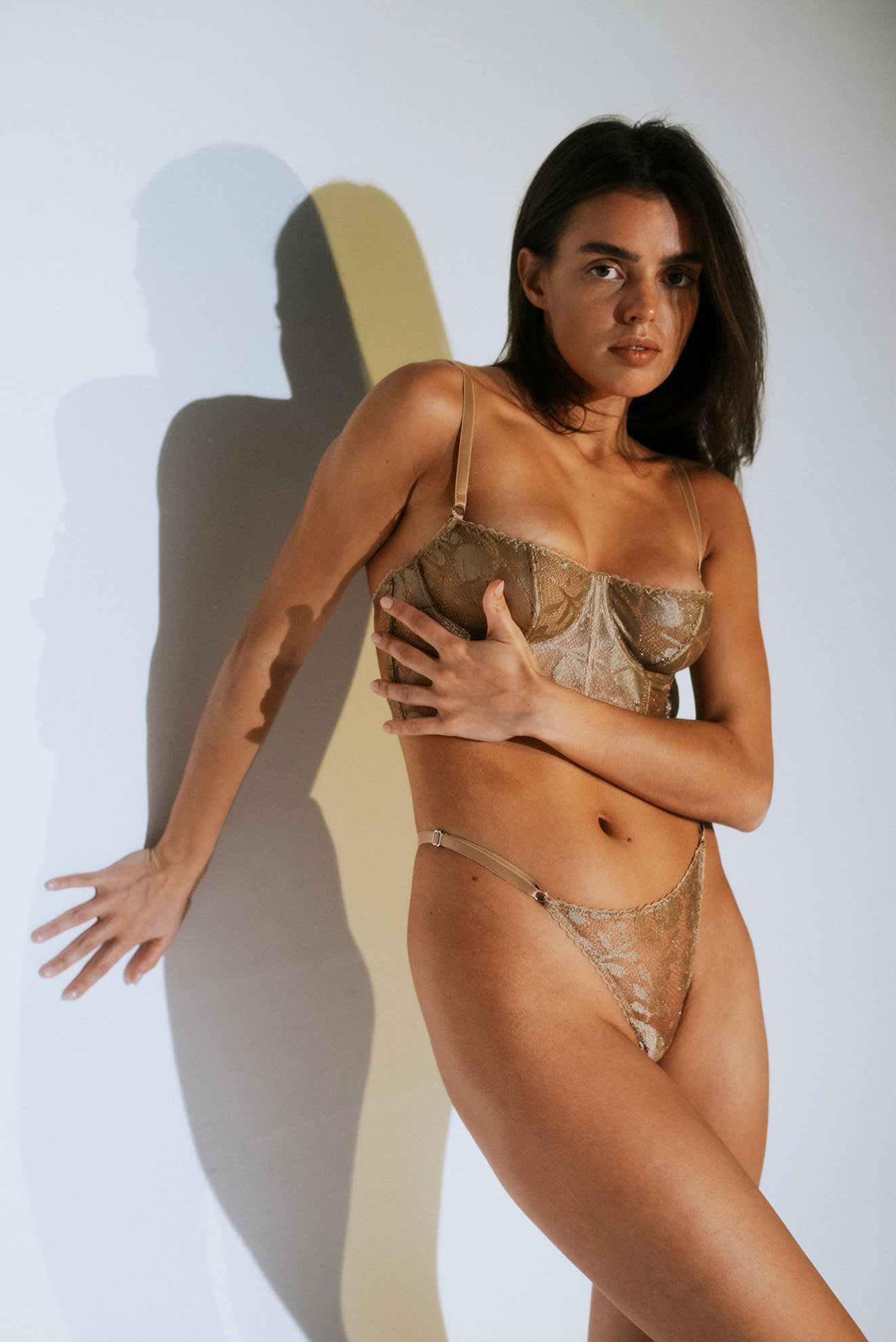 How would you describe your customer base?
Strong, smart, conscious and creative females (and their partners).
Do you ever struggle to stay inspired?
I do my best to stay in the exploration mode via enriching myself culturally and trying new things.
Is there anyone you would love to see wearing your designs?
Being a great fan, I would say Beyonce, Jennifer Aniston and Monica Belucci.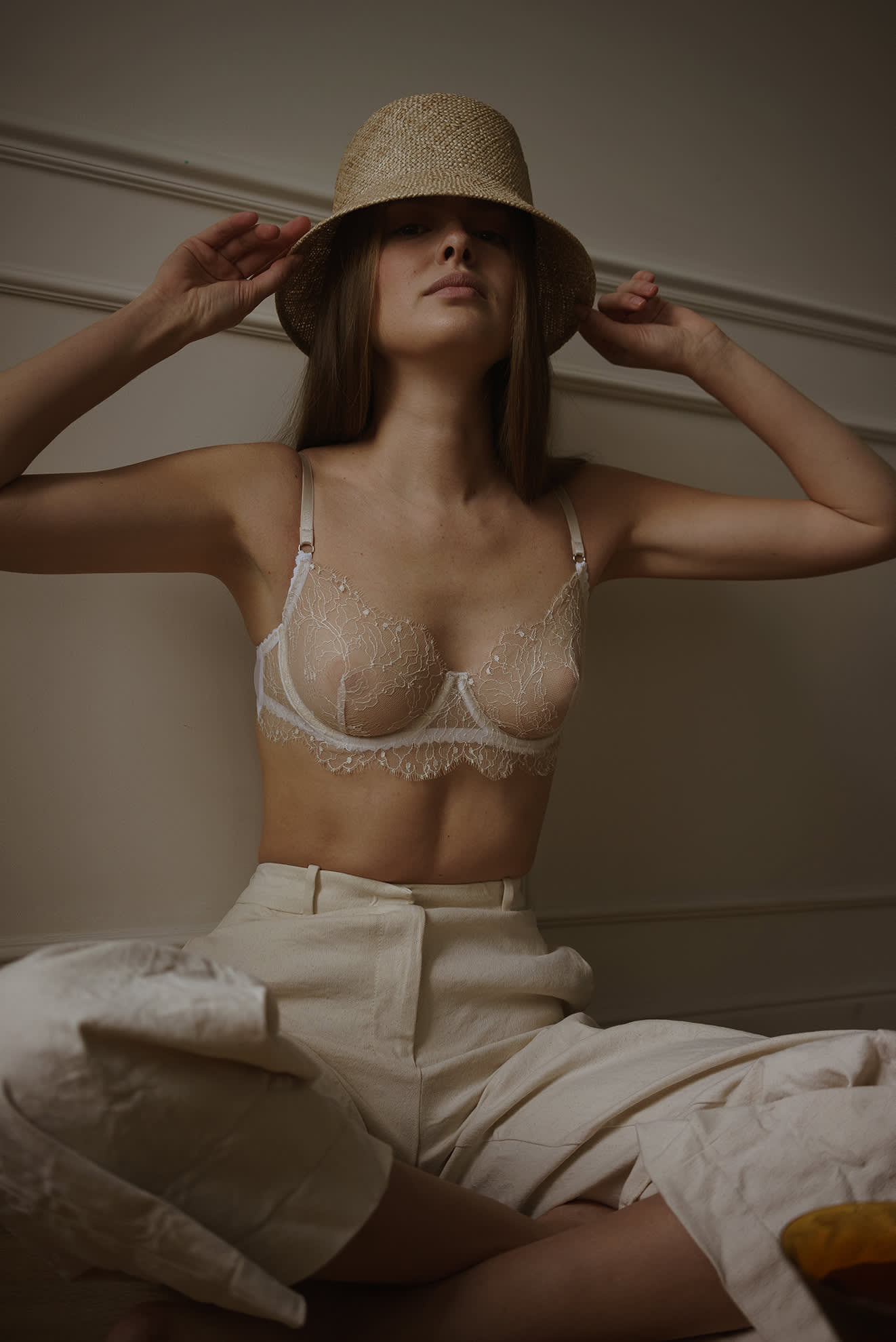 If you could only wear one piece from your collection, what would it be and why?
My pick would be the Rita set - unconventional black Italian lace, flattering shape of a high rise thong and a balconette bra -  it fits with anything and everything. 
Is there another designer whose work you particularly admire? 
Personally I am in love with the dress designs of True Decadence and fine jewelry by Ri Noor.
What's the best piece of advice you've ever been given? 
The relationship with yourself is the most important one in your life, so learn to understand yourself and to love your body.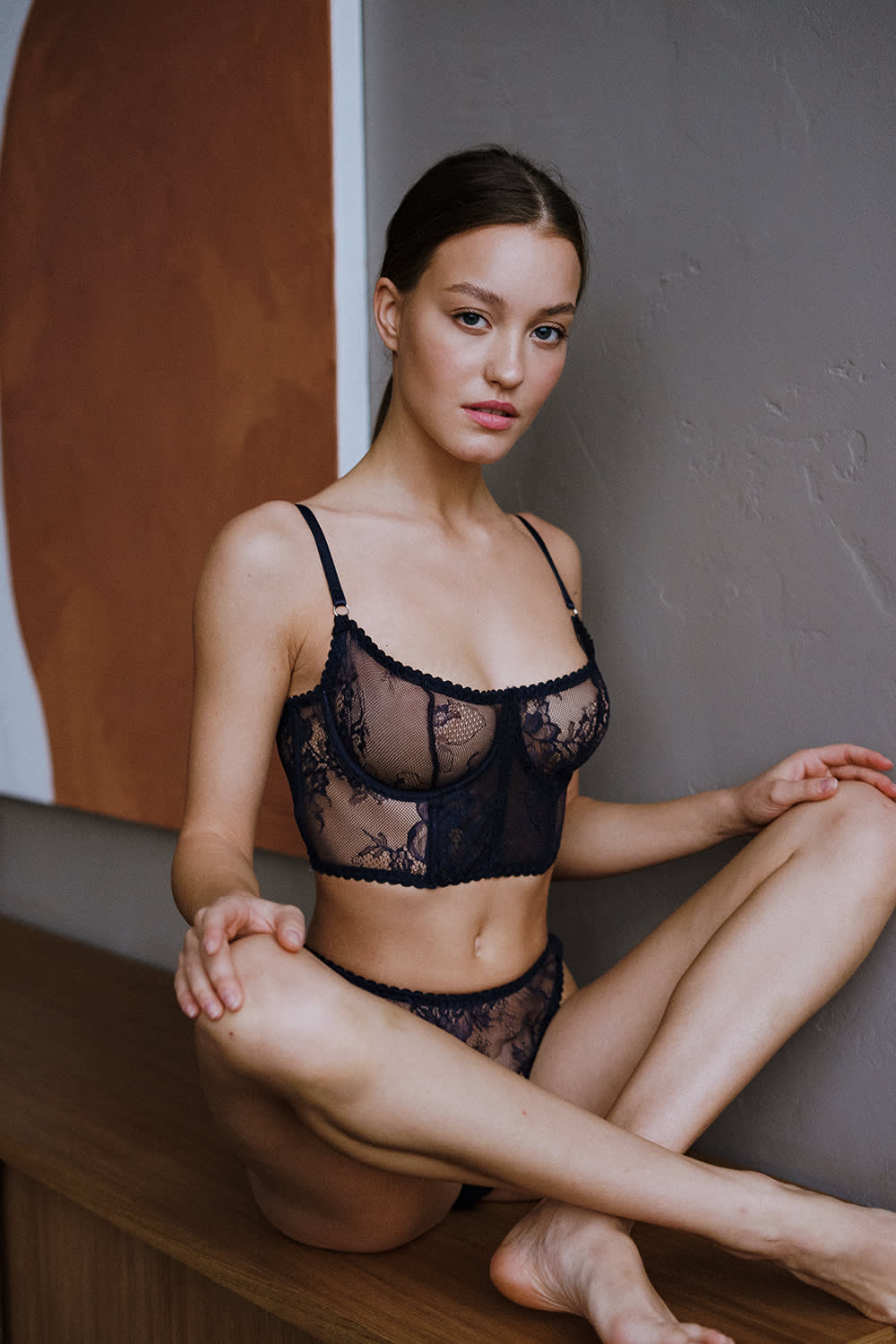 What drew you to Wolf & Badger?
W&B is truly an amazing space to access brands that follow ethical and sustainable standards in all categories - from home decor to fine jewellery. It is inspiring to see so many designers changing the world one creation at the time and ultimately to be part of this community. The W&B team also is very designer friendly, offering good support in nearly all questions.
Where do you see the brand in 5 years? 
We aspire to continue to be a boutique brand with a global presence following the same sustainability practices we have today. I am sure that new approaches to recycling and sustainability will emerge and where suitable, we will adopt those.
As per collections - in 2020 we have introduced the permanent pieces to our collection from soft mesh from the Baltics. In 2021 we plan to start a capsule bridal collection and who knows, perhaps we can expand it!