creators2016/08/16
5 Minutes With... Edge Only
by Emma Foreman
Edge Only is luxury jewellery with an edge. Founded by former DJ Jenny Huston, Edge Only is for people that care about the jeans and trainers they wear every bit as much as the suit they wear to work. We spent 5 minutes with the Irish jewellery designer to get a glimpse inside the brand. 
How did Edge Only begin?
After University I was a Voice-over Agent, then moved on to be a theatre producer. While producing, I did an evening radio show for fun. Lucky for me important ears were listening and i was offered a show with RTÉ 2fm - I was an alternative DJ (Rock, indie and electro) and music TV presenter with RTÉ, the Irish National broadcaster for over 9 years. I applied for voluntary redundancy, took a year off and then started Edge Only.
Edge Only came about very quickly – from a musing in February 2014, a start your own business course in the spring, to two collections online by September that same year. In saying that, I grew up in the business (my mother is a goldsmith and gemmologist) so a love and appreciation for jewellery was always there and I had a pool of talented goldsmiths to work with.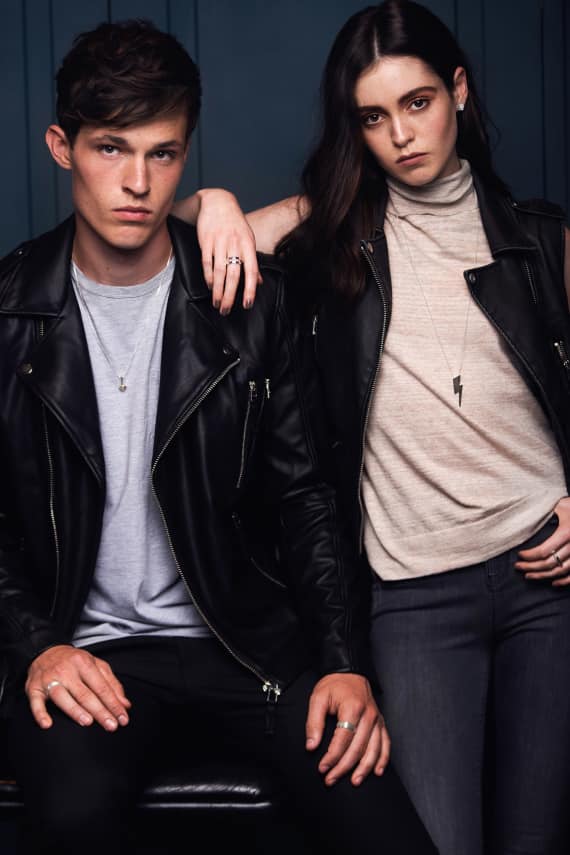 Have you always been interested in fashion?
Yes. I had part time jobs from the age of 14 that were there solely to fund my shopping trips.
What have been the highest and lowest points on your journey so far?
It's incredibly hard starting a brand and running a business, but I think that the low points make you appreciate the good things so much more. The lows are lower, but the highs are higher. 
What was the inspiration behind your latest collection?
All things mechanical. Cogs, gears, tools and jewellery drill bits – all elevated, polished and reduced to jewellery scale. It has an industrial feel to it. 
Do you ever struggle to stay inspired?
Thankfully no. My challenge so far has been reducing and refining! Too many ideas.
Where is your go-to meeting spot?
I like Rustic Stone by Dylan McGrath for lunch meetings (great salads and polenta chips), www.rusticstone.ie or a post work glass (or two) of wine and bites at Drury Buildings http://drurybuildings.com [Dublin city].
How would you describe your customer base?
Creative professionals. I have a lot of customers from within the music, film and television industry (a natural progression from my previous career) and design professionals. They are individuals that appreciate clean lines and a playful edge to their precious metal.
Is there anyone you would love to see wearing your designs?
Kate Moss.
What are the morals you run your brand by?
I believe strongly in ethical luxury. We don't out source for cheap labour to India and Asia like so many other jewellery brands do. We make all of our jewellery in Ireland and proudly hand-finish our pieces to a very high standard. Edge Only is a luxury you can feel good about.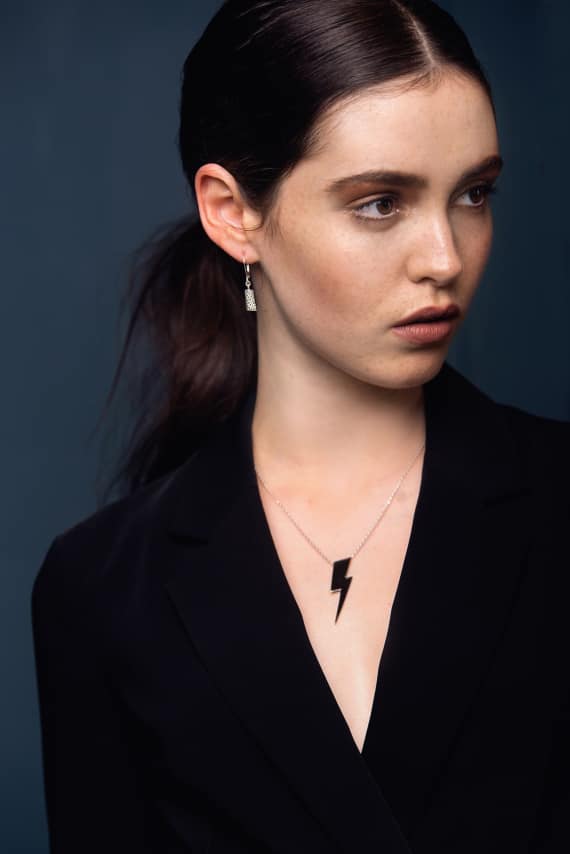 Do you have a mentor?
Many! Two heads are always better than one in my world and I reach out to friends and fellow designers for advice or a sounding board all the time. I have had some formal mentoring through the Design and Crafts Council that has been extremely helpful, particularly in regard to international export.
What apps keep you sane?
I love Instagram and Boomerang is great fun for photo shoot messing. Follow me here: @edgeonly
If you could only wear one piece from your collection, what would it be and why?
The gold skinny lightning bolt pendant. For me it sums up Edge Only very well - elegant with an edge and just a little bit playful.
What's the biggest style mistake you've ever made?
It's a long list. I love fashion, but I would never be hired as a stylist so I tend to play it safe. I think that's why I love jewellery– it's a great way to add style and personality to an often all black wardrobe.
The worst crime I can remember is a cream and blue floral dress with an empire waistline - I must have been convinced to try something more feminine (im a tomboy rock chick at heart), it looked like a bad maternity dress in the pictures.
Is there another designer whose work you particularly admire?
A colleague recently introduced me to Hannah Martin's work – I love her sculptural fine jewellery designs and that she too designs for men. Her work has an androgynous feel to it that I admire.
What's the best piece of advice you've ever been given?
Listen to your gut, "thank you" is free and celebrate your successes.
What drew you to Wolf & Badger?
The design led curation. A really broad spectrum of luxury design in one location with heaps of personality and individuality. So much more exciting than the high street.
Where do you see the brand in 5 years?
In high-end department stores and cool independent boutiques like Wolf & Badger in every major city.