Heaven & Harland is a luxury swimwear brand with a truely global vision, combining influences from the old and the new world to create a sharp and modern design aesthetic. Heaven & Harland was founded by Blayes Heaven and Joshua Harland. The two met in 2013 whilst racing professionally in a European Motorcycle Championship which took them to various destinations and circuits around Europe. Coming from opposite sides of the world their paths first crossed on a Thursday afternoon at the famous Monza circuit on the outskirts of Milan, Italy. 
After becoming great friends Joshua travelled from the United Kingdom to New Zealand to stay with Blayes and his family. It was in that Summer of 2014/2015 sat around a pool in the Bay Of Islands, North New Zealand, where the idea of Heaven & Harland was first seeded. One year on, Blayes having gained experience in the fashion industry and Joshua having finished his degree in Advertising, the pair began developing the brand and designs which led to Joshua returning to New Zealand.
How did Heaven & Harland begin?
Josh: I always had an interest in design and brands, this ultimately led me to pursue a degree in Advertising at Northumbria University. Although I have little background and experience in the fashion industry, I have a genuine passion for branding, fashion and how its meaning goes far beyond being simply just a product or service.
Blayes: With my father being a fine artist and my mother being very successful in the fashion industry, I was drawn to fashion and clothing from a young age. Since I was a teenager I have worked on numerous fashion projects and gained experience wherever I could within the New Zealand fashion industry. Most recently, I worked with a men's fashion label in the heart of London until I decided to shift my full focus back to Heaven & Harland.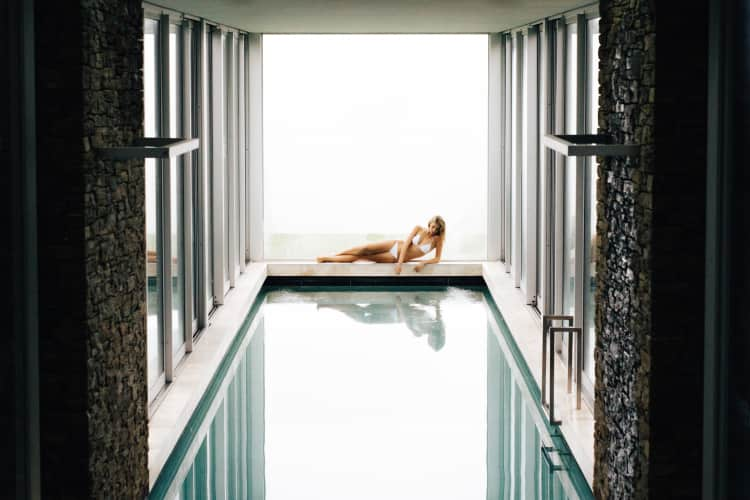 Have you always been interested in fashion? 
Joshua: When I was younger I wasn't particularly interested in fashion but this started to change at around the age of 16. Between the ages of 16-21 I raced in a European motorcycle championship as part of the World Superbike event (European Junior Cup) which took me all over Europe. When travelling to different destinations you begin to notice the differences in fashion and style and it's hard not to be influenced by that. Personally, the focus of my interest has developed into how branding and fashion work side by side.
Blayes: I've always been interested in fashion, since I can remember. From professional snowboarding to skateboarding or motorcycle racing the first thing I always seemed to worry about was what I was wearing or what sort of style anyone had. Fashion and style can tell you a lot about someone before even meeting them and I always found that interesting and exciting.
What have been the highest and lowest points on your journey so far?
Highest point: When our final samples arrived and everything was correct, we realised that what we had discussed and worked on for 2 years ago had finally become a reality.
Lowest point: The UK winter.
What was the inspiration behind your latest collection?
The collection is inspired by our shared vision to take a high fashion approach to swimwear. For our first season we wanted to debut elegant swimwear garments that focus on fit, construction and detailing. It was a must that our first collection contained pieces that had longevity with balance between modesty and statement. Ultimately giving the wearer a feeling of confidence and exclusivity.
Do you ever struggle to stay inspired?
Honestly, no. We get inspiration in so many different places which varies from day to day. Film and music often gets both of us thinking and talking together, helping us to work towards new ideas.
Where is your go-to meeting spot?
Dining room table, coffee pot at the ready.
How would you describe your customer base?
People with an appreciation for style, elegance and quality.
Is there anyone you would love to see wearing your designs?
Jude Law, Jacey Elthalion, Gilles Souteyrand, Sienna Miller, A$AP Rocky, all for different reasons. 
What are the morals you run your brand by?
We believe that less is more, so we encourage people to buy one beautiful timeless item that they will cherish from season to season, rather than following the stream of mass-produced fast fashion items that come without thought or genuine value.
Do you have a mentor?
Tracy Heaven is someone we always turn to for guidance, she has a wealth of experience and knowledge in this industry.
What apps keep you sane?
Instagram, Pinterest, Spotify, Vogue Runway, Trainline.
If you could only wear one piece from your collection, what would it be and why?
We both really like our White H&H Swim Short as the rose gold trims really stand out, it's a clear statement piece when poolside.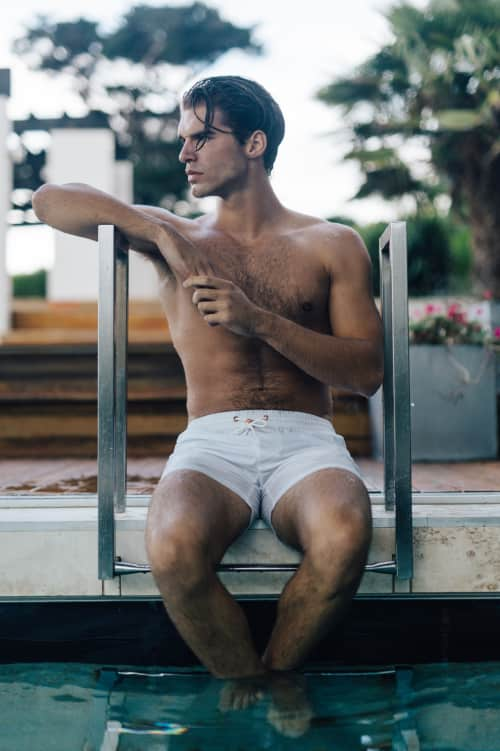 What's the biggest style mistake you've ever made?
Joshua: Wearing deep V neck T shirts in my teens.
Blayes: Wearing a size XL T shirt when I was a size Small, back in my skateboarding days.
Is there another designer whose work you particularly admire?
Joshua: Tom Ford
Blayes: Berluti
What's the best piece of advice you've ever been given?
Joshua: The core of a person's spirit comes from new experience.
Blayes: Be patient and stay true to your vision. 
What drew you to Wolf & Badger?
They're one of the only retailers that gives new independent designers a platform to promote their work and we really support that concept.
Where do you see the brand in 5 years?
We see Heaven & Harland selling our latest collection having extended our men's and women's range beyond just swimwear. We hope to have gained a strong loyal global following.