My Pair of Jeans is a denim brand with a focus on prints and embroideries. With all jeans created in Italy, the brand creates unique and exciting pieces that are sure to attract attention for all the right reasons. We spent five minutes with creators Marcello and Alessandra to learn more about their jean journey.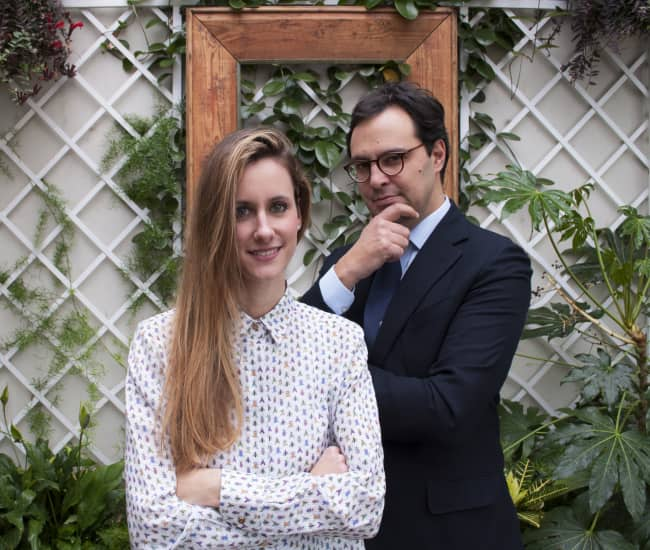 How did My Pair of Jeans begin?
Our brand was founded in September 2013. The founder of My Pair of Jeans, Marcello Pezzoli, is the CEO of an important Italian Printing Mill, Stamperia Pezzoli. Marcello, while directing Stamperia Pezzoli, carefully follows the creation of each MPJ collection from the beginning, collaborating directly with our internal style department, composed of four main designers.  For years, Stamperia Pezzoli laboratory, with its know-how, studied several printing techniques specifically for denim fabric. Thanks to our craftsmanship, skills and daring experiments, we finally gained the ability to print something different, interesting and innovative on denim, so we decided to create our own fashion brand. MPJ's first collection (S/S'14) was a combination of different ideas, new technologies and advanced materials. We selected just a few shapes of jeans presented in several patterns and colours. Then, with every new season, we added new products (i.e. overalls, chinos, boyfriend jeans, wide-legs jeans) as well as introducing printed skirts and shirts, and, following fashion trends, we started to produce embroidered pieces as well.
Have you always been interested in fashion?
Stamperia Pezzoli works mainly for the home textile chain, but considering interior design and fashion are closely linked, yes, we have always had a big interest in fashion. All of our style department staff come from fashion and art school backgrounds, and Marcello is an art and design enthusiast.
What have been the highest and lowest points on your journey so far?
The lowest point on our journey since we launched our first collection was trying to create a good selling strategy. The hardest part was to find an efficient showroom to represent MPJ_My Pair of Jeans. After several collaborations with multi-brand showrooms all over Europe, we decided to follow the distribution directly through an internal sales department. Every showroom we started a collaboration with just searched for emerging cool brands to "decorate" their spaces, but they focused on only selling a few famous and already well-known brands, without presenting the emerging designers to the buyers at all. When we realised the unfair situation, we abandoned this strategy. The highest point was when we found Wolf & Badger. Walking around London during a business trip, we came across W&B's Mayfair Store and we started the selection process as soon as we were back in Italy. Thanks to the W&B format, we have had the possibility to connect our brand with customers all over the world, expanding our business and gaining visibility.
What was the inspiration behind your latest collection?
For our latest collection (fall/winter'17-'18), the inspiration was a sort of midnight dream inside a jungle circus. Embroidered stars, gold baboons, white jungle ferns on dark blue denim miniskirts, pom-pom shirts and skirts, dark green velvet trousers, vintage night butterflies and much more to discover.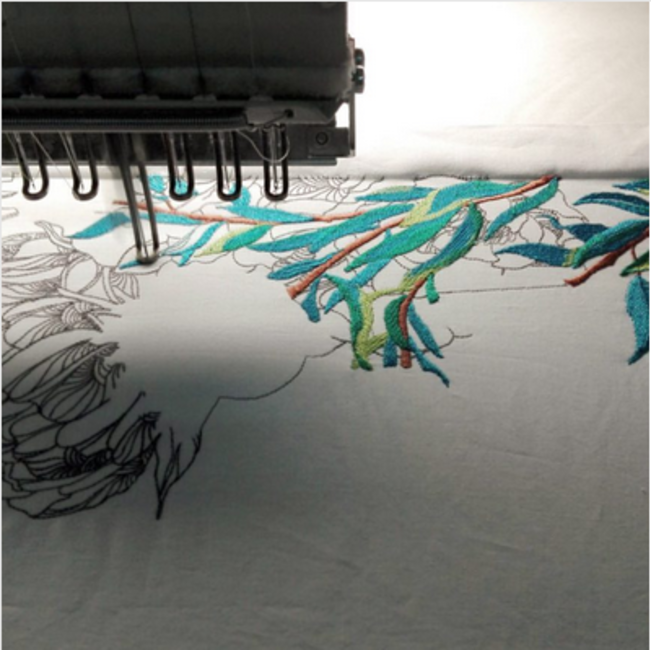 Do you ever struggle to stay inspired?
Living in Milan, "La Città della Moda", as well as travelling a lot keeps us easily inspired. We love attending vernissages and cultural events, and visiting cool places all over the world.
Where is your go-to meeting spot?
We usually hold important meetings in our style department office, where we collect samples, mood boards, trend books and sketches. Sometimes, however, efficient meetings are carried out during an informal lunch or late in the evening at the office.
How would you describe your customer base?
The MPJ customer wants "her own pair of jeans". Nothing basic, she wants to be super trendy and she doesn't necessarily want to follow the current. Our lines are really comfortable and can be worn on various body shapes and ages: MPJ can be easily found in the wardrobe of a daughter or her cool mum.
Is there anyone you would love to see wearing your designs?
HM Queen Elizabeth II would definitely be a "royal customer"!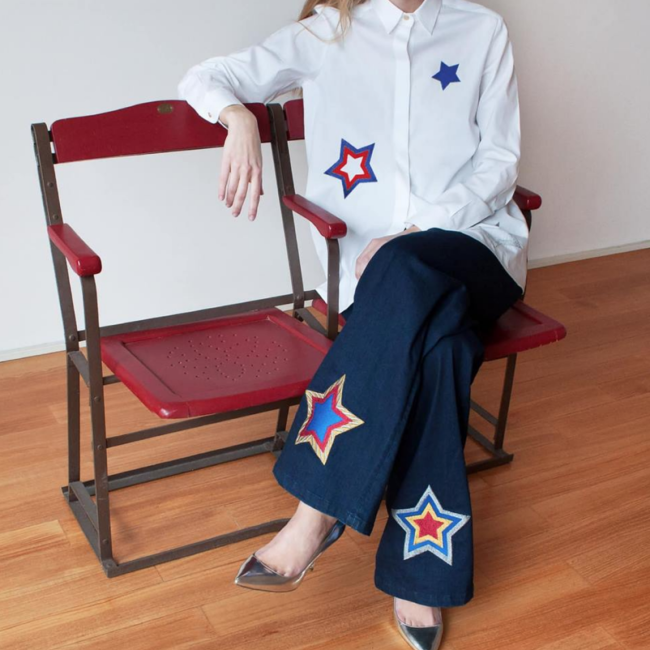 What are the morals you run your brand by?
A respectful and sincere collaboration with our employees and suppliers lead the brand morals. The factory operates in full compliance with all regulations regarding industrial safety and environmental protection.
If you could only wear one piece from your collection, what would it be and why?
Considering them our new masterpiece from FW'17-'18, we would definitely wear the new Starry Palazzo Jeans for a stylish and bright night-out. Elegant, strong and chic.
What's the biggest style mistake you've ever made?
The second season of MPJ, fall/winter '14/'15, we were so excited to show all the new printing techniques achieved, that we presented too many patterns and colour variations in one collection. The customers appreciated the wide assortment, but they confessed a little confusion on the selection making.
Is there another designer whose work you particularly admire?
Elsa Schiaparelli.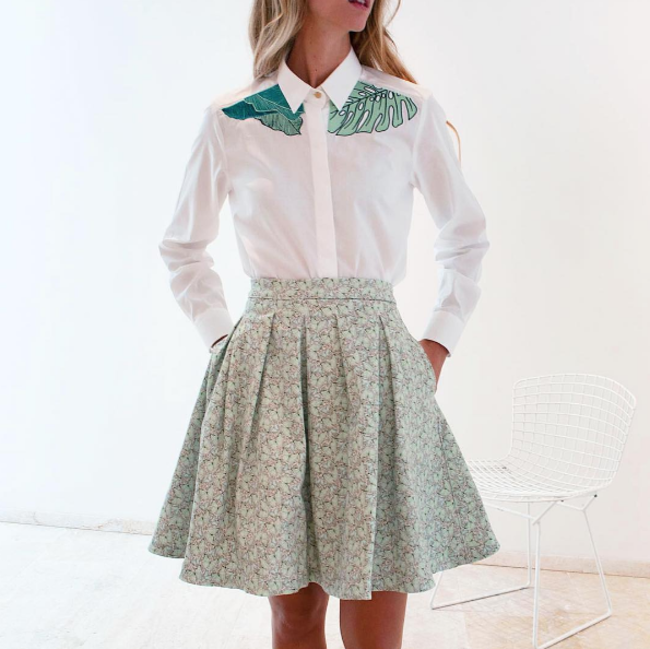 What's the best piece of advice you've ever been given?
"Guys: when you have time for fun, enjoy as much as possible; when you go to work, work as hard as you can."
Where do you see the brand in 5 years?
It's a secret…but you'll discover it soon!