Sachini is a luxury fashion label handmade in London. Designed for elegant women who wish to feel empowered and confident, the brand embrace timelessly classic style. We spent five minutes with Sachini to hear how she's encouraging women to be the best versions of themselves.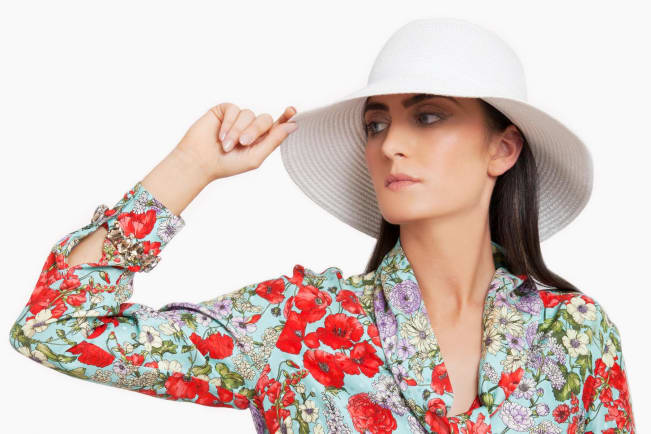 How did Sachini begin?
I started Sachini last year (2016) and it was my decision to turn my hobby into a business. So far, it is going well and it has been the greatest educational experience I have ever been through. I learn something new every day. I was working in the financial sector as a  Project Manager when I started making my own shirts to wear to work. I wanted to create something feminine and powerful to wear in a very competitive environment, but I also wanted the outfits to have a character and unquietness. A lot of my female colleagues and clients asked me to make the shirts for them as well. So the transformation happened slowly to start up a fashion brand from being a financial Project Manager. It took a lot of courage, which my family provided me with in abundance and here we are!
Have you always been interested in fashion?
Yes, as a young girl I was fascinated by how style can transform people and the way we feel. Both my aunt and my mum always used to design and make their own clothes. I had done a few internships and I am always intrigued by how much we can communicate through style.
What have been the highest and lowest points on your journey so far?
I think the highest points are when I receive a thank you card from a client I dressed for an event, or seeing an email from a client saying how much they are enjoying the clothes. I don't think there is anything that can match up to the fulfilment and gratitude of those moments.The lowest point was when our studio was badly damaged by storm Doris in February. The studio had significant damages overnight and we lost a lot of materials.
What was the inspiration behind your latest collection?
The collection that I have just finished was the workwear collection which consists of statement shirts. I wanted the workwear shirts to be interesting, and have a character of their own. The inspiration comes from military wear and from some beautiful botanical gardens I visited in Sri Lanka.
At the moment, I am working on some Prestige items and the inspiration behind them came from places l love the most in the world like the Eiffel tower in Paris, and the Taj Mahal in India. There is going to be a dress which very much resembles Paris and there is another dress which is made from hand painted silk, inspired by the symmetry and structure of Taj Mahal.
Do you ever struggle to stay inspired?
No, in fact my issue is keeping my ideas under control. Every time there is a new season and we are creating a new collection I have so many things that I want to do, keeping it under a limited number of pieces is always the challenge. 
Where is your go-to meeting spot?
I have quite a few. It depends on the day's schedule and location. In London, I love Sketch. It is a beautiful place to have a meeting over coffee. I also love Farm Girl. The food and coffee there is absolutely delicious.
How would you describe your customer base?
It spreads out to many groups. I think geographically, the main client base is in London, and then New York. Most of my clients love our ready-to-wear shirts for work and business and they request something uniquely designed or Prestige Made on request pieces for occasions.
Is there anyone you would love to see wearing your designs?
I don't really think of it that way. I am more interested in the fact that the person who wears it, whoever they might be, enjoys it well, feels confident, and feels the best version of themselves wearing Sachini.
What are the morals you run your brand by?
I very strongly believe in fair trade. One of the main concepts of Sachini is to support the local talent. London is my home and I have always known it to be a great hub of talent. So, we make all our clothes here in London and we have a very close-knit team.
As a designer, I believe that I need to be involved in every single step of the process of creating a piece. I want to be able to touch and feel the fabric. I try on every sample before they go on to production and I keep on top of the Quality Control process. This would not be possible if we made our clothes elsewhere.
Do you have a mentor?
Not officially, but there are several people I look up to including my father, a great businessman, who has taught me a lot about business as well as life.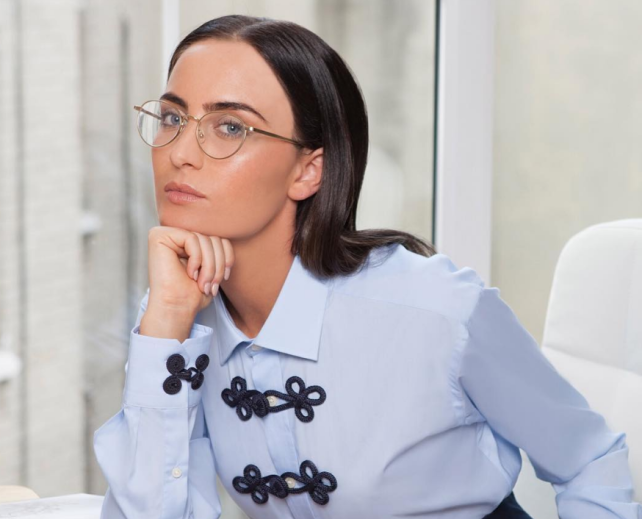 If you could only wear one piece from your collection, what would it be and why?
It depends on the occasion. I am putting together a work outfit or going to a formal business meeting, I would wear the blue shirt with fine trims from our ready-to-wear collection. I will pair it with a navy pencil skirt, a pair of pointed toe heels and a smart work bag. If I am going out, I would pick something from our Prestige collection like our Feathers in Orchid Garden and pair it with culottes. For a casual look, I would wear the Bohemian Garden with blue denim jeans, paired with a small cross body bag and summer sandals. 
What's the biggest style mistake you've ever made?
If you mean have I regretted a particular style choice after then the answer is no. I do not believe that style has a right or wrong as it is down to individual expression.
Is there another designer whose work you particularly admire?
Well I love the brand that Victoria Beckham has created. I also love Celine. I think the understated luxury is what attracts me.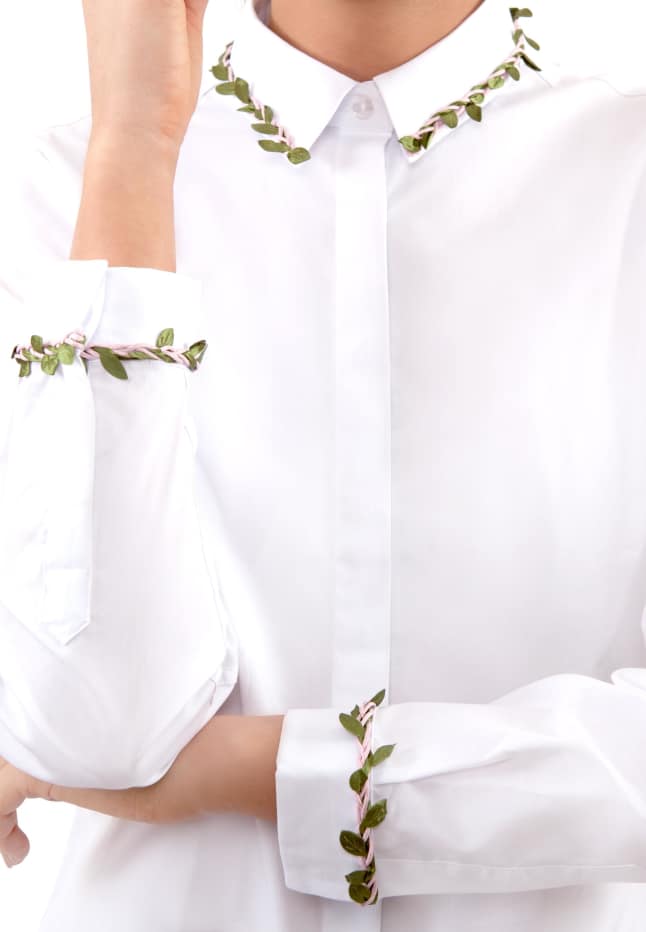 What's the best piece of advice you've ever been given?
Never take no for an answer. No usually means not now or not exactly as things are now. Persistence and dedication can change a "no" into a "yes"!
What drew you to Wolf & Badger?
I had known Wolf and Badger for a while now, started as a customer. I have been to the Mayfair shop a few times and it was recommended by my friends as a place you find unique and well-made clothes to buy. I have had a look at the website and I love the concept of having a platform to showcase emerging brands.
The kind of items you will buy from Wolf and Badger are not mainstream, so wearing a piece from there makes you stand out from the crowd, it is a one of a kind.
Where do you see the brand in 5 years?
The future can be very unpredictable, so rather than making plans set in stone, I respond to various challenges and opportunities as they come. That said, I hope in 5 years to be a significant player in the exclusive fashion market.