SALOME mixes classical influences with a modern & bohemian twist. Salome jewellery is handmade using natural semi-precious and precious stones which are source from all around the world. We spent 5 minutes with founder of the brand, Kellie Daniels to find out more...
How did Salome begin?
I started my career at the Guggenheim Museum in New York. I took jewellery making classes while working and made pieces for myself for years. In 2012, I decided to make a go of it and it took me a couple of years to get organised, find my suppliers and source all my stones but in November of 2015 I launched my website. In the summer of 2016 I was offered a display in the Biscuit Factory in Newcastle. Things took off from there and as my confidence as a designer grew I got more and more brave about applying to stock my designs with larger companies.
Have you always been interested in fashion?
Yes of course, as a girl growing up in Louisiana I got to see a melting pot of cultures and a sense of the theatrical. Mardi Gras, Jazz festivals and the various parades we have throughout the year were always an excuse to dress up and indulge your fashion fantasies.
What was the inspiration behind your latest collection?
The 'Into The Wild' collection is based on natural stones from Africa including African Jasper, African Turquoise and African Bloodstone. This collection is inspired by the rainforest of the Lebialem Highlands in Cameroon, which is home to the world's most endangered primate, the Cross River gorilla. In addition, the rainforest is home to many rare species of flora and fauna unique to this special part of the world. The beauty of this area, the people and the wildlife have inspired this raw, earthy collection. There are less than 300 Cross River gorillas remaining, so we decided to donate a portion of every sale in this collection to the Cross River Gorilla Project UK (www.crossrivergorillaproject.co.uk).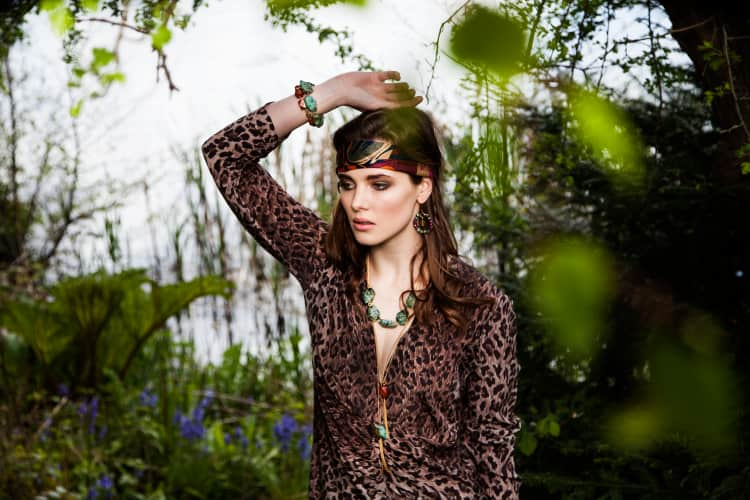 Do you ever struggle to stay inspired? 
Never, inspiration seems to be the one thing I'm never in short supply of. I have produced 15 collection in 2 years and if anything I find it hard to slow the design down in order to make the most of each collection.
Where is your go-to meeting spot?
Arlos in Newcastle; The Ivy in London, & in New Orleans and Community Coffee on Magazine Street in New Orleans.
How would you describe your customer base?
Diverse; we get women in their 20's as well as older women. Everyone enjoys uniquely designed pieces that contain real stones at a price point that makes it very accessible!
Is there anyone you would love to see wearing your designs?
Stevie Nicks.
What are the morals you run your brand by?
It's cool to be nice!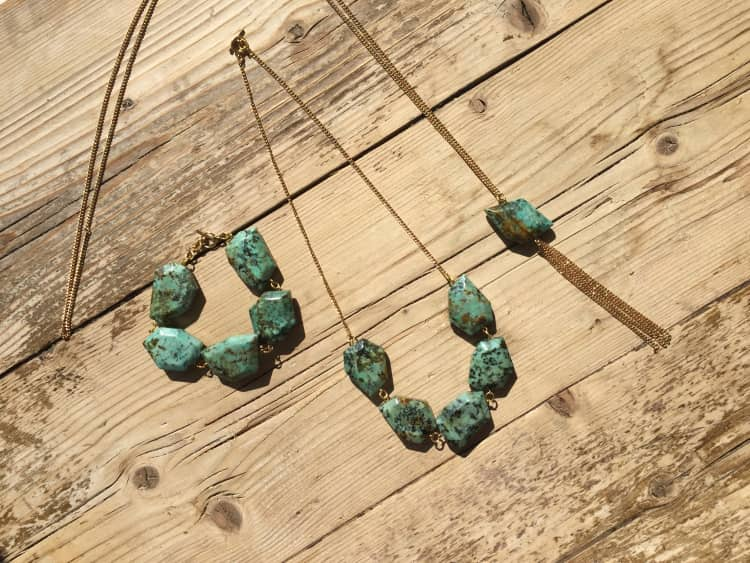 If you could only wear one piece from your collection which one and why?
This is difficult and a bit like asking me to pick my favourite child... But it would have to be the tribal sapphire earrings with fringe. Sapphires are just glorious and as Virgo is also my birthstone, but also the design frames the face and makes my outfit feel complete.
What's the biggest style mistake you ever made?
A few come to mind... Ill fitting faux red leather trousers in the city in London when collecting a friend from her fathers' work meeting...
Is there another designer whose work you admire?
RIXO & Pamela Love & By Boe... Love, love, love them!
What drew you to Wolf & Badger? 
The designers. Although they all very different, they are edgy and it feels like a very curated cohesive collection, which my brand fits into well.
Where do you see yourself in 5 years?
Supplying larger department stores in both Europe and America and then on to total world domination... Cue Dr. Evil laugh.