The Mechanists are a London based jewellery brand creating bracelets inspired by classic cars. The Mechanist's pursue grace, performance and the ambition to move forward while maintaining their heritage, entirely made in the U.K. We sat down with the founder, Hedi Sersoub to find out more about the brand. 
How did The Mechanists begin?
I have been raised around classic cars, my father spent a lot of time in the garage, working on his cars. I enjoyed watching him fixing cars and always finding solutions to any problems that arose. It was very inspiring. I always knew I will create one day as I have a very creative mind even though I studied business. The idea came following my position as a lifestyle manager in a 5 star hotel in central London, I wanted to celebrate the cars that have been crafted by hand with some iconic parts. I started with one of the most iconic models, the E Type Jaguar Steering wheel - which reflects the passion people have for cars. We are now launching new collections inspired by the air cooled Porsche.
I enjoyed working in the wellness and hospitality industry as I've always had a passion for sport and motorsport so enjoyed the lifestyle aspects of the job. Working in the hospitality industry was a useful experience, as a Lifestyle Manager my role consisted of representing the hotel and selling it as a whole. It was an incredible experience which gave me the tools to launch my own brand, and because of the passion I have for cars, I had to make my passion a living.
What have been the highest and lowest points on your journey so far?
The highest moments are happening everyday when people contact us for collaborations and to tell us how much they like our products. The lowest is when we have self-doubt about our business, but our drive and enthusiasm helps us to hold it together.
What was the inspiration behind your latest collection?
The latest collection is based on the most iconic porsche wheels of all time, the fuchs wheels. I am a Porsche owner and I know how much people follow and love this brand.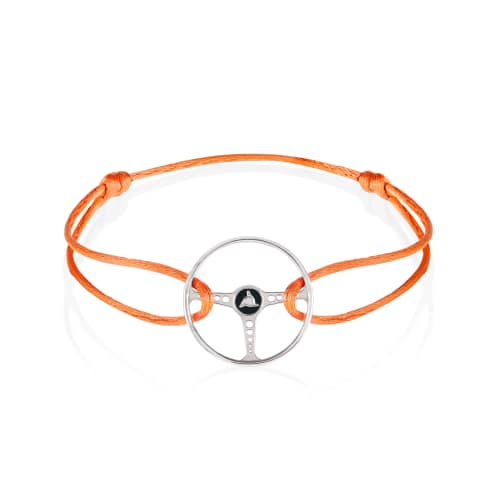 Do you ever struggle to stay inspired?
No, as everyone is so passionate in the classic car industry, fusing this with jewellery makes a great way to express yourself creatively. I am constantly thinking of new ideas.
Where is your go-to meeting spot?
Hotel Cafe Royal.
How would you describe your customer base?
We have a varied customer, classic cars are about passion, not gender or age. We are pleased to have many women customers too, we want to celebrate their importance in the industry and inspire them too.
Is there anyone you would love to see wearing your designs?
Everyone who enjoys taking the trip of their life. Cars can be used as a synonym of personal freedom and self-development.
What are the morals you run your brand by?
Integrity and passion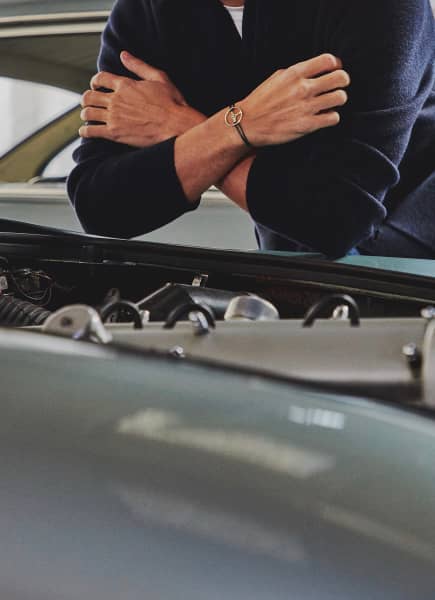 Do you have a mentor?
Not anymore, but I am inspired by exceptional people.
What apps keep you sane?
My people keep me sane.
If you could only wear one piece from your collection, what would it be and why?
I wear the first piece we produced, the Sterling Silver Ecurie Ecosse steering wheel.
What's the biggest style mistake you've ever made?
I believe it is yet to come.
Is there another designer whose work you particularly admire?
Many, I like artisans who work with devotion and dedication to their craft. Otherwise, as a major brand, I am inspired by Ralph Lauren, who is a massive car collector as well.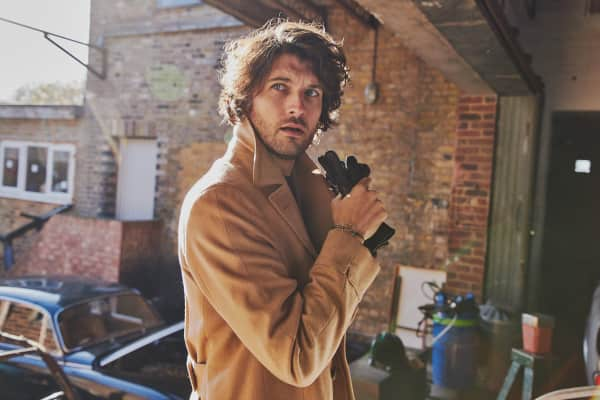 What's the best piece of advice you've ever been given?
From my father: "If you want, you can".
What drew you to Wolf & Badger?
You seemed to be the perfect fit to start and develop, it was a no brainer to contact you.
Where do you see the brand in 5 years?
Running a racing team, producing the most elegant handcrafted accessories for car enthusiast's and working with people we love. People are what matter to me.