Lalla Wandavi creates luxury fully-fashioned vegan knitwear using natural plant-based yarns. Effortlessly blending European chic, distinctive British design and the elegant minimalism of Scandinavia, using knitting techniques and jacquards inspired by the wonders of nature. The garments are made in the Midlands, the traditional heart of the UK's clothing and textile industry. The latest collection, 'The Vegan Yarn', created with natural fibres of cotton, linen and bamboo, is high quality and long-lasting garments. We say yes to making conscious choices based on wellbeing, nature, minimalism and zero-waste. Made with love, worn with love.
We caught up with the founder Maria for a glimpse inside her world.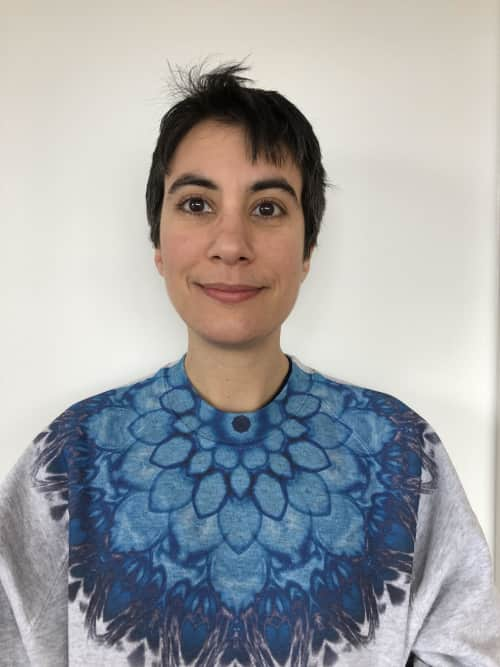 How did Lalla Wandavi begin?
Just over a year ago, following the completion of my Master's, I decided that I wanted to create high end, elegant knitwear and I wanted to do this without causing harm or any environmental impact to man or animals. I had discovered things I was previously unaware of, that go on behind the scenes of wool production and the fashion industry. The question I asked myself was: would it be worth waking up every morning knowing this and not doing anything about it? The progression for me as a brand (and as a human being) was to become vegan. I want to give all creatures a voice. For me that is something worth waking up for every single day! It was because of this that my brand: Lalla Wandavi, is now a totally vegan brand. I create my fully-fashioned knitwear using only plant-derived fibres and choose organic yarns when possible. This way no animals are involved in my production and both humans and the planet are not impacted negatively by my business.
I did the majority of my fashion studies in London where I graduated from Central Saint Martin's college of Art and Design in 2007. I had the privilege of working alongside names such as Alexander McQueen, Alex Gore Browne and Rebecca Cella, to mention a few. I worked on different projects, the most important of which was establishing my own label: Lalla Wandavi. After my Master's Degree in Fashion Knitwear Design at Nottingham Trent University I was clear that I would want to continue running and more importantly expanding my business, taking it to the next level, increasing its scale and ambitions.
Have you always been interested in fashion?
I have always been interested in creating things from nothing, and fashion has always been a huge passion for me. Growing up in Italy, I spent my childhood and teenage years contemplating how much Italian culture has shaped people's sense of beauty and aesthetics. Italian chic has had a big influence on my designs, added to this are the facts that I was born in Sweden and am inspired by the minimalism of Scandinavian design and that I am heavily influenced by the wildlife and natural scenery of the UK, which has been my home for the past 19 years. My father is an artist and the desire to create is in my blood. Expressing myself through my knitwear designs, capturing my inspirations in my knitting style and creating garments that people love fuel my passion for compassionate fashion.
What was the inspiration behind your latest collection?
Bird's wings and feathers inspire my latest collection: The Vegan Yarn. In particular, I am interested in Starlings and the iridescent colours of their wings. I looked at the design of their beautiful bodies and started seeing how bird's textures and geometries seem to be concentrated in their wings and upper side of their bodies and then chose to apply the same design principle to my garments. I had explored this concept whilst I was on my Master's at Nottingham Trent University and had seen how moving forward for me as a business meant going unisex, or "gender free" as I would like to call it.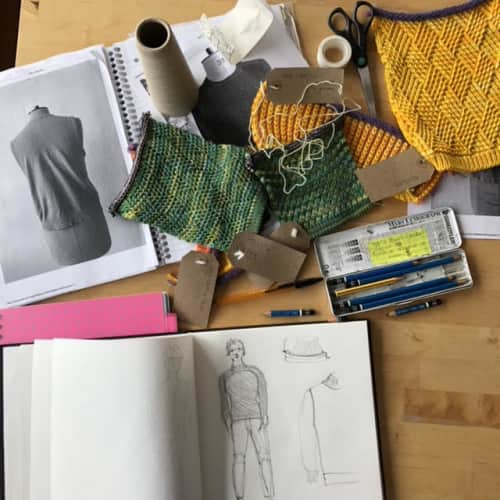 Do you ever struggle to stay inspired?
Inspiration is all around me. I just need to turn to nature and wildlife, my current collection is inspired by bird wings, by the way moss grows across rocks strewn across the floor of a Swedish woodland and the patterns captured in the gnarled bark of an old tree trunk. If I ever struggle to find inspiration, I take a walk!
Where is your go-to meeting spot?
I love the countryside. I enjoy going out for walks in my time off together with my partner and my beautiful bulldog Rosie.
How would you describe your customer base?
An individual whose values are green living and zero waste. My customers are independent professionals who are keen to create a healthy life for themselves and their environment. They like to invest their time and resources in purchasing long-lasting garments that look great on them, whilst knowing that neither human nor animals have been harmed in the process.
Is there anyone you would love to see wearing your designs?
Yes I would love as many people as possible wearing my work! Lewis Hamilton particularly inspires me - he decided to become vegan last year and is still one of the top performers in Formula 1. He is an active individual, clearly interested in the environment and his health. And he looks great!
What are the morals you run your brand by?
Integrity - I am up for delivering garments, which I know to be made in the best possible way. I am keeping the production in England, which means I know exactly the working conditions in which the garments are made and with the garments being fully-fashioned there is no yarn waste. The Midlands (where I live) has been the traditional heart of the UK textiles industry, so it's great for the creation of my garments to help continue this history.
Compassion - I am creating a philosophy of living that is ultimately showcased by my knitwear. I am interested in educating my customers, showing them that fashion can be a vehicle for a healthy lifestyle.
Love - I want my customers to see their garments as potentially precious items that can be passed on to the next generation, so the garments can live different lives according to who wears them. I am still wearing my grandfather's jumpers from the 70's and I love the fact that I am taking care of them whilst feeling connected with someone who made a real difference to my life.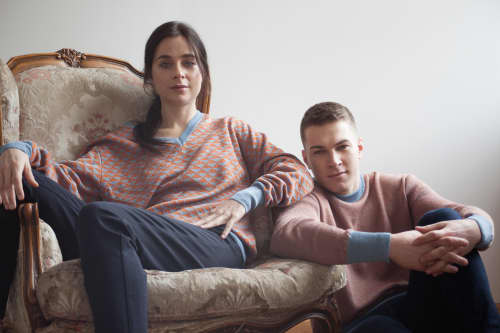 Do you have a mentor?
Yes I do! Her name is Liz Bolt, and she is amazing! The support she has provided me has been inspirational and a huge motivation. She has passed on a lot of priceless knowledge and advice.
What apps keep you sane?
I have many apps and if I have to be completely honest not engaging with any of them is what keeps me sane!
If you could only wear one piece from your collection, what would it be and why?
I love all of the garments from the Vegan Yarn collection but if I had to choose it would be Earthly Love. It is made using a stunning bamboo yarn, which is hand dyed in Canada. This means that every single garment knitted with it is completely unique. I could see myself wearing it at work during the day or also as an evening piece. It showcases a beautiful basket weave technique on the chest and top arms sleeves, which brings out and enhances the stunning dark brown and violet colouring of the yarn. It's comfortable, minimalist, and yet eye-catchingly elegant.
What's the biggest style mistake you've ever made?
I would not necessarily call it the biggest style mistake I have ever made, however looking back at my fashion path I do remember having fallen in love with the film The Matrix, and after watched it for four days in a row (with four different people), I started studying the way the characters were dressed and made an effort to get all of the gear sorted so that I could feel like them. Thinking back at it, it may have been a silly thing to do but I do remember thinking I had the world in my hands and felt invincible (however silly I might have looked!)
Is there another designer whose work you particularly admire?
I like Yakshi Malhotra, she is a wonderful woman who I met and who I also share similar values with in Fashion. I admire the work of Genevieve Sweeney and her passion for keeping her work still entirely made in the UK. I am very much drawn to John Smedley and their beautiful and elegant knitwear, which I find very close to my own idea of beauty. I am a fan of Stella McCartney, her values and impeccable looking clothing.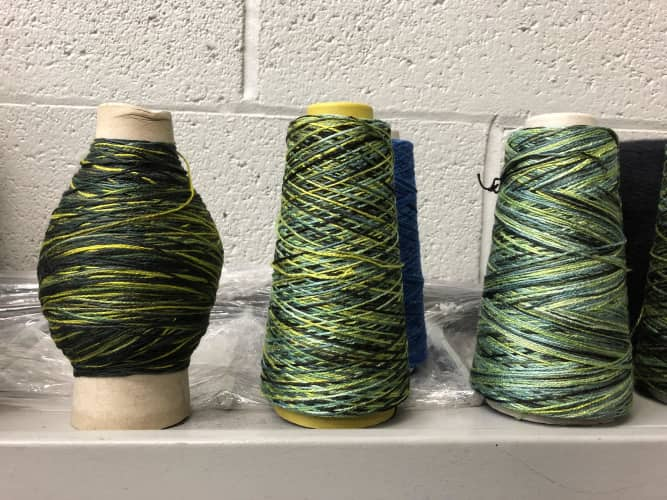 What's the best piece of advice you've ever been given?
I don't know if this is my best one, but 'go and make it happen' is what speaks to me right now.
What drew you to Wolf & Badger?
I applied to be part of Wolf and Badger as they support new designers and represent a diverse range of exciting independent brands who all want to make a difference. The Wolf and Badger concept gives new upcoming brands the opportunity for exposure whilst sitting alongside designers with similar values. Of course I am also delighted that they have a 'no real fur 'policy.
Where do you see the brand in 5 years?
I would like to have my own knitwear factory in Nottinghamshire and would love to build up the Lalla Wandavi team, creating vegan fashion that is made in England and that inspires people, getting them to really think about what is important for them and allowing them to express themselves through their fashion choices.