Hi! We're Sol and Carla from @belligrau and we want to take you on a trip through our story…
About ourselves: Carla Belli and Sol Grau
S: I studied fashion design in Buenos Aires, Argentina, my hometown. After I finished my studies and after working for some brands there I decided to move to Madrid, looking for new opportunities and experiences. While being here and working in fashion I reconnected with Carla, an old friend from school and now my partner in this project. We discovered that we shared the same interests and vision regarding the industry and decided to work together. That is how Belli Grau was born.
C: I studied graphic design in Buenos Aires. I also studied in Spain, in Valencia to be more specific, where I met some great friends and fell in love with the Spanish way of living. After that experience I went back to Buenos Aires and worked for two big brands there and also as a freelancer. Eventually I decided to move to London to master my English and gain experience in my field and there is where I got in contact with Sol and started working together on Belli Grau.
S: Carla and I became friends while going to kindergarten and then she changed schools and we lost contact. We ran into each other again at university, it turned out that we decided to study at the same place! However, we became close after that. When we both decided to move to another country, we started talking again and sharing the experiences and difficulties of being away from home. We realised that we had a lot in common and that our vision as designers was very similar. Having a brand/project together was something that came up naturally. 
About Belli Grau...
What's perfectly imperfect is beautiful to the eyes. 
We create leather handbags, handcrafted in Spain. Each bag that we create is meant to reflect enjoyable moments. We believe in living slowly, one day at a time, flowing with the natural rhythm of things. 
Nature and women are our greatest inspirations. Elena and Neli, our bags, take the name of our grandmothers, strong women who had to go through many difficulties in life but still have a smile on their faces. They taught us resilience and hard work to achieve our dreams but they also remind us that life is a beautiful adventure that needs to be experienced and enjoyed slowly. 
Our bags are meant to last a lifetime. When you buy a Belli Grau, you're buying timeless, ethical design and a product to pass onto the next generations. Why timeless? Our bags are made by hand, one by one, taking care of every detail and making sure that quality is outstanding. Why ethical? We produce everything locally, from bags to packaging and we know the name and faces of the people who make our products. We stand up for decent working conditions and we only work directly with artisans who put the price to their work by themselves. 
About our Fluir collection and our design process...
Our first designs were inspired in the movement of the sea and in the flow of nature. Our bags are handcrafted in Spain and we feel really inspired by its beautiful landscapes…
We want to bring the Mediterranean easy-going spirit to the city and try to live in a more paced, relaxing way. To flow, in constant movement. 
After defining the inspiration, we begin our creative process with a moodboard where we collect pictures, colours, textures, shapes, materials...this is our starting point and this helps us trigger ideas and first sketches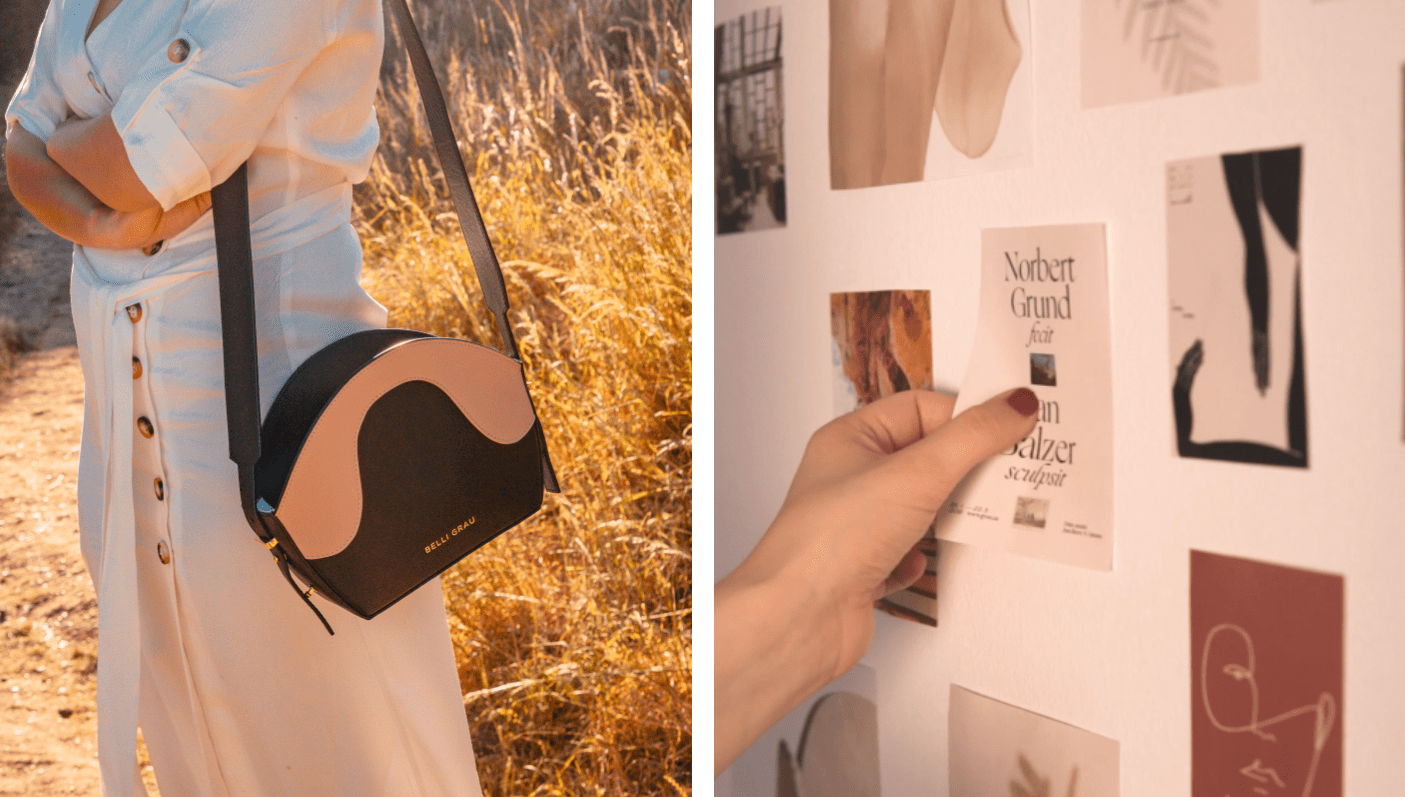 We gather materials and we choose a selection of hardware to use in our products.
Once we decide which designs to work on, we meet with our team and discuss production. We share our different points of view and suggest what we believe is best for this stage.
After some final touches to the designs, we draw flats and make spec sheets with all the information our artisans will need to produce our bags. This is a very important step in order to make sure that production will be successful.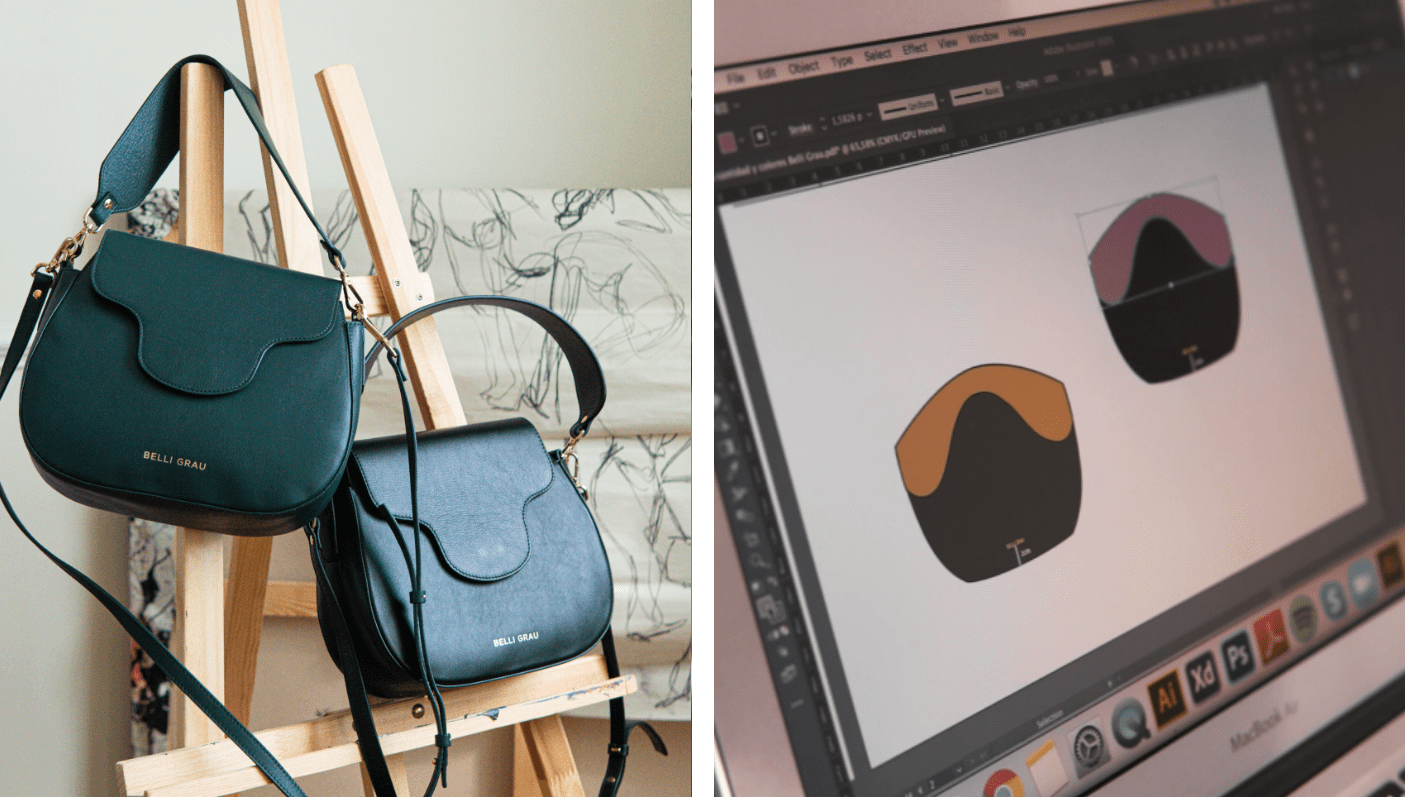 We also start ordering leather and hardware to our suppliers. 
Once our artisans receive what they need, they start working and the result is what you can see here!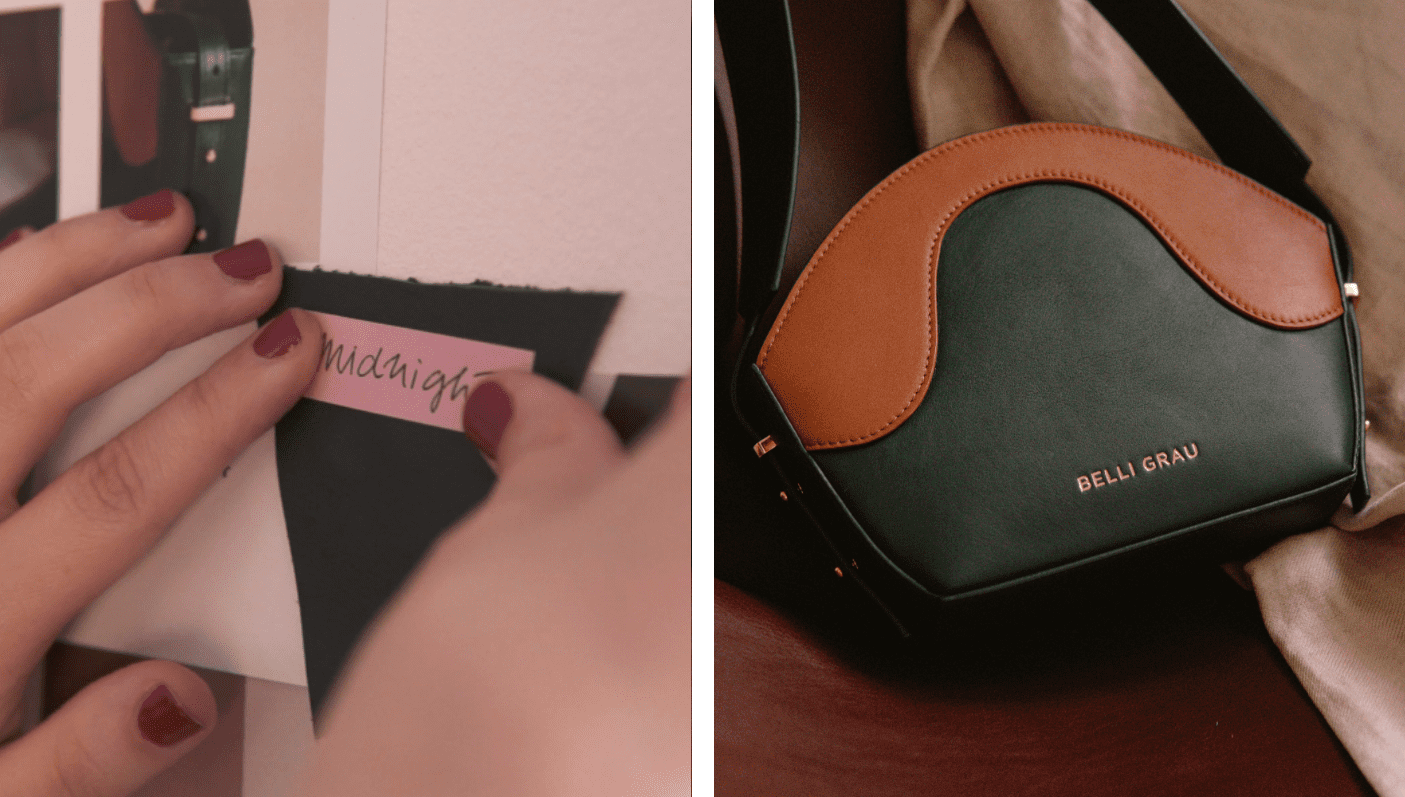 We hope you enjoyed reading a little bit about ourselves, our brand and our design process and we hope you enjoy our bags as much as we do.