The craft industry represents the second most important source of income, after agriculture, amongst rural areas in developing countries worldwide. Craft offers tremendous potential for poverty alleviation in developing countries and provides access to the labor market, especially for women in remote communities. It is estimated that 75% of people working in the craft industry are women (NEST 2018) and countless studies prove that women typically invest a higher proportion (up to 90%) of their income in their families and community. If women have jobs and a fair income, everyone wins. 
Besides the income opportunity, however, craft means much more. It is an essential part of culture, indigenous traditions and, for many women, a source of inner and outer strength through the shared power of their working groups. Through the practice of hand-craft, women have been coming together for centuries. They use the time to talk, to exchange ideas and to form a sisterhood community. At the same time, they feel an extreme appreciation from the fact that their hand-woven fabrics are bought, worn and used by women around the world on the basis of fair payment and respect for their cultural significance. At Nata Y Limón, we want to empower women through this global sisterhood.
Our global sisterhood however, presents a mutual interaction. It stands for global togetherness and a global sense of community. Often we think that by buying craft we are 'doing good' and forget that we are not only giving, but also taking a great deal from our relationship to the women artisans and weavers. We gain access to cultural heritage, traditional designs, personal stories of the makers and the extremely time-consuming nature of handcraft charged with human energy. We use this valuable information and these stories to inform our network and gain recognition for what we do. For example, the makers' stories teach us gratitude, towards nature and spirituality. We underestimate and forget the great benefits we derive from this relationships, even if it is not a direct and personal one. And this is exactly the potential of a global community – the Global Sisterhood! 
Margarita* is one of our highly talented weavers of Mayan textile art and has mastered the most complex designs from Guatemala. She provides the textile panels for our New Wool Shopper in our Heroine Bag Collection. Margarita is able to do her work for Nata Y Limón completely from her own home – in addition to maintaining her daily duties in house and childcare for her family. She is completely free to schedule her hours and enjoys flexibility. On average Margarita works 20h per week and receives a fixed and predictable monthly income. Margarita's greatest wish is to be able to send her children to school with this income so that they can receive an education and thus open up broad opportunities in their futures. 
Margarita is about 45 years old and a mother of 10 children. She is cares for her children alone and, even before separating from her husband, she experienced little financial support. Unfortunately, Margarita also does not have a supportive family network to fall back on, as her parents and other relatives lost their lives in Guatemala's 30-year civil war. In order to feed her children, Margarita works as a cleaner and domestic helper in various houses in the area. To do this, she must leave her children alone in the house, unable to attend school. With her income from working as a cleaner and housekeeper, Margarita can barely meet the essential needs of food and clothing for herself and her children. As a mom of just one daughter, I could relate in just a small way with what Margarita has experienced. At our meetings, she was always the first to smile at me and take me in her arms. She showed no bitterness. I noticed that she was a strong and positive woman looking to the future. And I knew that the reason for this was that, by working for Nata Y Limón, we opened an opportunity for her that was unimaginable, giving her confidence and great appreciation for the first time in her life. Since this experience, Margarita has become a huge inspiration to me.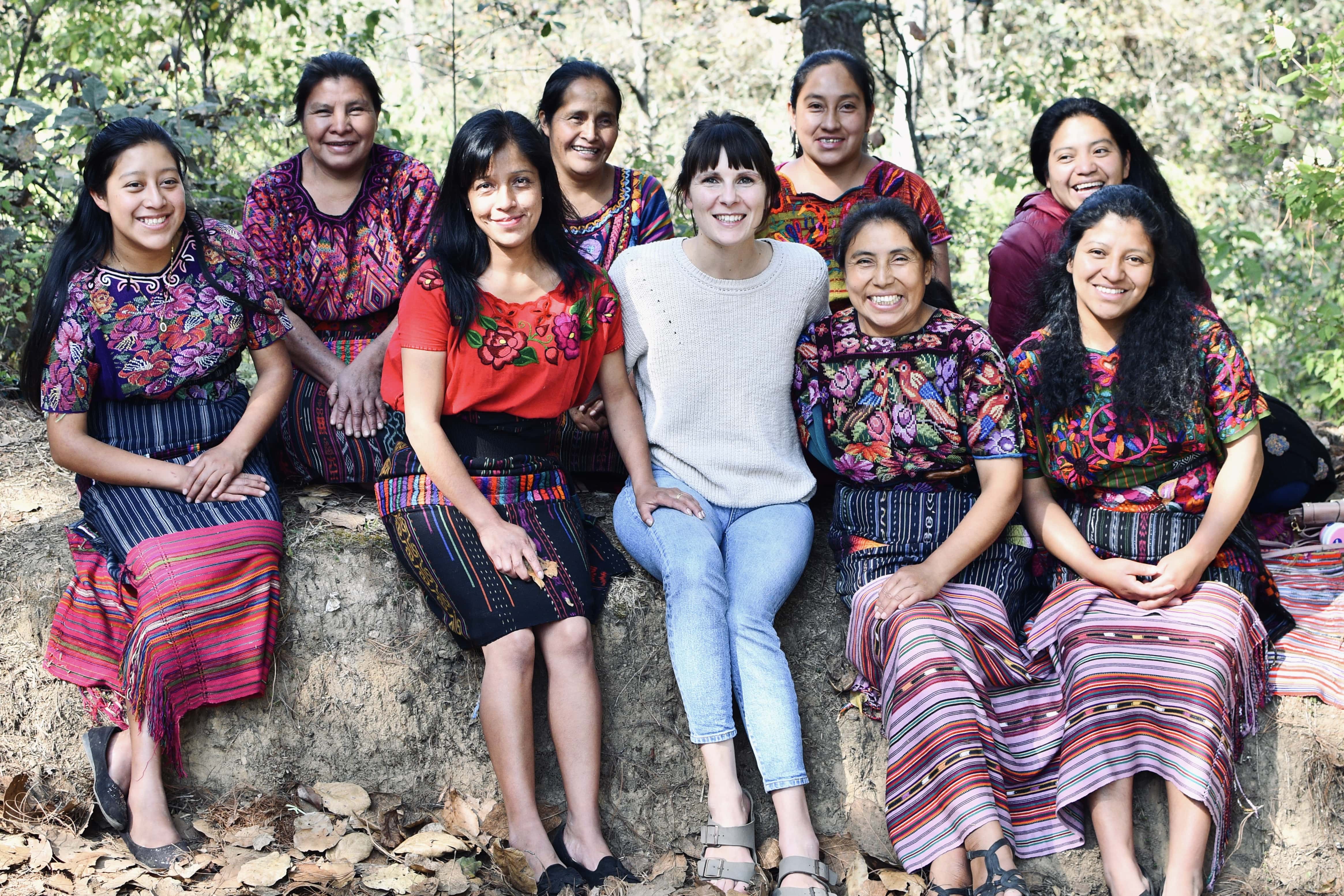 In total, our group of weavers in the community near Chichicastenango includes 10 women. They meet at least once a week to look at their weavings together and discuss the quality. In addition, all the women come together once a month to hand over their finished weavings to our production manager, Fabiola. These moments of coming together are also shared moments of laughing, talking and crying. The work, income and belonging in the group gives the women strength and self esteem – a first step of change in their community. 
Our recognition and appreciation goes out to all the women of the world! With care, empathy and flexibility, they hold our families and society together, not only in times of crisis. 100% of our work goes into supporting women and their families and with conscious consumer choices, we can change the lives of women living in poverty.
*Name changed