The story behind Azima Musayeva has always involved women. From the initial idea inspired by other female entrepreneurs, through the design and manufacturing process, to supporting female charitable organisations. From the very beginning, the brand had its roots in building a community of supportive women who appreciate a unique approach towards women's accessories.

From the start, Azima had a vision of a fashion brand committed to female empowerment and sustainability. At Azima Musayeva we feel privileged to work with small workshops and create our products by hand, in small quantities to minimise any waste. Our workshop in Baku, Azerbaijan is run by a community of local women. We recognise their unwavering commitment with wages which provide financial independence. As we grow, they grow!
As I was searching for the atelier to bring my vision of cuffs and collars to reality, I contacted my family based in Baku, Azerbaijan to ask whether they can help me find the artisans with the proper skills and experience and a colleague of my mother-in-law soon introduced me to the talented ladies who were working in the atelier. I have personally travelled to Baku to meet them and, since our very first day together, we have started researching fabrics and spoken about bringing my vision to reality. The first few months were challenging but we never gave up until the first accessories were created.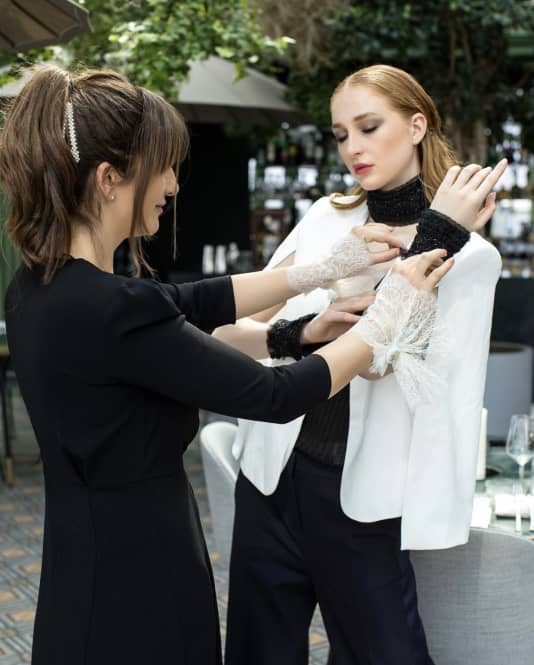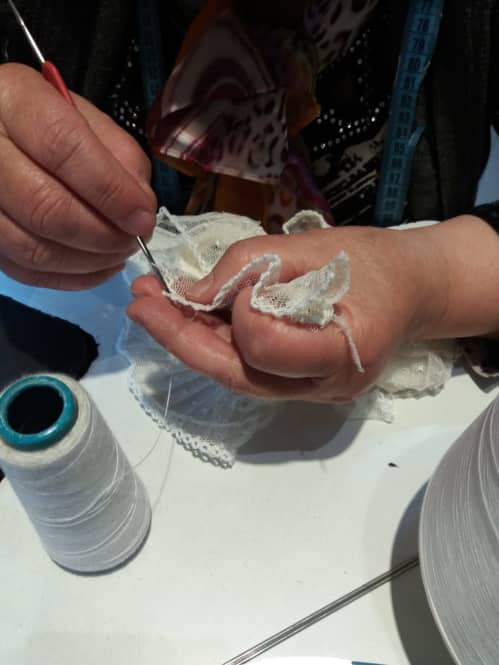 When I approached them, the atelier consisted of two women who were working locally in the Baku neighbourhood. Their work was mainly focused mostly on minor sewing repairs and adjustments and occasionally producing custom clothing. What makes them unique is the fact that their sewing techniques and talent have been passed from a generation of their mothers and grandmothers to them. Knitting and sewing are niche practices in Azerbaijan and skilled seamstresses are truly a rare find. Now I realise how lucky I was to find them. 
However, the beginning was not easy for my artisans. They were financially struggling and on the edge of closing down. I was thrilled to be able to support their small business financially and promote their craftsmanship on a larger scale. Our little collaboration has evolved, bringing Azima Musayeva to life, and has enabled them to cultivate and nurture a long-lived sewing tradition. As we continue to work together, new unique designs will be manufactured in a sustainable way while respecting their Azeri heritage. Especially during the outbreak of Covid-19, I kept them busy with new ideas of designs, making sure they have enough financial support.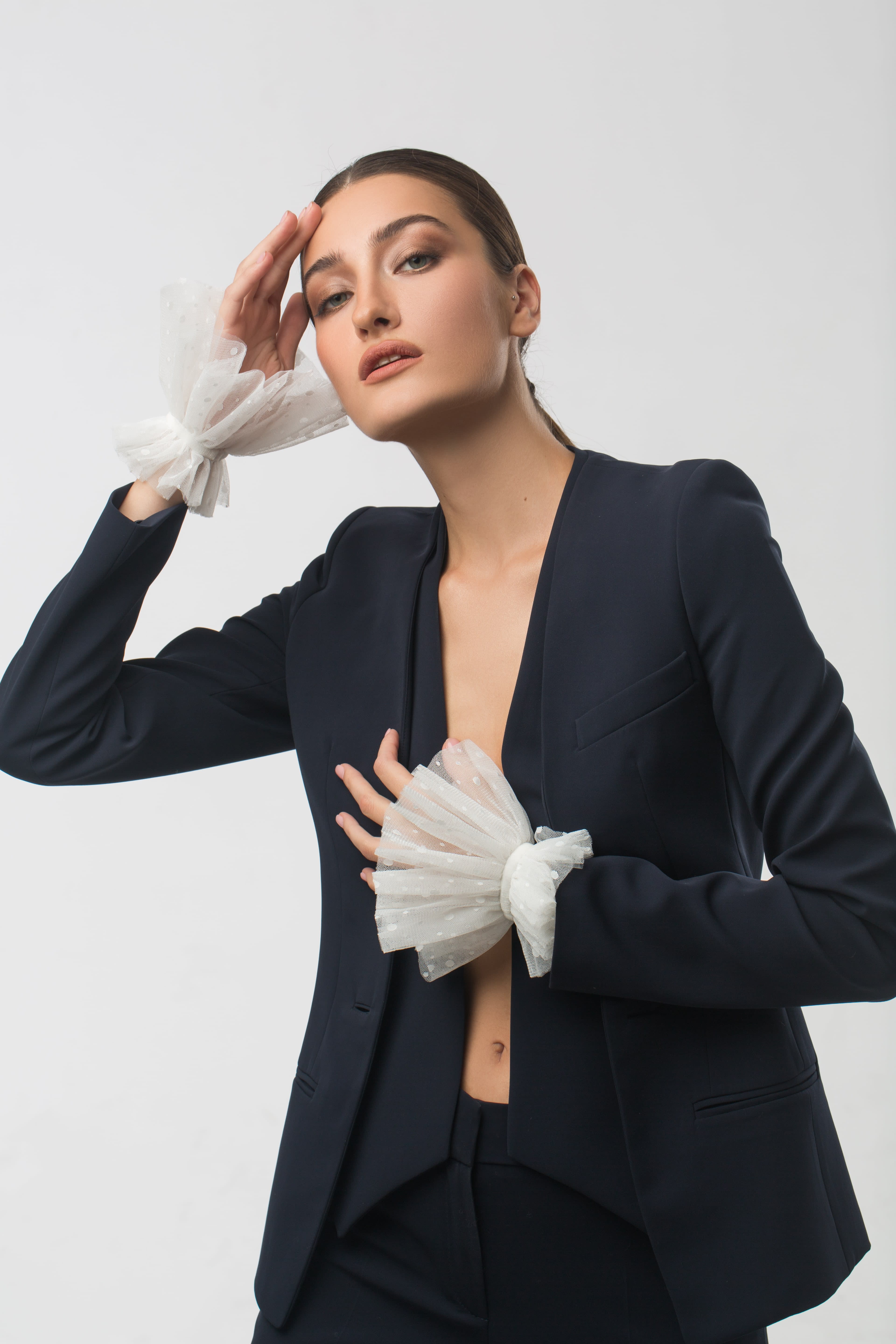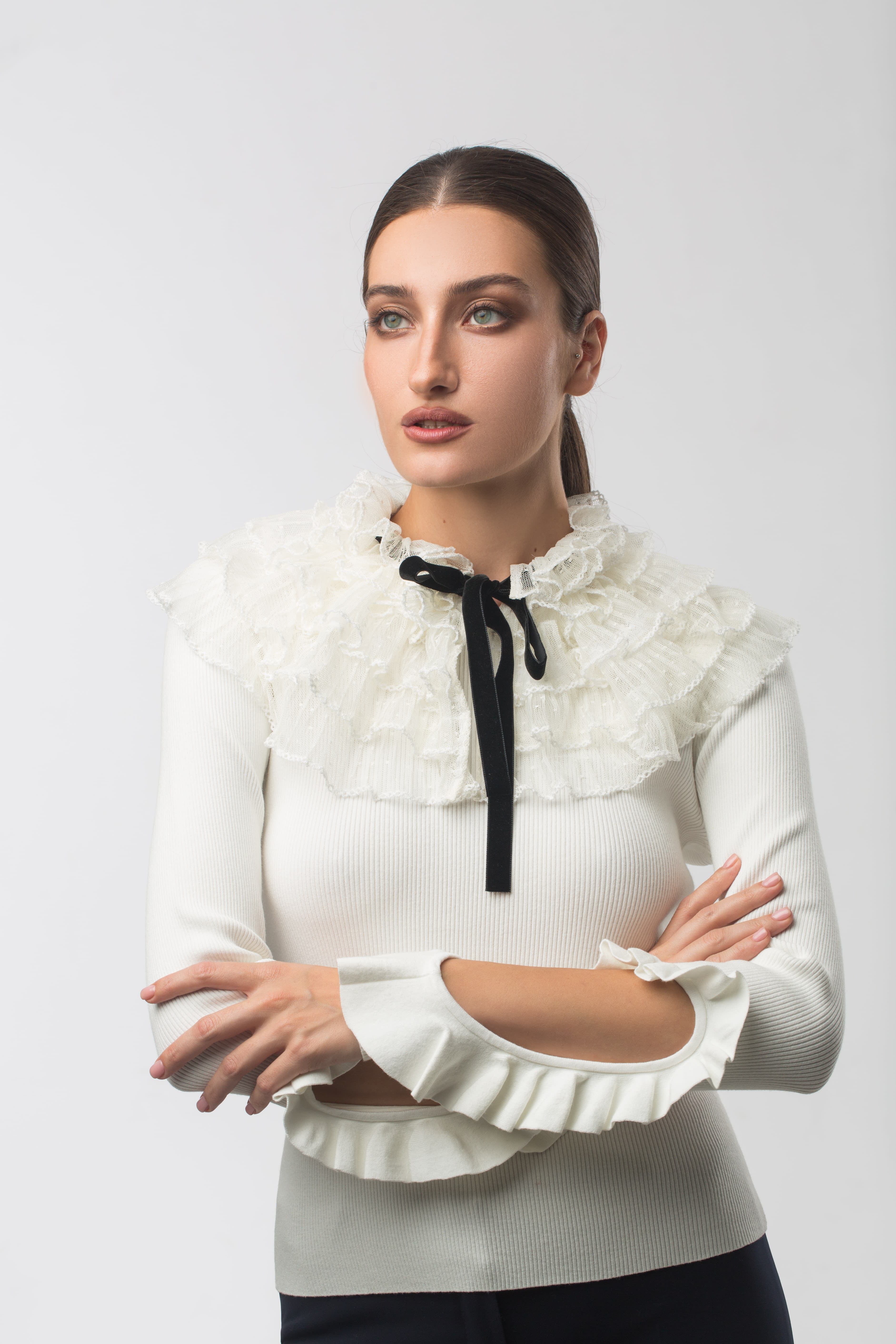 Azima Musayeva brand has always put women at the core of its existence. All of the cuffs and collars are made by women with a special mission to empower and make other women feel uniquely beautiful. It's the unwavering satisfaction from seeing my happy clients wearing the designs and their testimonials about boosted confidence and courage while wearing them, that motivates me every day. On a more personal note, I want to act as a role model for my little daughter and create an inclusive business with women supporting each other. Over the last three years, Azima Musayeva has supported great charitable causes focused around female health and wellbeing. One significant activity was partnering with The Eve Appeal, UK's Gynaecological Cancer Research Charity who raises awareness and funds research into five gynae-cancers. Azima has generously donated a great portion of every single sale made to the charitable organisation.