reports2022/03/10
The Gut Stuff On Their Journey To Becoming B Corp Certified
by Emma Foreman
Lisa and Alana Macfarlane are founders of the online community 'The

Gut

Stuff

'. We caught up with them in our London flagship store to hear more about how they became passionate

gut

activists and their journey to becoming B Corp certified.
Why is gut health so important?
What most people don't know is that gut health is linked to everything from immunity, skin, auto immune conditions and even mental health… the science is still emerging but its starting to show the impact of diet and lifestyle on our microbiome (check our website for the science) and its really exciting how much is in our control and how we can affect it in a positive way!
What is The Gut Stuff mission?
We want to empower gut heath in EVERYONE, and really truly democratise the information and category to take it out of the arena of middle class wellness and into the masses.
Where did the personal journey and idea for The Gut Stuff stem from?
We came into this very randomly – despite having a keen interest in science at school (Lisa very nearly became a doctor!) we were DJ's touring the world – so could not have been further from the health and wellbeing industry. That all changed when we volunteered for Tim Spector in the twin research department – mainly due to a curiosity as to what was physiologically different about us – and were asked to take part some research around the effects of diet in the gut microbiome. As you can imagine we knew NOTHING on the topic as as we were going through the research, merely set up our website to interview some of the scientists we were speaking to and everything we were learning. The rest, is really "gut" history.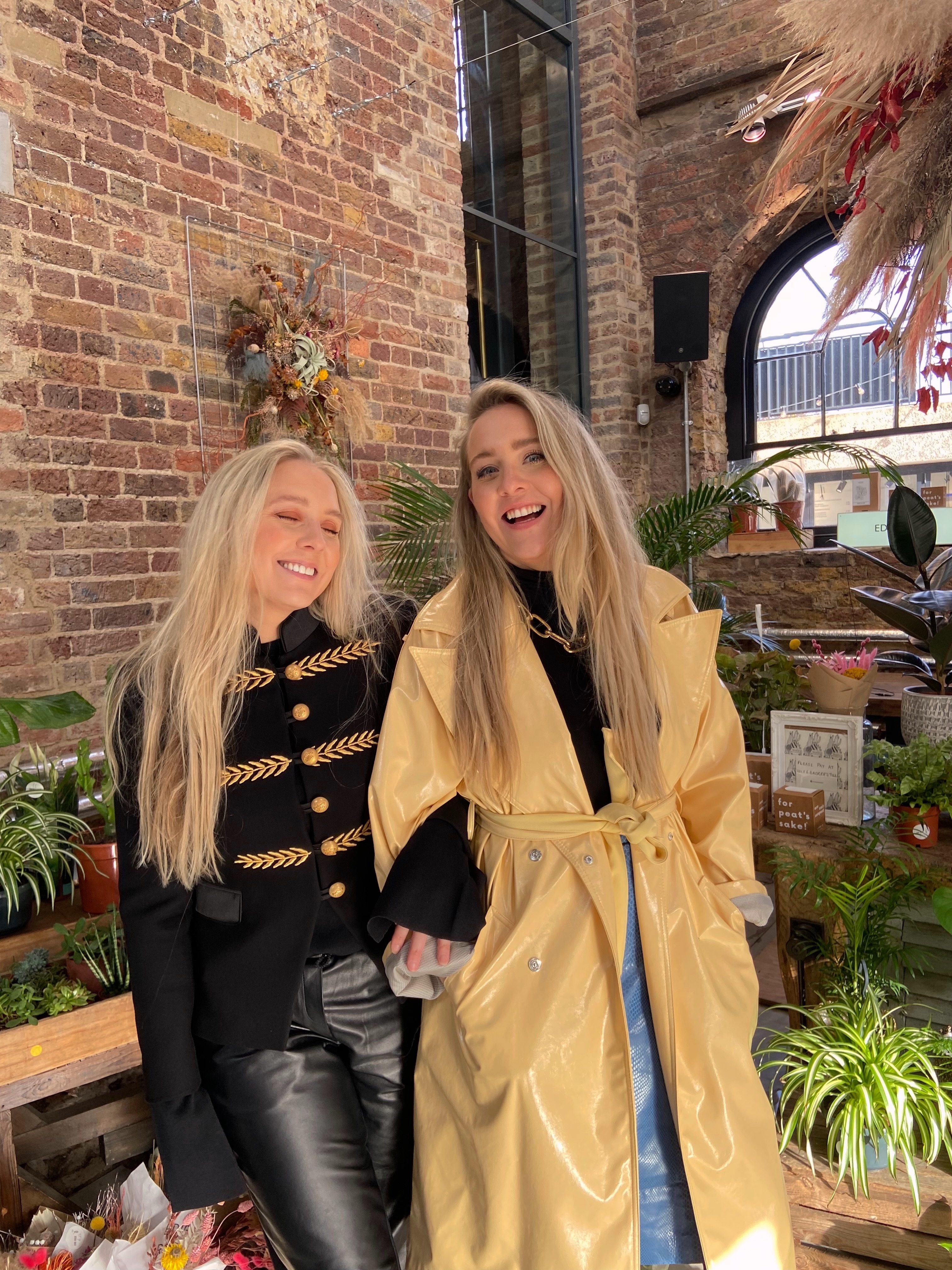 Alana wears The Extreme Collection jacket and Manley trousers. Lisa wears a Nocturne trench coat, Andreeva skirt and Lovard necklace.
Why did you feel it to be so important for all of the resources around understanding and supporting gut health to be made accessible via your platform?
We just felt we wanted lots of different expert opinions and information in one place so that everyone could go on their own learning journey – literally come to us with zero knowledge (like us at the start!) and still feel like it was a space and resource for them.
Do you have any simple tips or tools you can share now with our readers around maintaining a healthy gut?
First one is definitely tune in and SWOT UP! Once you've armed yourself with the knowledge you'll be able to spot fads and really figure out what's best for you (we're all different, our story proves that – even though we have 100% the same DNA we only have 30-40% the same gut microbes).
Also keeping a food diary, super simple and it's not for calorie counting but to monitor what you're eating, how you are feeling (mentally and physically), your poo (there's even little ones to circle in ours) and how much you are moving to help you "tune in" to your body and to spot patterns. We all live such fast-past lives and understanding and listening to your body is a big part of understanding your gut.
Experiment, try taking things out and putting them back in and see what happens.
If you do have gut symptoms, you can take your ready-made diary to a nutritionist/dietician/GP (we're sure they will thank you for it!).
We've made a really comprehensive one with lots of experts here - https://shop.thegutstuff.com/collections/shop/products/the-gut-diary
We also wrote a book with lots of https://shop.thegutstuff.com/collections/shop/products/the-gut-stuff-book
gut experts to give you the low down all in one place! -
Can you give us a little bit more info about the workplace wellness area and events that The Gut Stuff also encompasses?
These started off on a Balfour Beatty construction site and have since grown into a series of workplace wellbeing talks and workshops with the aim to empower gut health in everyone, and not just the early adopters. Same with our events – we think it's so important to do the grass roots works to really see where the baseline knowledge is and get out of the wellness echo chamber and out onto the streets to spread the good gut word.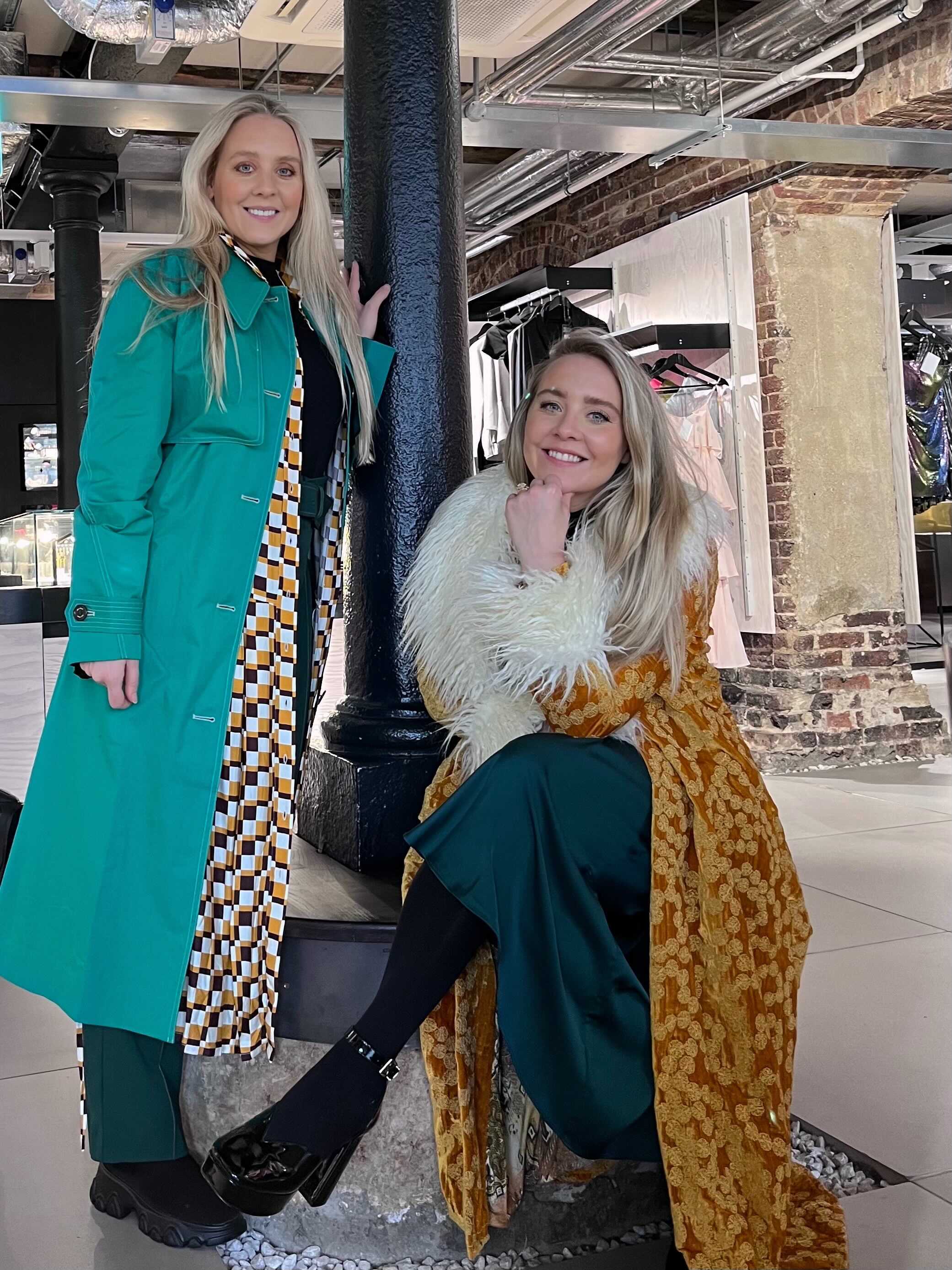 Alana wears Mirla Beane coat and shirt dress and Voya top. Lisa wears Jennafer Grace coat and Roserry dress.
Tell us a bit about your journey to becoming B Corp - what was the importance of this for you?
We felt it was really really important as an early stage business to be held accountable to our purpose and greater good – so many businesses talk the talk but don't walk the walk!
What value do you think it brings to The Gut Stuff?
As we grow it helps us bake brilliant policies and frameworks into the business that benefit our staff, customers and the world – it sounds grand but it's true!
What's next for The Gut Stuff since achieving B Corp?
We're expanding our product ranges, taking our voice and products to the US and, of course, continuing to keep shouting about gut health in schools, offices and street corners…or anyone/anywhere that will listen!
Why do you love Wolf & Badger?
First and foremost - it's values, it also helps the clothes are all unique and special (something we champion at TGS – you do you boo!) and there's also Kimchi and ferments in the Kings Cross store – what's not to love?!?