ADAM AND EVE SKINCARE offers a totally natural and effective treatment for both males and females of all skin-types. The award-winning formulations cleanse, calm and condition the skin with natural non-pore-clogging ingredients. The anti-inflammatory botanical extracts, and fragrant essential oils fight blemishes and balance sensitive, dry and irritated skins, resulting in a healthy, radiant complexion at any age. Inspired by the pureness of nature, Adam and Eve Skincare has scrupulously avoided any ingredients known to be comedogenic. These include synthetic fragrances, parabens, mineral oils SLS's, PEG's, TEA, DEA, MI and some natural ingredients including coconut and wheat germ oil, cocoa and shea butter and algae extract. We spent 5 minutes with the founder, Antoinette Crawford to get a closer look...
Please give a brief description of your career so far.
After finishing my formative education I went to Art College and then on to study Fashion Design and Pattern-Cutting. Following my training, I set up on my own business creating tailored wedding dresses (it was the 1980's and the bigger the frock the better!). I married in 1990 and was catapulted around the world with my husband's job. I continued with my dress design wherever I could and had a range of small businesses whilst our children were little. Having young children and looking at both their health and future, I became increasingly more interested with what nature had provided for us in terms of remedies. I had read about the benefits, both physiologically and psychologically, of a whole variety of complementary therapies and embarked on studying some of them so that I could offer these treatments myself. I started practicing as soon as I was qualified.
Please describe the first step on the formation of your brand.
By the time I had completed the training in various therapies; including reflexology, massage and aromatherapy, our children had reached teenage years. Their skins were suffering from the effects of hormonal changes and mine was still prone to breakouts. My love and passion for skincare, which developed in my early years had never left me and my disappointment at what was on offer on the shelves of the chemists back then was just as disappointing 33 years on. Now my children were faced with the same ineffective, often counter-effective, oil stripping products. My journey in to aromatherapy opened up a whole new understanding of the benefits of essential oils and it all made sense. I could see a solution – make beauty products myself! 
Have you always been interested in the beauty industry?
Completely passionate about beauty since I was a self-conscious teenager prone to spots.
How did you begin to develop your products?
My conviction was that ingredients with comedogenic (pore-blocking) properties, both chemical and natural were stripping the skin of its protective barrier and causing blemishes and inflammation, exactly the condition that they were claiming to solve. I set out on a mission to create a range of products which would avoid all these ingredients and that would include anti-inflammatory and antioxidant plant ingredients to soothe and repair. I read and researched everything I could about natural ingredients; including plant oils, botanical extracts, essential oils and their functions and benefits. I also studied the commonly used emulsifiers and preservatives necessary to make a stable product. There seemed to be so many ingredients that could potentially cause a problem and I became almost obsessive about avoiding them! Once happy I bought these ingredients from a supplier and learned to make creams and serums. I tried them on everyone I could from teenagers to the more mature adult, both male and female. The secret to a successful product was to avoid all known comedogenics (pore blocking ingredients). Something as commonly used as the emulsifier glyceryl stearate is comedogenic in its self-emulsifying form. We include it in our formulations but in its non-self-emulsifying form; it can be tolerated like this by all skin-types. The most amazing and rewarding thing was the discovery that from spots to dry skin, mature or young, male or female, we all benefit from gentle, natural, non-comedogenic products. The best beauty secret of all, in my book, is a good cleanser…. Avoid stripping the skin with harsh washes and DON'T use an exfoliator at home but DO use a good clean muslin cloth and cleanse twice preferably with an oil based cleanser. Once my team of testers were all seeing positive results I found a manufacturing company to upscale and bring to market.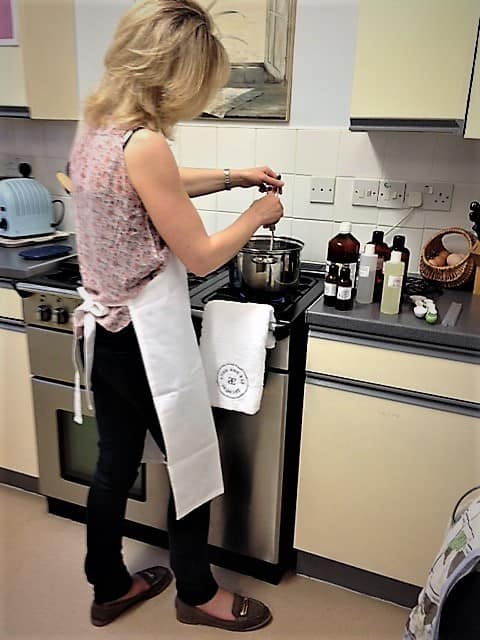 What have been the highest and lowest points on your journey so far?
The highest points so far have been; seeing the first products arrive after a long conception to birth process, hearing some lovely testimonies from our customers and winning our first natural skincare award. The low points were having a niggling feeling about the graphics on the packaging and changing designer at the eleventh hour (we were so lucky to find her) and then finding out that our labels had to be resized the day before manufacture, also having to move our stock and office at short notice… "where there is a will there is a way"!
How would you describe your customer base?
Extremely diverse - spanning all age-groups.
What do you do when you are feeling uninspired?
Exercise and count my blessings and something will turn up!
What is your evening skincare routine?
I always "double cleanse" with our Gentle Cleansing Lotion and muslin cloth. The lotion has soothing, softening and conditioning cleansing oils and I love the ritual of a clean, warm gently exfoliating cloth to remove my make-up. It always feels like I have had a spa treatment in my own bathroom. I then apply our Perfecting Serum and top up my levels with a warm mineral water or herb tea before lights out – a natural moisturiser!
What's different about your products?
We have an uncomplicated range which is natural, non-comedogenic and suitable for all skin-types; all ages and both females and males.
Why is using natural/organic ingredients in your products so important to you?
I believe strongly that nature has it all worked out. It has cleverly provided us with an abundance of solutions to good health both through what we eat and what we put on our skin.
What is your go to product from your range?
Our Gentle Cleansing Lotion because it is the first and most crucial step to benefitting from all the other products which work synergistically to bring the best results.
Do you have a mentor?
I don't have a particular mentor, but through my journey I have met and am now friends with so many inspirational people who have followed their hearts and achieved their goals through determination and often diverse situations.
Is there another brand whose work you particularly admire?
Liz Earle as she was/is passionate about her products and was formulating at the beginning of the natural revolution!
What drew you to Wolf & Badger?
I love its uniqueness and diversity.
What's next for your brand?
To expand our product range to specifics; eye cream, spot stick, lip balm and eventually a hair and body range. I would also love to lunch a synergistic range of vitamins to help with skin health as I believe in a two pronged approach to skincare; via diet (vitamin and mineral intake) and beauty/topical products.