Nooneh Karapetian, the creative force behind Nooneh London, designs timeless yet unorthodox pieces of statement, high vibrational jewellery. Her creations are "Spiritual Bling", using no other source of inspiration to create her designs other than what flows through her, lovingly applying pencil to paper to see what materialises. Nooneh London designs adorn the confident, empowered, stylish woman, and the pieces are individually handcrafted into exquisite and captivating pieces, forming small, limited editions. ​A maverick and chic take on the ancient art of filigree, which dates back over 5000 years, her work is the equivalent to lace in jewellery. We spent 5 minutes with Nooneh to learn more about this unique style of jewellery. 
How did Nooneh London begin?
I launched "Nooneh London" jewellery at the tail end of 2016. To date, I've designed a body of jewellery of fine filigree, made of sterling silver which is then gold, rose gold or rhodium plated. I've also done some commission work. Filigree (where gossamer thin hairs of silver or gold are incorporated into a design) is a highly challenging jewellery technique which goes back over 5000 years and it is both fascinating and beautiful when seen up close. The fine hairs of filigree take 10 days per month to make, so it's a labour of love. Filigree specialists have additional training on top of their jewellery training, as it's a whole different and painstaking ball game. As you can probably tell, I fell in love with filigree when I discovered it (the reason I go on about it so much), so I decided to design a collection that would incorporate its refined aesthetic, but in a wholly modern and futuristic way. Prior to launching my jewellery business, I was always delving into various artistic fields. I think I was born an artist and designed and made things in kiln-formed glass, 2D illustrative drawing and ceramics. In short, any artistic arena that would allow my creative vision to take shape and be expressed.Three diverse factors brought together the formation of my brand. I started designing jewellery as I'm a bit of a hoarder! Over the years I have collected a treasure trove of exquisite semi-precious stones, some of which are "one-offs". My love for filigree jewellery was sparked when I first came across filigree jewellery in a shop and decided that this was the aesthetic direction I wanted to take my jewellery designs in, but with my own contemporary spin on it. This, coupled with the hands-on experience and knowledge I gained in an intensive jewellery manufacture course I did in Hatton Garden, London, really helped when it came to designing - knowing the technical side of jewellery making, the "do's and don'ts" technically, as well as the terminology. Initially friends and friends of friends wanted to have "that piece" and I soon found myself on a roll, designing both commissions and small, limited editions for a larger audience.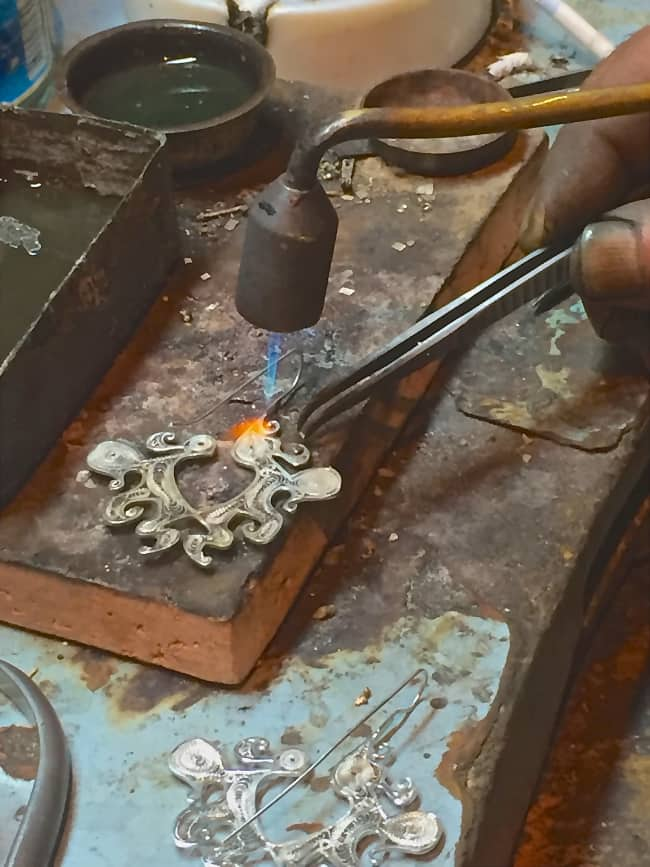 Have you always been interested in fashion?
 No, not really. I've always been interested in beautifying the planet. By bringing through something unique and that bit different that would adorn the right person or person's environment. I've always wanted to produce objects or pieces of work that help the client aesthetically express and present themselves as they see themselves.
What have been the highest and lowest points on your journey so far?
The highest point of my journey has to be the ongoing design process. I get immersed and lose myself in it. Everyday life just falls away, everything else is forgotten. When I've finished a design, I get a real sense of joy and wonderment when I know it's a "winner". I think "how did I create this?" as I never have the idea of the design in my head before I start. You see I don't use any external inspiration or stimuli. The designs flow through me. The other high point, is seeing the look on my clients' faces. Their appreciation of the piece they've just bought and their excitement to wear it. Especially with commissions, to nail the design brief is the best feeling! On the flipside, what I don't relish at all is the admin/paperwork I have to contend with on a weekly basis and keep on top of. It's mind-blowingly and mind-numbingly tedious!
What was the inspiration behind your latest collection?
I've never looked outside myself as an adult for inspiration. I remember being taught at art college to search for inspiration in magazines, galleries, museums etc, but it just doesn't work for me as when I follow this advice, my designs become banal and mediocre.  I tend to just let my pencil flow on paper and see what transpires. I sometimes get visions of finished pieces of jewellery which  I then get down on paper. Otherwise, the vision's memory gets blurry with time.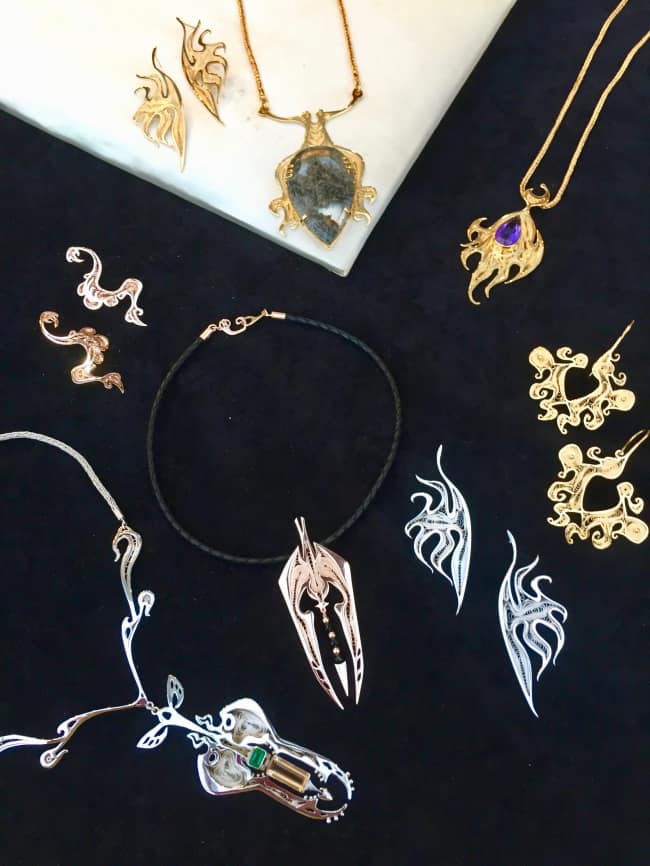 Do you ever struggle to stay inspired?
Some days the designs don't flow, other days they do! Some days what I draw looks like rubbish, but when I revisit it a few weeks later, I see what the design is trying to tell me and I develop and tweak it into something I would be happy to put my name on. I tend to go within and meditate when I feel blocked and that helps too.
How would you describe your customer base?
My clients, age-wise, tend to be between mid-thirties to mid-fifties. Some are spiritual people and value the high vibrational quality/aspect of the jewellery pieces that come through me. Others aren't spiritual at all in their viewpoints and beliefs, but want something different, yet refined. Some are in creative fields and are high flyers. They are highly creative people themselves who want pieces to wear that express their creativity through their appearance.
Is there anyone you would love to see wearing your designs?
Yes, Helen Mirren. I think she is gutsy and has such "human-ness", style and finesse. She's her true and authentic self. I can see some of the bolder designs sitting well on her, and I think she would appreciate the fine threadlike filigree and how it's meticulously handcrafted.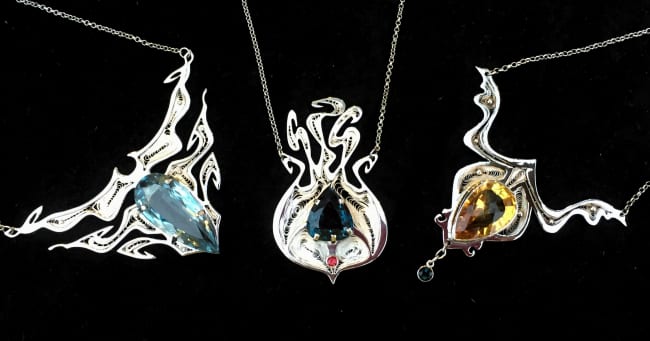 What are the morals you run your brand by?
Two key, unrelated factors spring to mind. To be just. I believe that my artisan filigree makers should always be paid well. I don't quibble over what they ask for. There's plenty of money to go around, as what goes around comes around. Empowerment. I want people to come into their own, in all aspects of their lives and selves. To become and be the true, authentic, best and most magnificent version of themselves. My jewellery is all about helping to do that through how they express themselves and feel whilst wearing my jewellery.
Do you have a mentor?
No.
If you could only wear one piece from your collection, what would it be and why?
The "Warrior Goddess" statement earrings (or choker). I feel so strong and good in my own skin when I wear them. They help me raise my game as they're powerful aesthetically and energetically and unabashedly so.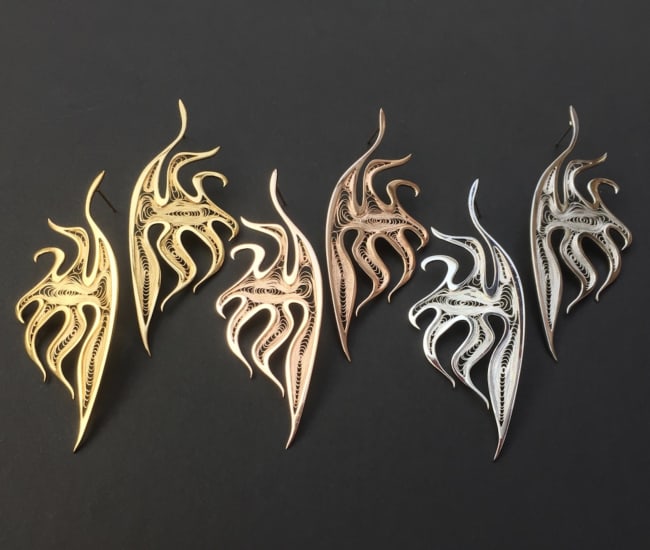 What's the best piece of advice you've ever been given?
 Stay true to your inner voice and knowing. Your vision. Don't conform.
What drew you to Wolf & Badger?
Their ethos. They champion emerging, independent designers with a flare, who produce high quality limited editions of work. Also, you get the feeling that they always have your back.
Where do you see the brand in 5 years?
More filigree creations as filigree lends itself well to my jewellery designs, but I'll also be branching out into more futuristic and avant-garde pieces that incorporate precious stones and metals. The ideas I'm having for this new series of non-filigree jewellery are alien-esque and quite out there. I also see "Nooneh London" diversifying into other artistic fields, as I have a few projects in mind. Being spontaneously creative and always needing to let my imagination run riot, I am keen to also embrace other techniques and arenas.